Women's tennis team opens spring season with sweep over USF
Sacramento State women's tennis began the new year and the new season victoriously Friday with a 7-0 sweep over the University of San Francisco at the Spare Time Indoor Tennis Center.
The Hornets made short work of the Dons early in the doubles matches. In the No. 3 spot, sophomore Sofia Wicker and freshman Sofia Gulnova secured a 6-0 win. Redshirt freshman Carolina Chernyetsky showed improvement from the fall season as she and senior Andie Mouzes battled to claim their doubles match 6-4.
Junior Ana Loaiza Esquivias and freshman Karina Vyrlan played the closest match in the doubles round, overcoming a slow start to secure a 7-5 victory over senior Genevieve McCloskey and freshman Emily Maxfield.
Sac State faced tougher competition in the singles round, as only three of the six starters won in straight sets.
"It's definitely a good start," Sac State coach Clarisse Baca said. "7-0 is a sweet victory but we still need to work on finishing the matches. We had three tiebreakers that could have gone either way and that could have been a 4-3 instead of a 7-0. We need to work on closing the matches."
In her first match playing in the No. 1 spot for the Hornets, Esquivias beat USF freshman Anna Sokiran 6-2, 6-1. Gulnova also won both singles sets with 6-0 and 6-2 victories over freshman Sarina Chhabra at No. 6. Chernyetsky muscled the Hornets' third singles sweep and clinched the team a match win when she defeated freshman Amber Del Rosario.
After winning her first set, Mouzes fell behind McCloskey but held on in the third set to emerge victorious at No. 3. In the No. 2 singles match, Vyrlan overcame a tough start to defeat Maxfield.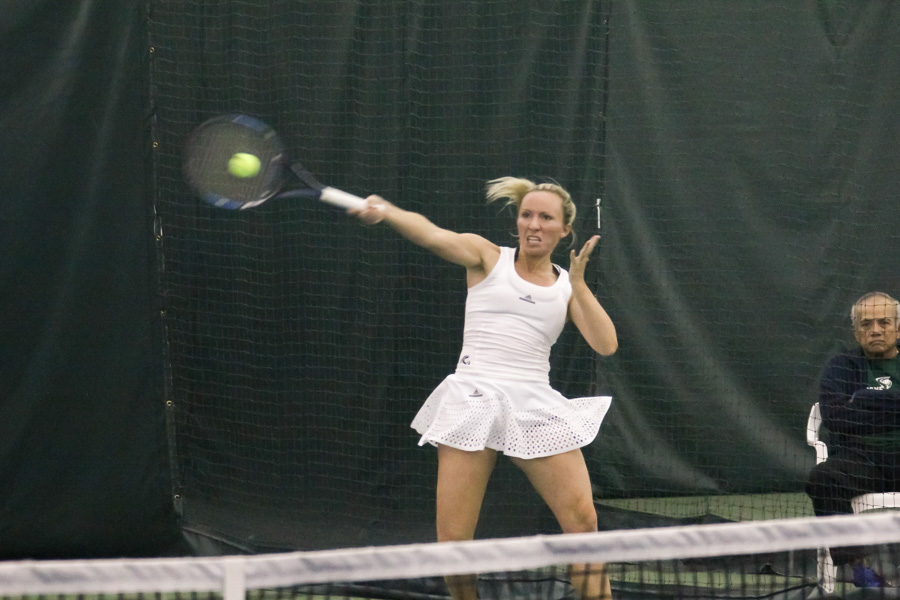 "(Vyrlan) played against a tough opponent in singles," Baca said. "She was not feeling pretty well at the beginning of the match but she battled through and she won in super tiebreak."
Wicker concluded the afternoon battling sophomore Joselyn Treyes Albarracin 6-4, 4-6, before finally winning the tiebreaker round 10-5 following a lengthy rally to wrap up the team sweep at No. 4.
According to USF volunteer assistant coach Sean Dizon, Friday marked the first doubles matches for four of the Dons' six starters. Head coach Hilary Somers also emphasized after the match that the young team has only one player returning from last season.
"The Hornets did a great job coming out ready to play," Somers said. "(This is a) pretty new squad, and you can see that out there, but that's good. I think they have their work cut out for them for sure."
Sac State will host Fresno State at the Spare Time Indoor Tennis Center on Sunday at 1 p.m.