Sac State students not surprised with Kanye West's rant, 30-minute Sacramento show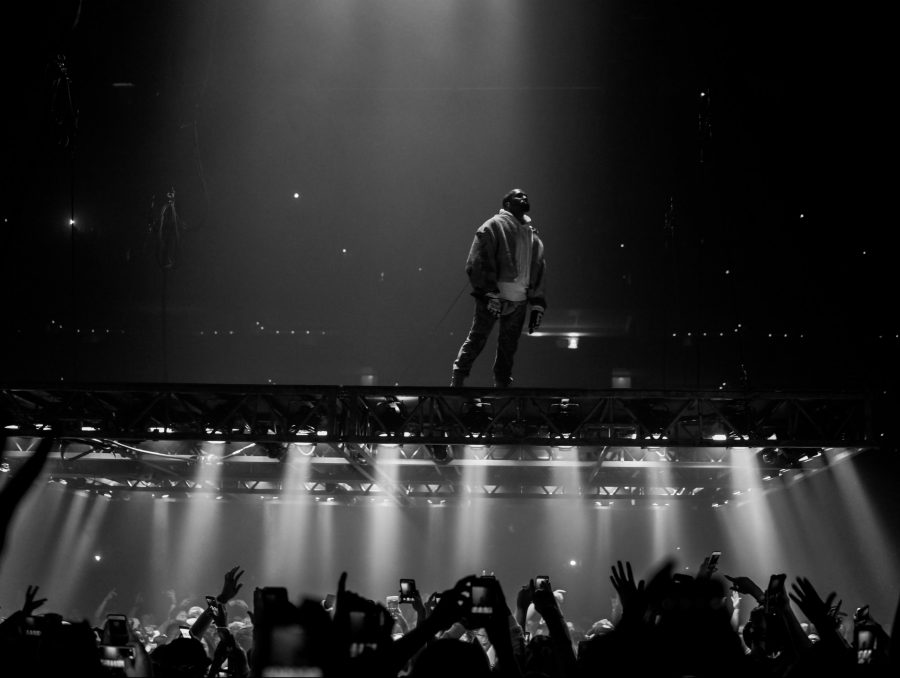 Rapper Kanye West unleashed a tirade at his Saint Pablo Tour stop at the Golden 1 Center in Sacramento Saturday night before storming out and ended the concert after just 30 minutes.
This happened days after the rapper announced to his San Jose crowd that he didn't vote and would have cast his ballot for the now-President-elect Donald Trump on Election Day.
According to multiple Sacramento State students who attended the concert, lines outside the new downtown arena were long and filled with countless fans.
Inside, West appeared on a hovering platform that moved in the center of the arena,  90 minutes late. The artist also brought out fellow rapper Kid Cudi to perform alongside.
Soon after the two artists took to the stage, they performed "Father Stretch My Hands Pt. 1" and "Waves" together. Once Cudi exited the stage, West performed the same two songs solo before segueing into "Famous," a popular track from his 2016 album, "The Life of Pablo."
Third year music and government major at Sac State Miguel Perez was one of the many fans in attendance.
"I heard lots of great things about the Saint Pablo Tour (and) Kanye is one of my favorite artists," Perez said. "I thought it was weird that he showed up an hour and half late but he apologized when he and Kid Cudi came out together."
West, who has been known to boldly state his opinions regardless of how the public may perceive it, called out Beyonce and Jay-Z, among other artists, and ranted about politics before dropping the microphone and abruptly ended his show by saying, "get ready, 'cause the show is over."
Fifth-year student Jasmine Singh said the rant went on for nearly 20 minutes and she wasn't surprised to hear it at all.
"Anyone who knows of Kanye was expecting a rant," Singh said. "We all knew something was coming. I wasn't expecting three songs and a 20-minute rant."
An 8-minute video shot by junior film studies major Janice Ayin shows that West's latest rant included verbal jabs toward the straining friendship between himself and Jay-Z, as well as Beyonce, accusing her for rigging the result of Video of the Year at this year's MTV Video Music Awards.
"Jay Z, call me … Just call me. Talk to me like a man," West said. "You know I got the vision and you know I'mma gonna keep it real with you. Beyonce, I was hurt. I went down seven years on behalf of you."
Other topics mentioned in the rant included radio culture, Mark Zuckerberg and Hillary Clinton.
Perez said that those in attendance were left confused during the rant and likened West's speech to babbling, while Singh said she would describe it as "being in class, changing from subject to subject."
It was toward the end of the rant that Perez noted the floating stage, which the Saint Pablo Tour has become well known for, started resetting and heading back to the dock where it was launched from in the beginning of the concert.
"I knew he was coming off," Perez said.
As the floating stage docked, West had some final words to the crowd of fans who did not know that their concert experience was about to end: "Get ready to have a field day, press. Get ready, get ready. Because the show's over."
And so, the concert that had no opening act and had fans waiting for nearly 90 minutes ended in half an hour.
Chants of  "Fuck you, Kanye" echoed throughout the arena after the lights of the Golden 1 Center came on — an official indication that the concert had indeed ended.
Spokespeople for Ticketmaster said they will offer refunds at the original price point to those who used the company's service to purchase passes to the show.
Although, some die-hard fans are choosing to hold on to their tickets on the chance that the Sacramento show may be rescheduled.
Fun fact: Saturday's show was also West's first concert in the capital city since his 2008 stop for the Glow In The Dark Tour. At the time, West addressed Sacramento as "Seattle" during the concert and quickly apologized.