Professor crashes class to debate colleague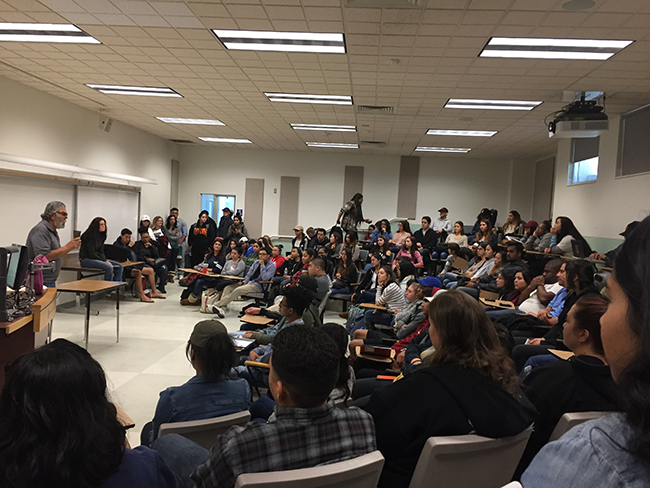 (Story continues below video)
On the morning of Oct. 26, lecture room 2002 in Solano Hall was standing room only, and even more students overflowed into the hallways to listen to criminal justice professors Julie Mumma and Jimmy Martinez confront each other.
The issue they argued? The value of defense attorneys in the justice system, the merit of opinions and facts, and how to handle disagreements between colleagues.
After comments that Martinez made during a class session were passed from students to Mumma, Mumma posted a public debate challenge to the office door of Martinez and sent other notifications. When Martinez didn't respond, Mumma brought her class to his.
It all started when Martinez, a criminal justice professor who spent the majority of his career in law enforcement, gave a lecture on Oct. 19 detailing different roles within the justice system.
According to Martinez and student sources within the class who spoke on the condition of anonymity, Martinez cited a book by defense attorney and law professor Alan Dershowitz in which he claimed that the majority of his clients were guilty, even though he was able to successfully defend them.
"He says if you're defending a guilty person, you basically resort to tactics in order to win and that's his job and that's what he wants to do," Martinez reportedly said.
From there, the accounts of Martinez and the students diverge.
Martinez said after reading from Dershowitz's book, he simply said that he did not like that part of the justice system. The students, both separately, gave similar accounts of what he said being different.
"He said the criminal justice system has done too much for criminals," recalled the first student. "He said, 'Those people can't read and write, so you know they're not coming up with their own defense.' That was the first thing that pissed me off."
The second student, recalling the same comment, said that to her "that came across as saying people that are poor or uneducated shouldn't have a defense."
Martinez acknowledged saying that defense attorneys "make stuff up" for their clients, but did not comment on or acknowledge the comment about criminals not being able to read or write.
This lead to a disagreement within the class between some students and Martinez, at which point the anonymous students say Martinez made a passive reference to Mumma, who is a defense attorney as well as a professor.
"Then, he makes a comment of, 'So you know, unlike some of the other defense attorney professors that work here …,' " the first student said.
The second student said there was little doubt in their mind who he was referring to.
"If you take both of them, you knew he was talking about Mumma."
Martinez said he did not mention Mumma, or mean to mention her.
"I don't think I've ever even mentioned her once in my class in any classes my entire career," Martinez said. "I don't have any cause to mention her."
When argued with by students over the merit of defense attorneys, Martinez "shut (them) down, cut (them) off," said one student. "He said, 'What if somebody raped your mother?' "
It was after that class that multiple students, some of whom are not included in the anonymous sources quoted, went to Mumma to tell her what Martinez had said.
According to Mumma, it was not the first time that she has heard complaints from students that Martinez is too opinionated in his lectures and does not engage students in critical thinking.
"It showed to me an utter disregard and contempt for our legal system," Mumma said. "This is the same thing I have heard from students repeatedly, year after year."
According to Martinez, when he arrived early for class on the next Wednesday, he found professor Mumma sitting on a desk inside, and her entire class with her. He described the process as "theatrical."
"I would've appreciated the courtesy of her coming to my office; her office is right around the hall," Martinez said. "So I took her aside and I discussed it with her. I thought that was unnecessary. She should've come and talked to me."
According to Mumma, she then explained to Martinez that she considered another one-on-one conversation pointless, as they had talked about the same topic in the past to little return.
It was then that Martinez told Mumma that while he wouldn't have an open debate with her, he would invite her to stay.
"I said I'll discuss those areas that you believe that I talked about that are offensive to you and I'll allow you to respond to that. So, I did."
During his time speaking to the class, Martinez simplified his argument from what the anonymous students reported that he said. In a video taken by a student in the class, he frequently quotes from Dershowitz's book, and emphasizes repeatedly that he was giving his opinion, which is his right.
Mumma then begins to speak, and explains that she does not find all opinions valid in a college classroom; only those that are backed up with critical thinking are valid in her eyes.
"I felt like I had to defend the students in some fashion," said Mumma afterward. "I cannot tolerate students being disrespected in this way, in a classroom where they feel like they're belittled for raising issues with a professor that wants to dominate like this and not use critical thinking."
Martinez said afterward that Mumma's argument was not actually reflective of statements that he made, and cast doubt on what was reported to Mumma by his students.
"Students hear what they wanna hear, and maybe don't pay attention 100 percent of the time, and cherry picked things out of my statements," Martinez said.
He added that, as he mentioned in the video, part of the problem may stem from the imbalance of ideologies in the university.
"She sees it as a conservative versus a liberal issue, and let's be honest, the majority of this environment tends to lean one way," Martinez said. "I'm kind of the outcast in that regard."
For their part, both of the anonymous students deny that Martinez's conservative views are why they found his comments upsetting.
"I like to hear different perspectives on things," one student said. "I like that he comes from the other side of the table."
Said the other, "If you are going to tout the fact that you are conservative-minded and you have conservative viewpoints in a liberal university, you should be able to, in my opinion, back that with facts and have an argument for that."