Hornets fall to UC Davis in Causeway Classic 48-30
Sacramento State was unable to string together consistent offensive drives and fell to UC Davis in its final regular-season game in the 63rd annual Causeway Classic at Aggie Stadium, 48-30.

Cross-town rivals Sac State (2-9, 2-6 Big Sky) and UC Davis (3-8, 2-5 Big Sky) entered Saturday's contest with much more on their minds than just the Causeway Cup, which the Aggies have now won five times in the last six years, as neither team wanted to finish the season with only a pair of victories.
The Aggies didn't need long to get its offense going as senior running back Manusamoa Luuga — who finished with 249 rushing yards on 38 carries — steamrolled through a wide-open hole on the left side of the field and sprinted into the end zone for a 58-yard touchdown on Davis' first play from scrimmage.
"It was a hard-fought physical game," Sac State junior linebacker Tyler Meteer said after finishing the day with seven total tackles. "What it came down to was they just executed better than we did. They got us on a few plays and on defense we just adjusted too late to stopping those plays. They got on us a little early, but it was just a physical, hard-fought game."  
Sac State senior running back and reigning Big Sky Offensive Player of the Week Jordan Robinson helped the Hornets even the score with a physical two-yard touchdown run on the next drive. Robinson finished the game with 152 yards on the ground and two touchdowns on 30 carries in his final collegiate game to help bring his career totals to 2,823 rushing yards and 25 rushing touchdowns in 41 games played.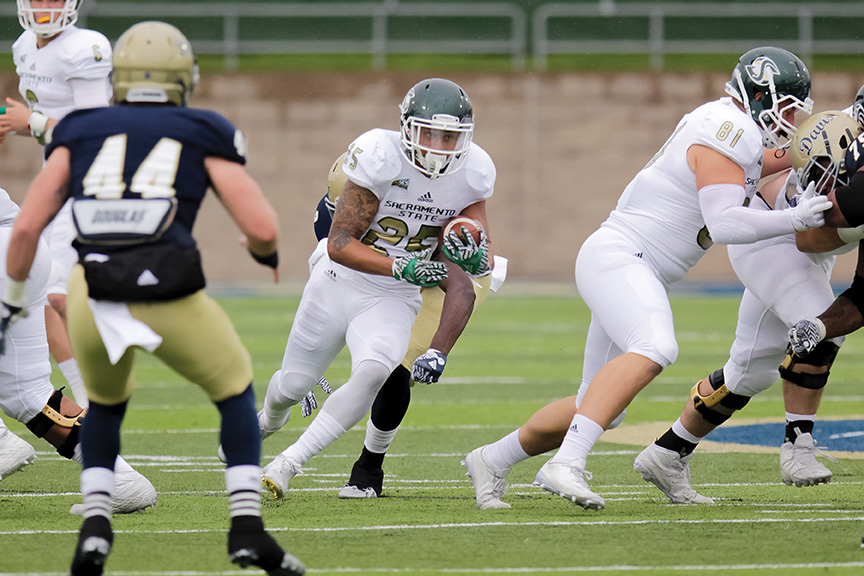 "I mean I would rather definitely come away with the 'W'," Robinson said. "I would rather sit on the sidelines, have no yards and get a 'W' over Davis, but it is what it is. They just came out and executed."

UC Davis senior quarterback Ben Scott and sophomore wide receiver Keelan Doss executed well throughout the entire day as the pair hooked up for a total of four touchdowns. Scott finished the game completing 14-of-24 on passes with 292 yards and five touchdowns over the Hornet defense.
Doss became the sixth player in UC Davis football history to have more than 200 yards receiving, and his four touchdown receptions in a single game tied the school's record set back in 1999.
"Too many big plays on defense," Sac State head coach Jody Sears said in regards to his defense's performance. "Not able to establish any consistency on offense in the second half.  Getting stops on defense and then giving some sustained drives on offense, it's the story of the game, they made more plays than we did."

Robinson closed the book on his career-best season by establishing himself in sixth place in total career touchdowns with 30 and fifth place for career rushing yards with 2,823. Although the loss stings at the moment, he would not have traded his four years of football experience as a Hornet for anything else, Robinson said.
"I mean, just in general, football teaches you a lot with life and just the coaches and all the advice that everybody gives you around campus (and) whatever the case may be," Robinson said. "I would do it all over again if I could. Give me another four years."
Sac State is now 19-45 all-time against UC Davis and finished the year with only two wins for the second straight season. However, the Hornets will return a majority of its starters next year — as there are only eight seniors on the roster — to try and finish the 2017 season with a winning record for the first time since 2015.