Women's rugby club readies for Division II competition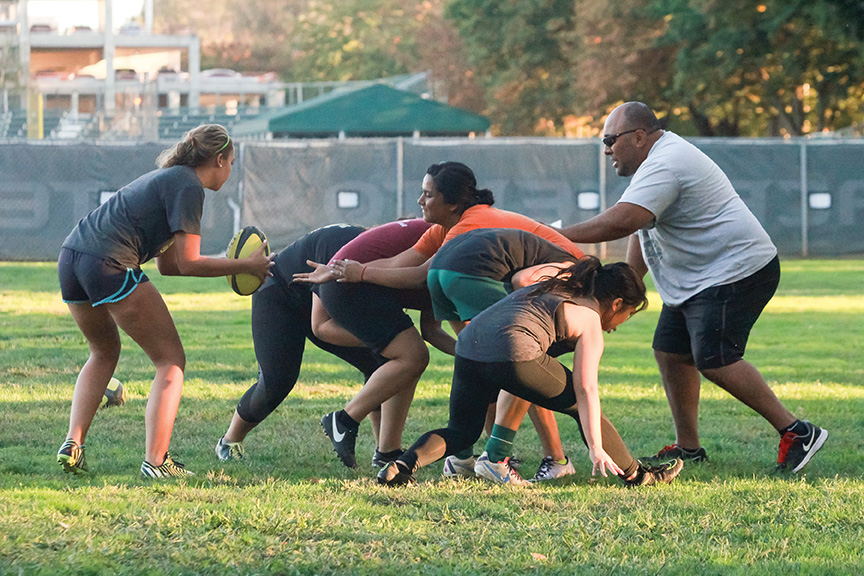 Sacramento State women's rugby has successfully made a return to Division II competition and are on a mission to show that the sporting club is here to stay.
Former club President Kristina Johnson worked to fight for the reinstatement and after successfully accomplishing her goal, Johnson hopes that the sporting club can get back on its feet in competition.
"We came together as a team and were able to get reinstated into the conference much quicker than anyone expected," Johnson said.
Current women's rugby President Thu Vo has used her extensive years of knowledge in the sport and stepped up to take control of the club this semester to get the ladies prepared for the upcoming season.
The club is also in the experienced hands of former Sac State rugby assistant coach and current first-year head coach Inoke Waqavesi.
Waqavesi played rugby in Fiji as well as at the high school level in New Zealand, where he holds the record for most tries (grounding the ball in the opposition's goal area) scored in program history.
"I just want to work and focus on fitness," Waqavesi said. "I know it's kind of late in the season, but the idea is to, when I get them fitter, avoid more of the injuries and technicalities of the game. So this season there's really no, per se, high expectations – it's just teaching them the fundamentals of rugby (and) if we win that's great, if we don't, we take the learning process of that."
Waqavesi has eight years of coaching experience, which includes a 2010 national championship with the Sacramento Amazons as well as a national champion runner-up in 2011. The love he has for the game and the knowledge he has to share is the main reason he continues to coach to this day, according to Waqavesi.
"The most encouraging part of coaching is when you see someone actually go 'oh, okay' (and) then we move on to the next progression," Waqavesi said.
Waqavesi's positive outlook combined with the tight knit family environment has made the process of joining sports clubs on campus more comforting for students who are trying to find their way.
First-year club member Ashley De Ocampo joins the club with three years of overall rugby experience. De Ocampo loves the bonding aspect of the team and calls her new friends her family.
"I just wanted something new, then came out to practice (and) it was just such a comforting team bond that I haven't had since high school," De Ocampo said. "I was kind of lost and kind of didn't have any friends really coming here my first year, so joining this sport was pretty comforting."
The overall experience of the Sac State rugby club has had a positive impact on De Ocampo and her teammates, especially in hard times.
"College is super rough – the stress levels that you go through, but then everyone's there for you, not just on the field but off the field too," De Ocampo said. "You have someone to lean on, you have friends to go to, (and) you know that you have a team that has your back through whatever comes at you."