Baseball avoids five-game losing streak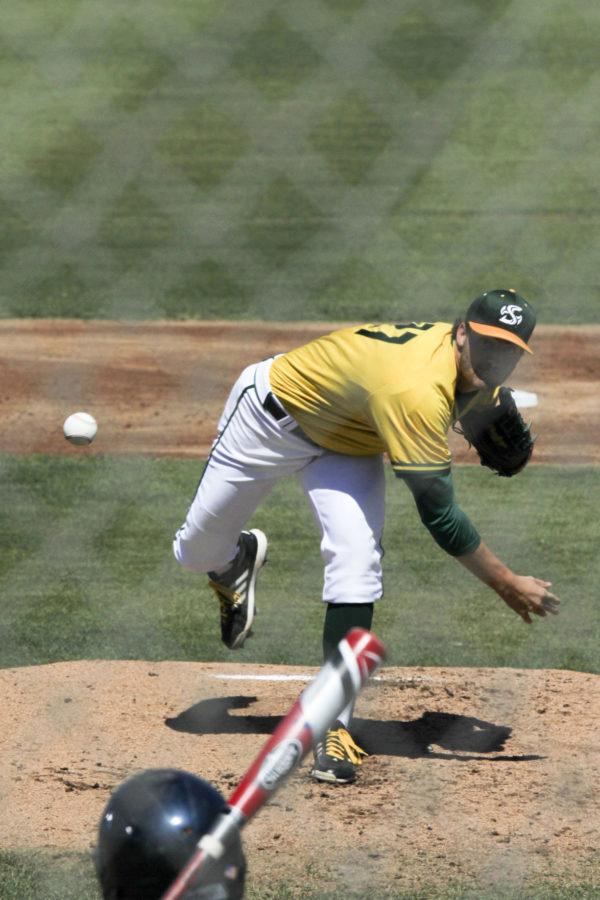 Sacramento State's baseball team ended a four-game losing streak as the Hornets dismantled Utah Valley 8-0 on Friday afternoon.
The Hornets' starting pitcher, Max Karnos, threw a complete game shutout, allowing only three hits with four strikeouts and just one walk.
Sac State scored eight runs on nine hits, including a two-run fourth inning that started the attack for the Hornets. Trent Goodrich hit a one-out single to right center field and scored on an RBI double by Matt Smith to center field. Smith advanced to third base on a wild pitch and scored on a sacrifice fly ball to center field by Chris Lewis.
The Hornets added two more runs in the bottom of the sixth inning. Goodrich started the inning off with a seven-pitch leadoff walk. Smith followed with another double, this time down the left field line to put runners on second and third with no outs. Lewis hit a two-RBI single down the left field line to make the game 4-0 after six innings.
The very next inning, the Hornets scored four runs on four hits and a hit batter. Vinny Esposito led the inning off with a double off the wall to left field. Gunner Pollman followed with an RBI double of his own down the left field line to score Esposito. After a pitching change by Utah Valley, Bronson Grubbs singled to left field and Pollman advanced to third base. Pollman then scored on a wild pitch and Grubbs advanced to second base. Smith singled to left center field to score Grubbs for the third run of the inning. Lewis reached base safely on an RBI fielder's choice for his fourth RBI of the game.
Karnos only faced 28 batters in the entire game, one over the minimum. Karnos allowed three hits, but the Hornets turned three double plays to lower the amount of batters Karnos had to face.
Smith led the Hornet offense going three-for-four with two doubles, two RBIs and two runs scored. Lewis went one-for-four but had four RBIs. Pollman went one-for-four with an RBI and a run scored.
The Hornets will take on Utah Valley for game two of the three-game series at 2 p.m. on Saturday at John Smith Field. Sac State is currently tied for second place as New Mexico State lost to Seattle U in extra innings.