With Halloween right around the corner, it's only fitting we take a look at a film from the franchise named after the holiday, in this case "Halloween III: Season of the Witch."
Just like how the fifth installment of the "Friday the 13th" films is colloquially known as "the one without Jason in it," "Halloween III" is primarily remembered for having nothing to do with the other 12 films in the franchise beyond its title.
RELATED: Hornet Horrors: 'Behind the Mask: The Rise of Leslie Vernon'

If you have heard of this movie, chances are it's been presented as either the worst part of the series or a misunderstood masterpiece. And as with most things presented in such extremes, the truth is a bit more in the middle.
The movie shifts away from the slasher genre, moving into more of a sci-fi-heavy direction with a pinch of the supernatural thrown in. The movie is also the cheesiest in the franchise, which is saying something about a series that has Busta Rhymes kung-fu kicking Michael Myers.
The plot follows Dr. Dan Chalice, played by Tom Atkins, who becomes entwined in a massive conspiracy after a patient of his is murdered. Chalice and his patient's daughter Ellie, played by Stacey Nelkin, begin following her father's footsteps to uncover a plan involving androids, a stolen piece of Stonehenge and a Halloween-themed jingle you'll only get out of your head with a shotgun.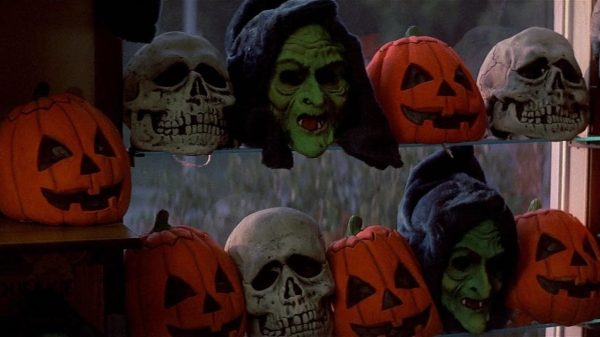 Any one of these elements would make for a weird movie, but putting them together makes for one doomed to never be taken seriously. Still, even if it's not as spine-tingling as Michael Myers's first outing, the movie has a weird charm to it.
Weirdly enough the movie is also a lot gorier than the previous two movies. The first "Halloween" helped kick off the slasher golden age, but compared to its contemporaries it was far more tame and discretionary about its kills, while the first sequel saw an uptick in brutality and bodies.
"Halloween III" doesn't have about as many kills, assuming you don't count robots, but a lot of them are shockingly violent. Ellie's father is killed when an android digs his fingers into his eyes and rips his skull apart from the inside, while another man gets his head ripped off by the robots.
The most disturbing kill in the film by far is when the main villain Conal Cochran, played by Dan O'Herlihy, demonstrates how he will carry out his plan to create a mass sacrifice of children in an attempt to revive pagan rituals. His plan involves a chip in his Silver Shamrock company's Halloween masks that will activate when a special commercial is played that night.
Using a family who toured his factory as guinea pigs, Cochran shows Chalice what will happen to millions of children across America. As the Silver Shamrock jingle plays at an increasingly frantic pace, we see a child fall over, his head seemingly falling apart inside his Halloween mask like a rotten pumpkin. As if that's not enough, snakes and poisonous insects start crawling out of his body, killing his parents locked in the room with him.
The combination of frantic music and camera cuts, alongside the inherently uncomfortable imagery of a child being harmed come together to form legitimately one of the most disturbing scenes in the entire franchise.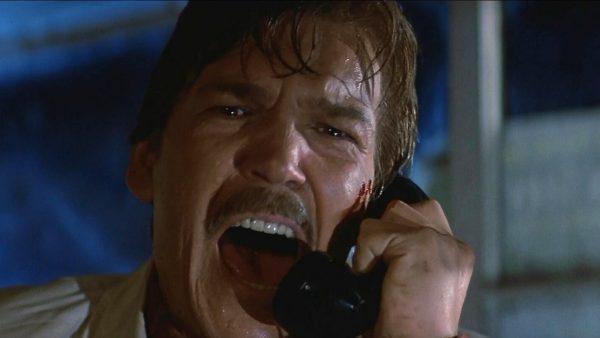 Despite this high point though, there are still some major issues with the film, primarily regarding its overall plot. This is a movie that's very much geared towards the philosophy of "don't think about it too much" when it comes to some of the film's major plot points.
If the plan is to broadcast the signal for the masks at 9 p.m., then won't people figure out what's going on before the broadcast reaches the East Coast? If the Ellie at the end of the movie is an android replacement, why do they wait until after Chalice blows up the factory and kills Cochran to try and stop him?
The movie's screenplay pretty clearly needed another lookover before production started. Again, you can argue this is thinking too hard about a corny 80's horror flick, but that's a lazy way to consume media.
The film also has a forced romance between Chalice and Ellie. It comes out of nowhere and no one wants to see a sex scene between the 46-year-old Atkins and 23-year-old Nelken. And if reading that sentence made you feel uncomfortable, think about how I felt having to watch it.
Ultimately, when it comes to the question of whether this movie deserves its reputation, the answer is a solid "kind of." There are far lower points in the franchise, but at the same time if this movie didn't have "Halloween" tacked on it would probably just be another disposable 80's horror flick.
If that kind of thing is your jam, then "Season of the Witch" is as good as any other to add to your October movie lineup. If not, don't feel too guilty about leaving it out of your annual "Halloween" marathon.