The Portokalos family is once again up on the big screen in the third installment of the "My Big Fat Greek Wedding" franchise. The film was released in theaters on Sept. 8.
"My Big Fat Greek Wedding 3" is written and directed by Nia Vardalos, who portrays Toula Portokalos, the main character of the film. The film takes place in Greece.
Compared to the first and second films of the franchise, "My Big Fat Greek Wedding 3" is different because Michael Constantine, who portrayed Toula's father Gus Portokalos, passed away in 2021 and is not physically featured in the film, except in pictures and his urn.
This film is missing Constantine's presence as a hilarious character in the franchise. "My Big Fat Greek Wedding 3" is dedicated to him, according to Producer Rita Wilson. 
"My Big Fat Greek Wedding 3" tells the story of the Portokalos family going to Greece for a family reunion. In Greece, Toula is in search of her father's childhood friends.
The film is similar to the first film "My Big Fat Greek Wedding" because both films have to do with family, cultural acceptance, heritage and of course a wedding. It was amazing to see Greece as the setting of the film because of how beautiful the country was with the ocean, buildings and views.
RELATED: The Big Picture – 'Guardians of the Galaxy Vol. 3'
The beginning of the film was my favorite part because of the upbeat Greek music playing as it showed flashback pictures of Toula's family members from the first and second films.
The soundtrack that was played throughout the film was great to listen to because of its incorporation of traditional Greek instrumentation. It suited the film's beautiful Greek scenery and architecture wonderfully.
The film contains some funny scenes when the characters are in Greece, such as Toula's brother Nick Portokalos, played by Louis Mandylor, grooming himself at the table while the family awkwardly stares at him.
Another funny scene was when Toula's Aunt Voula, played by Andrea Martin, told a random story about a bone in her hip that stuck out like a toothpick. This was a reference to the first film because in that film she shared a story about a lump in the back of her neck.
The two actors who were hilarious and had the best performances in the film were Martin and Maria Vacratsis, who played Theia Freida. Both were amusing because of their demanding and nosy personalities and they would ally with each other wherever they were..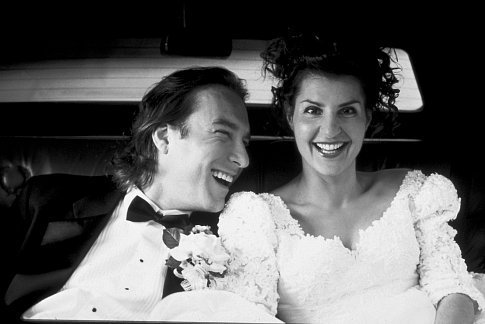 An example of Voula's humor was when she would say funny things to other family members, like telling them to not have babies until they graduate college and buy their parents a house.
Freida would say to not talk or brag about something because it is bad luck. She would also be awoken by a goat in the morning and scream because she thought her husband came back from the dead.
Martin has always been iconic and hilarious when she portrayed Aunt Voula because of her catchphrases and the stories she shared about herself. Her performance in this film is no different. She did an amazing job portraying Aunt Voula and the character suited her extremely well. She was my favorite character in the film and franchise.
Overall, this film was enjoyable and hilarious because of the storyline, characters, setting and soundtrack. It was nice to see the original cast reunite for this film and their roles. If you enjoy romantic comedies, like to laugh and see another country, then this film is worth a watch.