'We can win the thing': Sac State men's soccer believes in a Big West run
Hornets only lose four players as they continue their spring season.
The Sacramento State men's soccer team is back in action at Hornet field for their spring season, hosting Sonoma State University in a 3-1 exhibition win over the Seawolves Saturday. 
The Hornets' roster looked nearly untouched for their return to Hornet Field, losing only four players from their fall roster. The few new faces stood out among the returning Hornets.
New additions to the team this spring included sophomore transfer and attacking midfielder Alhasan Alsakati from California Polytechnic University, San Luis Obispo, senior defender Chino Mez and freshman defender Fernando Venegas. They will also welcome freshman forwards Simon Vaca-Lorenzi and Robert Willcot, brother to sophomore Jhared Willcot, in the fall.   
With it being an exhibition game against a Division II team, Sac State head coach Michael Linenberger decided a lot of the younger guys should see game time this go around. 
"What you saw in this game was mainly our second group of players,"  Linenberger said. "Younger guys that didn't get a lot of time in the fall; there were also a few older guys mixed in." 
Some of the younger guys who stood out were freshman goalkeeper Maxx Willard and freshman forward Max Haslemann. 
Willard was very vocal in the Hornets' defense. He screamed to his center backs and fullbacks throughout the match, which helped the Hornets start their attack from the back. 
Haslemann was vital in the Hornets' attack. His hard work and speed when moving forward kept the Seawolves' defense on its toes. 
"This was their first opportunity to kind of start and play a majority of a game," Linenberger said, describing the younger players. 
Alongside the younger guys, there were also some familiar players.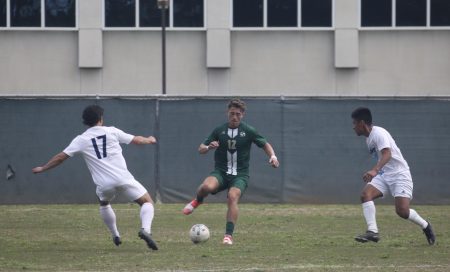 Sophomore midfielder Axel Ramirez was a leader in the midfield, feeding through balls to junior forward Christo Cervantes and Michael Gonzalez when the Hornets were on the attack.  
"Spring is just a stepping stone to help us grow as a team," Ramirez said. "With our new pieces in the fall and the returning group, we hope to achieve better goals." 
The older guys linked up with, the younger ones like bread and butter, showing their experience by being leaders to the younger guys. 
Cervantes was unstoppable in the left wing, breaking through the Seawolves' defense with speed. Gonzalez was on the opposite side, and his dribbling had the Seawolves' defense dancing. 
Junior forward Francisco Magaña came into the match during the second half and immediately impacted the Hornets' play, using his experience to open up spaces on the attack.  
"We're all feeling pretty confident in terms of our goals," Magaña said. "We've always had a goal of winning the Big West. And I think this semester is really important for us."  
Magaña, a senior in the fall, looks to make his last dance with the Hornets memorable,hoping to achieve more than a first-round exit. 
After six years of missing it, the Hornets made their way back into the postseason last season.  
"We were relatively young last year," Linenberger said. "We were loaded with sophomores and juniors; typically, we feel teams win championships with juniors and seniors, not freshmen."  
Linenberger said he believes this team can go far with its deep roster.  
"We got a taste of [being in the postseason]," Linenberger said. "And we want more."