Sac State club empowers female strength in the gym
Girl Gains club looks to discourage gender disparities in the weight room
Back in the spring semester, two women looking to provide a space for women to feel safe and empowered in their fitness journey at Sacramento State came together to form a new chapter of the Girl Gains club.
The original Girl Gains club was founded in 2020 at California University, San Diego. According to their website, the club was created to provide a space for women of all backgrounds and fitness levels with a community and educational resources. 
The chapter at Sac State, which welcomes both women and non-binary members, was established in the spring semester and is one of several across the country. This chapter was founded by Paola Garcia, a fourth-year pre-medicine major, and Natallie Melgoza, a fourth-year exercise science major. The two first met after they both applied to start a chapter at Sac State.
"We both just submitted the same thing to the national chapter saying 'we want to have [this club] here at Sac State,'" Melgoza said. "They were like 'well both of you guys did this, here's your information, figure it out.'"
Outside of school, Melgoza said she works as a personal trainer. Garcia said she's been a fitness enthusiast since high school.
"This club is very much aligned with my goals, with how I vision for women to create their own best versions of themselves in their fitness journeys," Garcia said.
Both women said the first obstacle they went through when forming the club was getting information on how to do so.
"Starting a club from the ground up here is pretty difficult, because they don't give you an instruction manual," Melgoza said. "We had to look stuff up on our own, we had to reach out to people just because we didn't know what we were doing."
Both Melgoza and Garcia said one specific difficulty they faced in forming the club was getting recognized by Sac State.
"I think there's a lot of of push and pull back with Sac State in regards to making things inclusive, which we understand we have no requirements for members, we don't make them pay dues," Garcia said. "We're trying to promote female weightlifting, because it's a very underground community that's not represented enough."
Story continues after the image.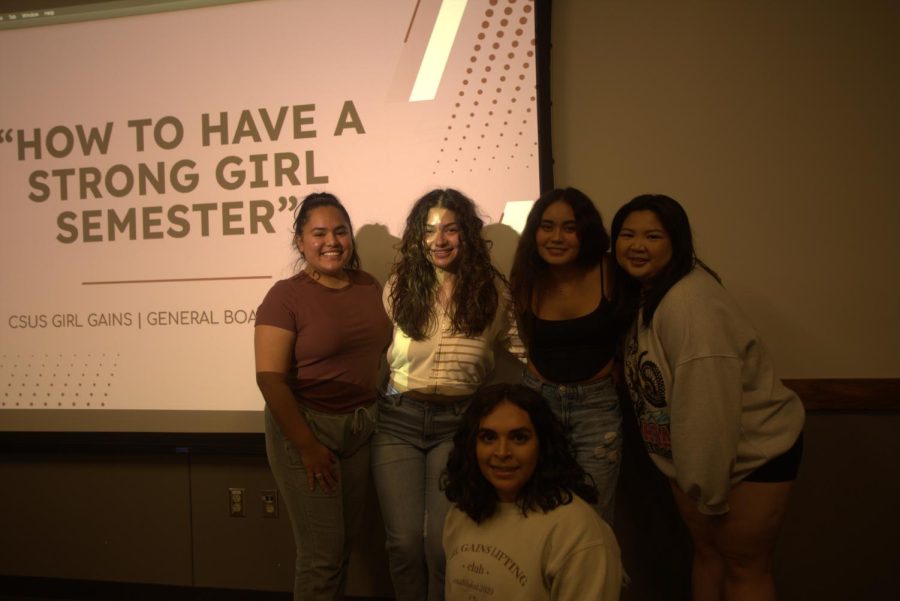 Garcia said one of the club's goals was to create equity in women's and men's fitness. Both founders said their members expressed discomfort working out at the WELL.
"The WELL is not a safe comfortable environment for women," said Melgoza. "There's just a lot of guys; lots of testosterone."
Despite feeling this way about the on-campus gym, Melgoza said they encourage members to go to the WELL in groups and go in with confidence. She said they wanted members to be willing to take up just as much space in the gym as the men there.
One of the new Girl Gains members this semester is third-year business major Lindsay Campbell. Campbell joined the club after looking through several different groups on campus.
"They promote a lot of empowerment and positivity," Campbell said.
She also said that the club promotes acceptance of your own body.  In the past, Campbell said that had issues with worrying about how she was perceived. According to her, the club helped her learn what to do in the gym and how to do it safely.
"One of the things I didn't know about that now I know about is how mobility is really core to being able to do weight lifting — and really just exercise in general," Campbell said.
Another thing the club helped her with was being comfortable going to the gym as a beginner. She said having the community the club provided was a major positive to not just her gym performance, but life in general.
"They're all just really accepting of everyone at every size," Campbell said. "You don't feel like you have to be already going to the gym, or have to be really fit to join. They're open to everyone and they just want to help women feel stronger."