Chando's Tacos now open in University Union, prepare for taco Tuesdays
The local taco chain offers daily deals for students looking for a tasty meal on campus
Johnathan Rutz, deputy copy editor
September 20, 2022
After opening two locations in Georgia; Sacramento's own ever-expanding go-to taco joint, Chando's Tacos, arrived in the University Union for the start of the fall semester. The new addition has quickly become a popular dining option for students on campus.
Originally a food truck, the first brick-and-mortar Chando's Tacos opened in 2010 off Arden Way by Lisandro Madrigal — also known as Chando — and his family. The restaurant later expanded into the locally owned taco chain found around the Sacramento region today.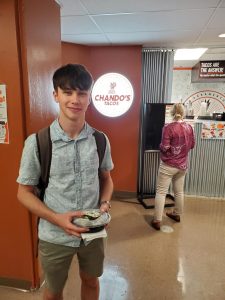 With both meat and vegetarian options for tacos, burritos, flautas (shredded chicken inside a deep-fried tortilla) and tortas (a sandwich in a crunchy telera roll), there are always tasty options for students with various dietary needs.
When asked about their opinions on the addition to campus eateries, students said they were excited to see something new and local like Chando's on campus. 
"The service was pretty good and pretty fast as well," second-year graphic design major Jose Reyes said. "I'd say my go-to would be the torta." 
Other students, including fifth-year science major Anthony Breuer, are excited to have more choices for eating on campus. 
"I'm mostly happy just that there's a new place," Breuer said. "Not even, necessarily [excited] that it's a Mexican place. Just cause it does get kind of stale if you're here every single day." 
On-campus food selections are on the minds of more than just students. Steven Davis, director of dining at Universities Enterprises Inc., discussed how Chando's was an ideal addition to Sac State. 
"We were really enamored with the fact that it was a local company that had a great story about their beginnings, which were very humble," Davis said. "We felt that it was a good alignment with the student population because they did very good business with the food trucks that were on campus." 
However, more than just Chando's' story was considered. Their business model was also evaluated when adding Chando's to Sac State's dining options, with Chando's being a local business more willing to work with the unique nature of a college campus.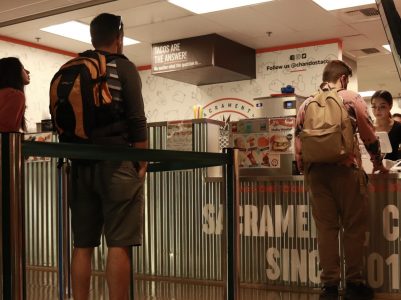 "If you consider the campus is generally open for business nine months of the year during the academic periods and slower during the summer and practically non-existent during the winter," Davis said. "It's hard to find a company or business model that will take on that kind of a proposal."
The new Mexican restaurant on campus also offers daily specials, including Mulita Monday, Taco Tuesday, Burrito Wednesday, Torta Thursday and Flauta Friday. Students are already finding their favorite specials to reserve as their day for Chando's. 
"I would go with the Torta Thursday," Reyes said. "It's not gonna be something that I come to regularly. But every time I have like, the occasion to, I'm gonna be pretty thrilled to have it."