'Welcome Black' returns to Sac State campus for first time since quarantine
Event spotlights Black student organizations
Music blasts from the speakers at the Foothill Suite at Sacramento State's University Union while Black students get settled into their seats for "Welcome Black," an annual event hosted by the Black Student Union at the beginning of every semester. The BSU president, family studies and human development major Kameya Turner, grabs everyone's attention chanting "Black people" followed by claps. After everyone is settled, Turner says over the mic: "Welcome Black."

It is on this Thursday night, that "Welcome Black" returns to in-person after 18 months of quarantine due to the COVID-19 pandemic. During the event, BSU introduced and highlighted Black student groups. According to Turner, it's very important for Black students to know Black organizations so they feel supported and know what resources are offered.
"It's college, it's not free," Turner said. "So I want all of the Black students to take out everything that they can from Sac State."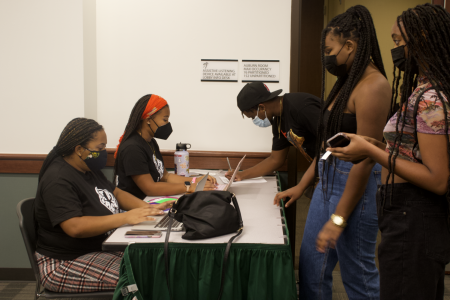 Turner said she understood the demand was so high for in-person meetings, and she sympathized with the students that either lost the in-person experience of their first year or lost a year and a half of their freshman year due to online instruction.
"When I heard what they wanted, I delivered," Turner said. "We already knew what we needed to do to be certified as an organization. We have struggles, but we eventually got approved and 'Welcome Black' happened tonight."

One of the founding members of BSU is Khalil Ferguson, who graduated in 2018 with a degree in economics and international relations. He was in attendance promoting the Black Alumni Chapter at Sac State. Ferguson said as a founding member of BSU, he is happy to see BSU still operating during COVID-19.

"Since the inception of BSU, we just needed a space for Black students to be Black," Ferguson said. "There are students who are coming to campus and understand that there is a Black community for them to join. I came because I'm the president for the Black Alumni Chapter but [for students to] understand that undergrads have the support of the students who have been here, graduated, and are still in the area."Alpha Phi Alpha, Incorporated, an all Black fraternity, also attended "Welcome Black."
Member Amofah Brobbey, a fourth-year ethnic studies major, talked about the resources they provide and how excited they were to attend the event. He said that attending "Welcome Black" was a great opportunity to come back together on campus.

"We've all been Zoom fatigued, dealing with all that stuff, getting all these assignments done," Brobbey said. "But just to be able to see everybody's faces, especially all of this great melanin in the room, it was great to see everybody in there."
"
Since the inception of BSU, we just needed a space for Black students to be Black,"
— Khalil Ferguson
Fourth-year student and psychology major Alexy Henry, a member of the all-Black sorority Delta Sigma Theta, Incorporated, also attended the event. She says Delta Sigma Theta was founded on sisterhood service and a commitment to the community. Henry says she is glad to have the opportunity to have a limited but in-person event.

"This event is just really important because it gives opportunities for Black students to come together on campus and spend time with each other and have the opportunity to learn about all the resources that are provided for us," Henry said. 
Kappa Alpha Psi, another Black student organization, strolled to the front of the room to speak to Black students about joining the fraternity, as well as the services they provide and the support they offer. Member Jordaan Woods, a third-year student and deaf studies major, said he came to welcome Black students. Going to a predominantly white institution (Sac State), he said there is not a large presence of people who look like him. As a result, he feels like it's his duty to meet other Black students and build connections. 
"That's what's gonna make this experience, those Black friends that I made in college may sometimes become future employees, they may become spouses. You never know," Woods said. "It all starts with events like "Welcome Black," so I'm always down to support."