Indie artist Jayson Angove rocks Serna Plaza at Sac State
Latest Sac State Union "Nooner" hosts indie artist Jayson Angove in the first of many upcoming events
Indie rock artist Jayson Angove took the stage in the latest of many free shows and live events  organized by Sac State's Union Network for Innovative & Quality University Entertainment Program on Wednesday.
Angove is known for his creative, heartfelt alternative rock music, as well as his covers of popular songs, such as Hotel California by the Eagles, or Everlong by the Foo Fighters.
UNIQUE is described on the University Union website as a "volunteer group that brings innovative, quality entertainment to campus."   
The singer and songwriter is also the lead singer, keyboardist and guitarist for the rock band Humble Wolf. The Roseville-based band's 2015 album, Black and White, was met with critical success after exceeding its funding goal on Kickstarter.
"His music, both original songs as well as covers, is very smooth and easy to listen to, especially as background music while studying or doing other chores," said UNIQUE Programs Advisor Ajamu Lamumba.
Angove is an artist with deep connections to the Sacramento region and its budding indie rock scene with Black and White, Humble Wolf's most recent album, recorded at Fat Cat Studios on Roseville Road.
He has contributed greatly to local businesses by collaborating with Sacramento musicians, such as the Steve Kimball Blues Band, at small local restaurants. 
When asked about his attraction to the Sacramento area, Angove had some kind words to say. 
"Everyone here is amazing," Angove said."Every time I play Sac State, everyone here is just super easy to work with. It's nice. It's very relaxed. When you work with people that are really nice, you wanna keep working with them."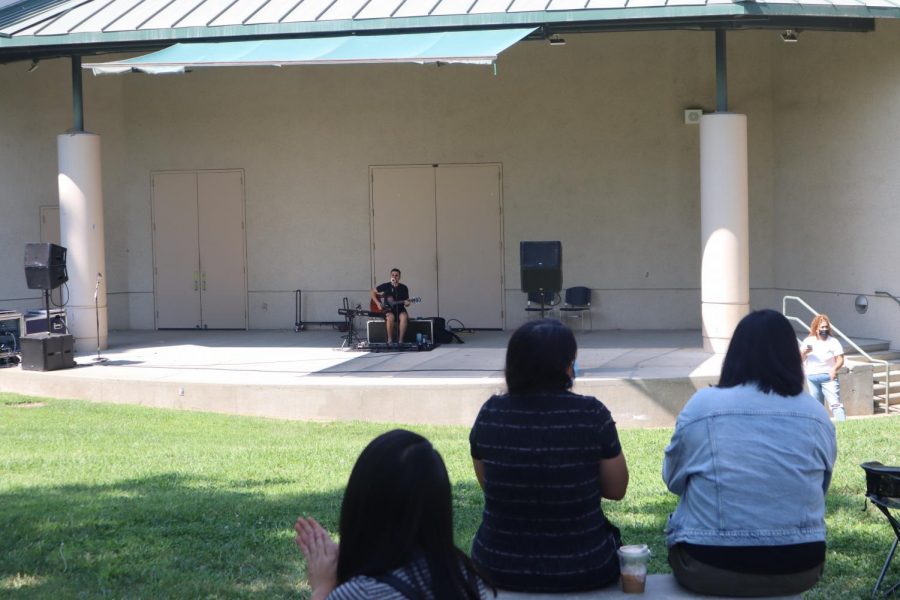 Angove's love for his community and wide appeal of his distinct musical style was apparent with the attendees as well, as both Sac State students and staff appreciated how inviting the whole event felt to them, according to Aimee Xiong. A Liberal Studies major
"I love live music," said Xiong, one of at least a dozen students that attended the show. "My first time ever was two weeks ago for the reggae jazz group that came here last week. That's why I wanted to come to see his music now." 
UNIQUE's decision to host Angove live is one of the many ways in which the program helps to create a diverse and inclusive environment for musicians and other performers to show off their talents.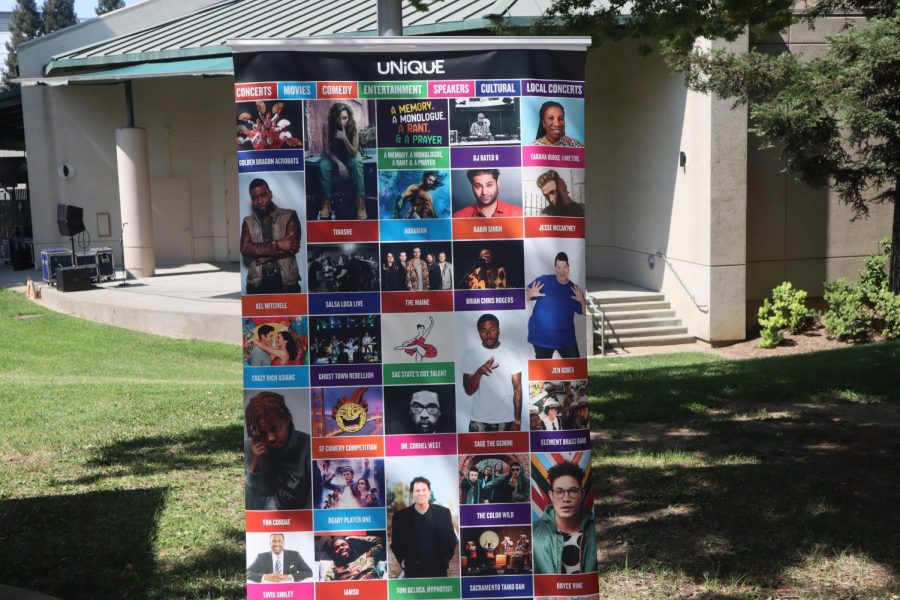 Matt Heilmann, an Information Resources and Technology technician for Sac State, said the broad accessibility and inclusiveness of UNIQUE's organized events spanned across decades since people of all ages tend to show up and enjoy the music.
"The band leader was older, he was late sixties," Heilmann said."There were quite a few young people that were interested, and came and listened." 
UNIQUE has scheduled the Dirty Chops Brass Band, a group specializing in New Orleans-style jazz music, for Sept. 15 at 12 p.m., followed by the Banda Octava Maravilla playing a concert in honor of Mexican Independence Day on Sept. 16 at 7 p.m.