Sac State women's soccer routed at home in 4-0 loss
Hornets took just two shots in match against University of the Pacific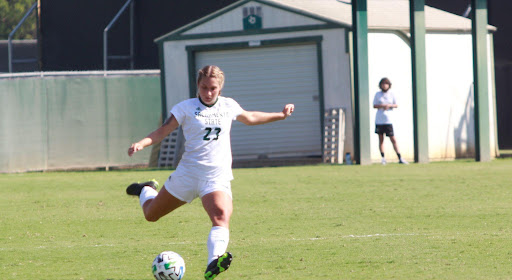 Sacramento State's women's soccer team was dominated at home against the University of the Pacific in a brutal 4-0 loss on Friday.
The Hornets (1-5-1) who looked to bounce back from their road defeat against UC Davis on Sunday, played on their heels against the Pacific Tigers (7-1-1). The Tigers played 90 minutes of tough, uptempo soccer.
The Pacific Tigers opened the match with three early on-goal shot attempts within the first 13 minutes, setting the tone against Sac State's team that struggled to manage that aggression the entire match. The Hornets simply could not find a way to maintain possession against the Pacific Tigers, allowing Pacific to create many offensive opportunities and put major pressure on the Sac State defense.
The pressure that the Hornet defense was dealing with reached its boiling point early in the first half, with Pacific Tigers scoring a left side goal at the 18 minute mark due to a breakdown in defensive coverage.
It was all downhill for the Hornets at that point, with Pacific Tigers pushing the envelope even further as the match progressed. 
The Pacific Tigers went on to put up a total of 18 shots, compared to Sac State's mere two, signalling a baffling performance from the offensive unit from Sac State. 
In the second half, Pacific Tigers went on a scoring frenzy, knocking in 3 goals during a 15 minute stretch of play, leading to the 4-0 loss.
"These are opportunities for us to get better and to learn," Head Coach Randy Dedini said. "We can be a pretty good team, but the record doesn't show that, this past game didn't show it either."
After falling to a 1-5-1 record on the season, players are still finding ways to stay motivated for the remainder of the Hornets' games.
"Even though we've had a couple of hard losses this season, we're just ready to focus on the next step," senior defender Aubrey Goodwill said. "As long as we're focused on ourselves, then we'll be okay."
The Hornets' next game will be Sunday, Sept.19 at noon on the road against Fresno State and will be streamed on Fresno State's athletic's page.