Sac State men's basketball team stings UC Riverside in 62-49 win
Hornets force 18 turnovers as they secure their second win this season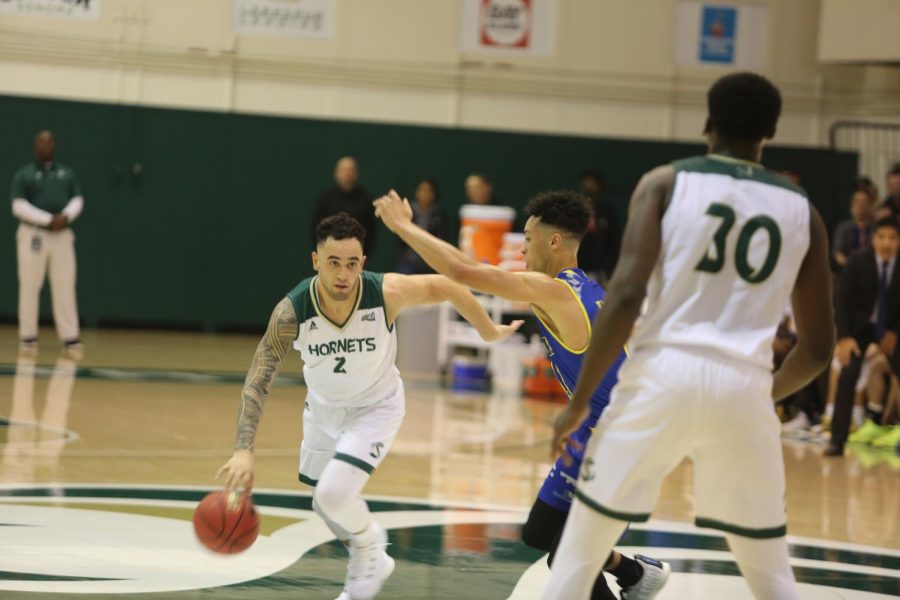 The Sacramento State men's basketball team secured its second double-digit victory of the season Friday night after beating the University of California, Riverside 62-49 inside The Nest. 
Sac State (2-0) set the tone early in the game on the defensive side of the ball and held UCR to only 16% shooting in the first half. 
Riverside (2-1) made just four shots from the field and was forced into eight turnovers in the first half by Sac State. 
The Highlanders' offensive flow was disrupted by a Hornets defense that was prepared for what UCR does best. 
"We really guarded the on-ball well," said head coach Brian Katz in his 12th season at Sac State. "They're a very good on-ball team. We had high hands and we talked all week long about having high hands in the on-ball and I think we did." 
The Hornets shot 42% from the field in the first half and received a scoring boost from their bench. 
Junior forward Bryce Fowler entered the game and lead Sac State on a 14-0 run to push the Hornets' lead to 21-5 with 10 minutes to play in the first half. 
RELATED: Sac State men's basketball team routs Simpson 76-27 in season opener
Fowler scored eight of the 10 first-half bench points and also grabbed a first-half high seven rebounds.
"It's like bringing a starter off the bench," Katz said of Fowler. "He started for two years but he's an unselfish kid and understands its best for our team to do that. He still comes in and plays 31 minutes." 
Story continues below tweet.
Offensive rebound and put back from Hornets forward Bryce Fowler leads to a timeout from UC Riverside.

14-0 runs pushes Hornets lead to 21-5 with 10:00 left in 1st half @SH_Sports pic.twitter.com/DP4xQaTF8q

— Michael Wiggins (@Coach_Mike_SCC) November 16, 2019
Senior center Joshua Patton scored eight points in the first half while blocking two shots. Sac State led 31-15 at halftime. 
Sac State pushed its lead to 20 points in the first five minutes of the second half before the Highlanders cut the lead to 46-34 with 11 minutes to play in the game. 
Six second-half turnovers from the Hornets allowed UCR to cut the deficit to single digits as Sac State led 52-45 with under three minutes to play in the game. 
"We came out with a lot of intensity early and delivered the first punch," Patton said. "In the second half we started turning the ball over but we regrouped and pushed the lead back up." 
The Hornets finished the game with 10 turnovers that led to five Riverside points. 
A 3-pointer from senior Izayah Mauriohooho-Le'afa pushed the Hornets lead back to double digits and ended the Highlanders' late comeback attempt. 
Fowler led all scorers, finishing with a game-high 17 points and a team-high nine rebounds.
Story continues below gallery.
"My teammates and coaches instill so much confidence in me coming off the bench," Fowler said. "When I come in the game I'm just attacking, being really aggressive and trying to create for myself and create for others." 
Patton finished the game with 16 points. Sophomore guard Brandon Davis also scored 16 points and grabbed seven rebounds.
RELATED: Sac State's high-flying center stays grounded with long walks
Sac State forced 18 turnovers in the game and shot 45% from the field en route to the 13-point victory.
Up next for the Hornets is a clash with local Causeway rival, the University of California, Davis Aggies.
"I love playing against Davis," Patton said. "The atmosphere is always amazing. The schools don't really like each other and we're OK with that. We just want to go out there and beat them like we did last year."
The neutral-site game against UC Davis will be on Wednesday at the Golden 1 Center with tipoff set for 5:35 p.m.