Sac State freshman from Norway leading men's tennis team
Gjerdaker's current 11-5 record includes 7-game win streak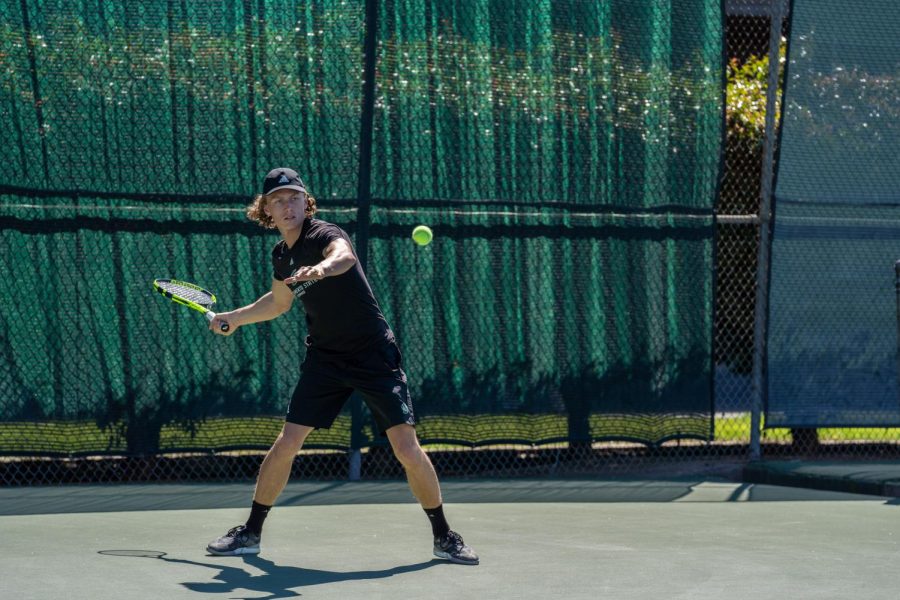 Originally from Stavanger, Norway, freshman Johannes Gjerdaker joined the Sacramento State men's tennis team in the fall 2018 semester and has led his team to a successful season so far.
Currently 11-5 this season in singles, Gjerdaker is tied with Sac State junior Hermont Legaspi (11-7) for the most wins on the team.
After his match on March 15 against Yale University, Gjerdaker achieved a winning streak of seven singles matches in a row.
However, just two days later, his winning streak was snapped against the University of Portland.
"I didn't think that much about the win streak," Gjerdaker said. "I knew that I won a couple of my last matches and I'd been playing good. Then I played the Portland guy. I didn't feel good that day. It was tough playing and he was just sort of better than me that day."
Team captain and senior Mikas Losbergs didn't play in the match against Portland, but says he wasn't disappointed when Gjerdaker's win streak ended.
"He's playing good," Losbergs said. "It's not good to say, but eventually you know he's going to lose one match, it happens to be that one, but we won as a team and that was great that the other guys stepped up."
Gjerdaker also wasn't upset. He says that all he can do is try to build a new streak for the rest of the season.
Story continues below photo gallery.
With only five more matches left in the season, Gjerdaker currently holds the best singles record on the team, despite his recent setbacks. However, his goal in college wasn't always to play tennis.
"In high school it wasn't that fun to play tennis," Gjerdaker said. "I was actually a bit skeptical coming to Sacramento playing that much tennis because I didn't play that much tennis in my last year in high school, but now after almost one year in Sacramento it's one of the best choices I've ever made."
Gjerdaker also spoke of his tennis in Norway. He said he started play tennis when he was seven and as a senior in high school, played three to four times a week.
"I know that here in America you play for a high school team," Gjerdaker said. "We don't have that in Norway, we just play for a club, and I'm from one of the bigger clubs in Norway. So, we were a lot of players and I had a lot of good coaches to play with and good teammates."
When looking for a college to attend, he had a strong preference for a school in California. Gjerdaker remembered that he was willing to take an offer from any university that he had applied to if it was the only offer in the state he received.
"The whole process of finding a college was pretty hard," Gjerdaker said. "It was a lot of back and forth with coaches. I didn't know much about the college system in the US, so I didn't really know what to ask and who to talk to. Then finally Kevin (Kurtz) reached out to me and it was an easy choice for me to say yes to Sacramento."
Head coach Kevin Kurtz remembers Gjerdaker's transition to college tennis.
"We recruited him last summer and first day he got here, I knew we got a really good player," Kurtz said. "He just works 100%, gives 100% every day and works harder and harder."
Gjerdaker said his transition to Sacramento wasn't always easy, but that he felt welcome from his team from day one.
"Coming here to California where everything is big and speaking English, it was pretty tough," Gjerdaker said. "I think with our team, we're good friends both on and off the court (so) that made it so easy."
Now, Gjerdaker is part of a new family.
"They all seem to hang out, seem like friends," Kurtz said. "We're at dinner, we're talking, joking around, having fun. They really enjoy one and another. (Because) some of them are from overseas it's more like they're family over here, which is great."
After nearly a year at Sacramento, Gjerdaker has integrated himself as a part of Sac State's men's tennis team.
"I just have such a strong feeling he's going to win every match," Losbergs said. "I just feel very confident he's going to win, especially when we go to Big Sky (Conference) in Phoenix. I have very high expectations obviously, but I think he also he knows that everyone assumes he's going to get the point, you know we just need three more. It puts a little pressure on him, but he shows that he can win so always expectations go higher and higher."
For now, Gjerdaker's sights are firmly set on the Big Sky Conference tournament.
"The goal for the team is to win the conference," Gjerdaker said. "I think we have the players to do that, everyone on the team is playing really good. As long as we keep the momentum we have now. I think we've got a good chance this year (to win)."