Sac State pitcher throws second perfect game in program history
An inside look at Hornet starting pitcher Savanna Corr
Sacramento State senior right-handed pitcher Savanna Corr was in the middle of what she thought was a no-hitter against Fairleigh Dickinson University on March 10 when she realized the game actually may be more remarkable.
Corr had a perfect game going, with just two innings left to play.
"It came to me around the fifth inning," Corr said. "But I didn't want to think too much about it because I know if I would've thought too much about it I might've messed up. I really wanted to stay cool and just let the game keep playing."
Several others audience members did not realize what Corr was accomplishing until after the game ended. In fact, head coach Lori Perez almost pulled Corr ahead of the seventh inning to give Corr a rest since the Hornets already had a substantial lead.
RELATED: Meet the only two female head coaches at Sac State
"I did not realize we had a perfect game until the game was over," Perez said. "I actually had the other pitcher go warm-up and then I realized she was throwing a no-hitter. She actually didn't even know if she was going in in the seventh. I think everyone knew except for me."
Corr threw just 89 pitches, retiring all 21 batters she faced and striking out eight. Corr's perfect game was only the second one in the program's Division 1 era, and was the first one in Corr's pitching career.
The fourth-year senior's lights-out pitching led the Hornets to a 7-0 victory over Fairleigh Dickinson that day.
Corr's career began young, playing tee-ball when she was just five. Her love for the game eventually led her to join her high school team in Chino Hills where she played on the junior varsity team in her freshman year.
In her sophomore year, Corr made the varsity squad where she played for the remainder of her high school career, becoming a starting pitcher her senior year.
Now, she is the Hornet's go-to pitcher, starting about every other game.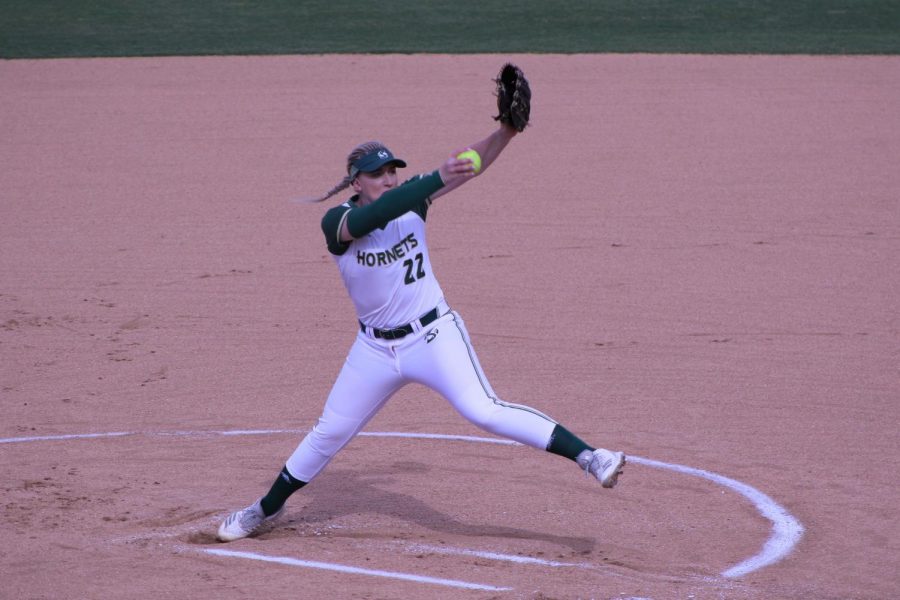 Perez, in her sixth season coaching the Hornets, has seen improvements over the four years she has worked with Corr, commending her growth in maturity, strength and pitch control.
"If I want a ball on the inside corner, she hits the inside corner," Perez said. "If I want it outside, she hits it. Her freshman year, sophomore year she might not have been as good with the command of her pitches. That's one of the things that really makes the difference in a pitcher."
Standing at 5-foot-10' with her blonde hair slicked back into a braided ponytail, completed with a thick headband and a visor — her signature look — Corr has all the looks of what one might imagine when thinking of a collegiate pitcher.
She also has the drive. Corr stays busy, throwing five days a week in an effort to perfect her pitches. Her work ethic is reflected as soon as she enters the circle on game day.
"She is kinda what you call an east to west pitcher," Perez said. "She'll throw a curveball, she'll throw a screwball, she'll throw a change-up. She's got a great riseball. She has really worked hard on the movement of her pitches and I think you're really seeing that come to light now."
Corr currently leads the Big Sky Conference in appearances (24), earned run average (1.94), opposing batting average (.175), strikeouts (82) and wins (11).
RELATED: Softball team earns NCAA Regional bid after winning Big Sky Championship
Corr said she finds the most motivation from her team, constantly pushing herself to play well for them.
"She's very selfless and a hard worker," said junior Suzy Brookshire, who was Corr's catcher during the perfect game. "Even if she's doing something for herself, in reality, it's just to benefit the team."
However, when the uniform comes off, Corr is also just a regular criminal justice student who fell in love with the trees that adorned Sac State's campus and insists that she needs coffee.
"I like to eat Noah's Bagels a lot and I always get a coffee," Corr said. "Can't pitch without a coffee."
Yet even during her off hours, she is still focused on softball. Corr spends time watching softball on her television, studying the game and finding inspiration in the players she watches.
"It's funny, I look up to the pitchers of now," Corr said. "I really just love being able to compete day to day with the girls around the nation which inspires to do my best so I can be my best and hang in with some of those that are just top notch around the nation."
After graduation, Corr is headed to law school in Southern California. However, before then, she said she wants to focus on softball and finish the season strong.
"I just really wanna go out with a bang," Corr said. "I really wanna play for my team. I really want us to do well and be able to go back-to-back champions. I really wanna find us at regionals again. I actually don't want to go to graduation because I want to be at regionals."