Stephon Clark protest in East Sac ends with 84 arrests
Sac State Black Student Union members, State Hornet reporter among those detained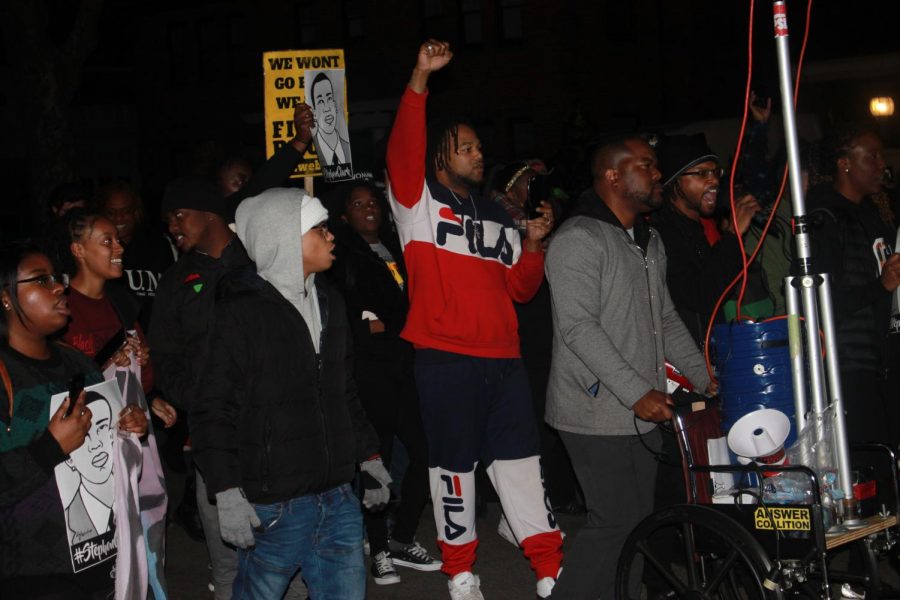 Sacramento State students, journalists and religious leaders were among the confirmed 84 arrested at Monday night's protest in response to the recent decision not to charge the two police officers who shot and killed Stephon Clark.
The protest was organized by Sacramento activist group The Table in response to Saturday's announcement by Sacramento District Attorney Anne Marie Schubert. While unconfirmed, it is rumored to have been said by officers on the scene that the mass arrest was the largest in the department's history.
Story continues below tweet
In total, 84 people were arrested tonight. "They will all be transported off sight, and then they will be processed off-site. And those who meet the criteria of being released will be cited and released," Chandler said. "And those who don't will be arrested and transported."

— Sami Soto (@itssamisoto) March 5, 2019
Those detained were released at Cal Expo between 12 and 2 a.m. in waves of three to six people. Community members, friends, family and activists waited at the "California" sign in anticipation, and cheers and applause followed every time a group of newly released detainees made the reported half-mile walk to the area where everyone was stationed.
Story continues below tweet.
More arrestees arrive to Cal Expo pic.twitter.com/SMzArpv87E

— Kelly Kiernan (@kkiernan98) March 5, 2019
Most of those detained received citations for "failure to disperse" and upon arriving at Cal Expo, were met by members of the National Lawyers Guild, who took photos of each of the citations.
Story continues below tweet.
Wilson Sefo Michel takes photos of each arrestees citations. He said he is taking the photos, "To get jail support so you can organize around the court dates and to send to the National Lawyers Guild to help out with the legal part." pic.twitter.com/tQNsLGaEL9

— Kelly Kiernan (@kkiernan98) March 5, 2019
According to Sgt. Vance Chandler, spokesperson for the Sacramento Police Department, a crowd first began gathering around 6:30 p.m. at a Trader Joe's supermarket on Folsom Boulevard in Sacramento. As the night continued, protesters moved through the Fab 40s neighborhood, a community of upscale homes in East Sacramento.
"Shortly after we started monitoring the group at approximately 7:30, we established that the group was unlawfully assembling by standing in the street and we also received information that multiple vehicles in the area were vandalized," Chandler said at a press conference late Monday night.
Police made "at least 10 announcements" for protesters to disperse over a two hour period, Chandler said.
"We need folks to still be free and not in jail when the next action comes. It's time to disperse, it's time to disperse," an unidentified protester said over a megaphone.
Khalil Ferguson, an international relations major and founder of Sac State Black Student Union, was also in attendance to the protest and was among those arrested.
Story continues below tweet
Just spoke with Khalil Ferguson, one of the founders of Sac State's Black Student Union, who said that more than a dozen members attended the protests tonight and around the same number, himself included, were among those arrested for failure to disperse. @TheStateHornet

— Kameron Schmid (@KameronSchmid) March 5, 2019
In addition, The State Hornet co-news editor Will Coburn, The Sacramento Bee news reporter Dale Kasler and Sacramento Business Journal law and policy reporter Scott Rodd were arrested on the scene of the protest.
Coburn was released around 2 a.m. after spending approximately five hours in custody. Coburn said he was taken to a processing center near Cal Expo after being detained with others on an overpass in East Sacramento.
UPDATE: @WillHearYou has been released. He received a citation for failure to disperse. He was taken to a processing center near Cal Expo.

— Margherita Beale (@margheritabeale) March 5, 2019
Brittney Delgado, Will Coburn, Kelly Kiernan, Robyn Dobson, Mitchel Bobo and Sami Soto contributed to this report.