Sac State professor-turned-podcaster lectures to large crowd
Co-creator of the award-winning podcast Ear Hustle gives inside look into the show's evolution
A packed room at the University Library Gallery greeted Sacramento State professor-turned-podcaster Nigel Poor Thursday afternoon as part of the Charles Martell Author Lecture Series.
Poor is the co-creator and co-host of "Ear Hustle," a podcast spotlighting life in San Quentin State Prison.
The podcast first premiered in June 2017, after a team composed of Poor, Earlonne Woods and Antwan Williams won Radiotopia's "Podquest" competition. The competition was steep, with about 1,500 other submissions.
"It was very exciting for us and quite surprising," Poor said during the lecture. "And when I went and told the (prison) administration that we won, Lt. Robinson, who if you listen to the podcast is a reoccurring voice, said 'Well, we let you apply because we never thought you would win. So now we're going to have to figure this out.'"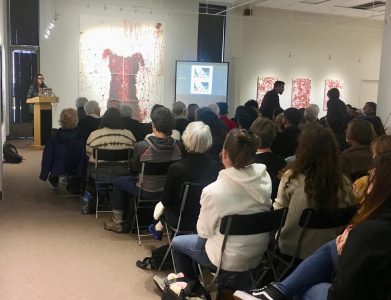 At the time, Woods and Williams were both inmates serving sentences at San Quentin. Williams is the show's sound designer and is currently serving a 15-year sentence for armed robbery.
Woods co-hosts the show with Poor and was serving a 31-year to life sentence until recently. Back in November 2018 one of the podcasts creators and co-hosts, Earlonne Woods, had his sentence pardoned by former California Governor Jerry Brown.
In Brown's letter approving the pardon, he wrote, "He (Woods) has set a positive example for his peers, and through his podcast, has shared meaningful stories from those inside prison."
During the lecture, Poor played several bites from the podcast's three seasons — from the promo that was submitted to Radiotopia to stories that gave the team the chance to speak on topics like race relations and falling in love.
"I think it's really easy for people to speak for people in prison," said Linzee Banks, a junior english major. "And she's elevated it — the medium's better and they have the ability to speak for themselves which is pretty profound."
Related: Professor co-creates podcast 'Ear Hustle' with San Quentin inmates to fight stigma
The podcast has also come with its share of challenges. Ear Hustle is recorded and produced inside the prison, leaving the team to deal with issues like blaring alarms during interviews and prison lockdowns.
But Poor says her personal goals for the podcast keep her moving forward and make her passionate about the work.
"I believe each person has to use the tools that they have to try to make the world we live in a better place and the tool that I have is my interest in storytelling," Poor said.
Sac State freshman X'zyah Xaysana is a student in Poor's "Photographic Self" class this semester and has heard bits of the podcast played by Poor during class. She said hearing Poor lecture about the podcast has motivated her to listen to it on her own.
"I found it interesting how she's making communication with these inmates and giving a different perspective from the inside," said Xaysana.
Currently, the Ear Hustle team is working on stories about re-entry. The podcast is entering its fourth season set to be released in June.