Jesse McCartney brings nostalgia to a sold-out show
The 2000s teen heartthrob sang a mix of old songs and new releases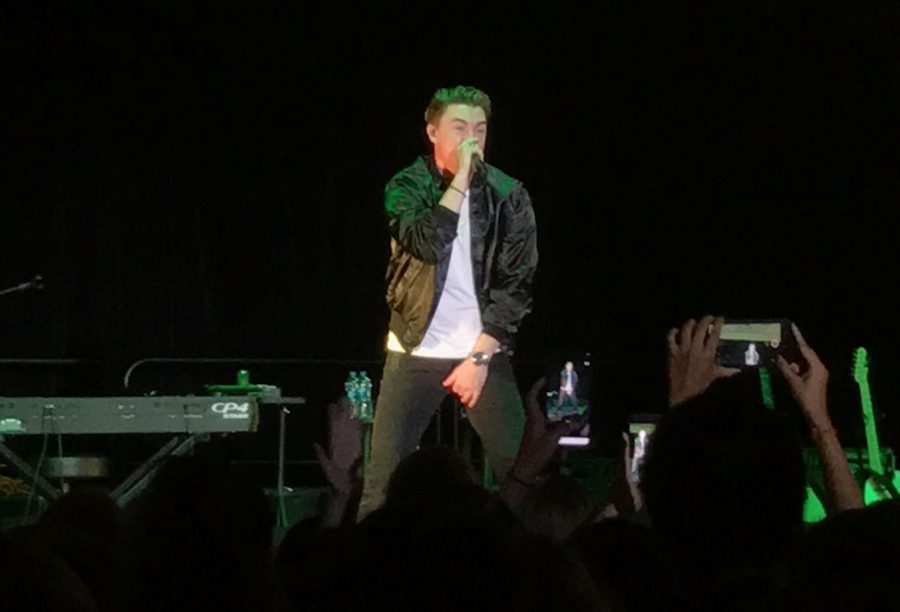 Singer and songwriter Jesse McCartney performed to a sold-out show Thursday night at Sacramento State in the University Union Ballroom.
Fans of the 2000s teen heartthrob lined up outside the doors of the Ballroom hours before the event, leading the line straight out the doors of the Union.
Before doors opened, fans expressed their excitement about the "Beautiful Soul" singer being on campus.
"I can't believe this is actually happening right now, like my mind isn't here," Christa Causin a psychology major said. "But I'm very excited. I can't wait to scream."
Criminal justice major AlyssaMarie Alvarado, who found out about McCartney though his appearance on the Disney Channel show "The Suite Life of Zack of Cody," said that her younger self would be going crazy.
"[I'm] super, super excited," Alvarado said. "My 9 [and] 10-year-old self is freaking out."  
The crowd was allowed into the Ballroom around 6:30 p.m. The Sacramento-based band, The Color Wild, opened the show at 7:30 p.m.
After The Color Wild finished their set, the crowd began chanting "Jesse," who made his opening appearance on stage at around 8:30 p.m.
He opened up the show performing "She's No You," a single off his 2004 debut album, "Beautiful Soul."
Throughout the night, McCartney sang a variety of songs from his early albums to covers and even a few new songs he released this year.
Popular songs such as "Leavin'," "Just So You Know," "Body Language" and "How Do You Sleep" were performed as well, as new songs such as "Wasted" which were sung along to by the crowd.
McCartney, 31, took a break from the music scene for several years, which was noticed by some Sac State students who attended the show.
"He's been MIA for a really long time, so just seeing him and hearing him takes me back to a really good moment in my life," said Luz Cruz, a Sac State sociology major.
In a post-concert interview, McCartney said he was exhausted after producing his fourth album and wanted to take time to do other things such as acting.
"I like to keep it fresh and I like to do other things," McCartney said. "As much as music is my first love and my first passion, I have a lot of other things I like to do and a lot of other goals and hobbies."
When it comes to performing on college campuses, McCartney said the crowd has always involved a younger and rowdier audience.
"The college crowd is on the middle to younger end of my spectrum, in terms of my fan demographic," McCartney said. "They're just always a good time. I've never had a sleepy college show, ever."
With having 25 college appearances this fall alone, McCartney said it was cool knowing so many of his fans in school are interested in him performing at their campus.
"I get people all the time on Instagram and Twitter saying like, 'Come to Sactown, you're never here,' and I love this town. It's a fun city," McCartney said. "You guys made me come."
McCartney closed the show with an encore performance of "Beautiful Soul," ending the concert at around 9:40 p.m.
Additional reporting by Storm Ray.