PREVIEW: Football team prepares for Cal Poly and triple-option offense
Hornets look to return to winning ways following bye week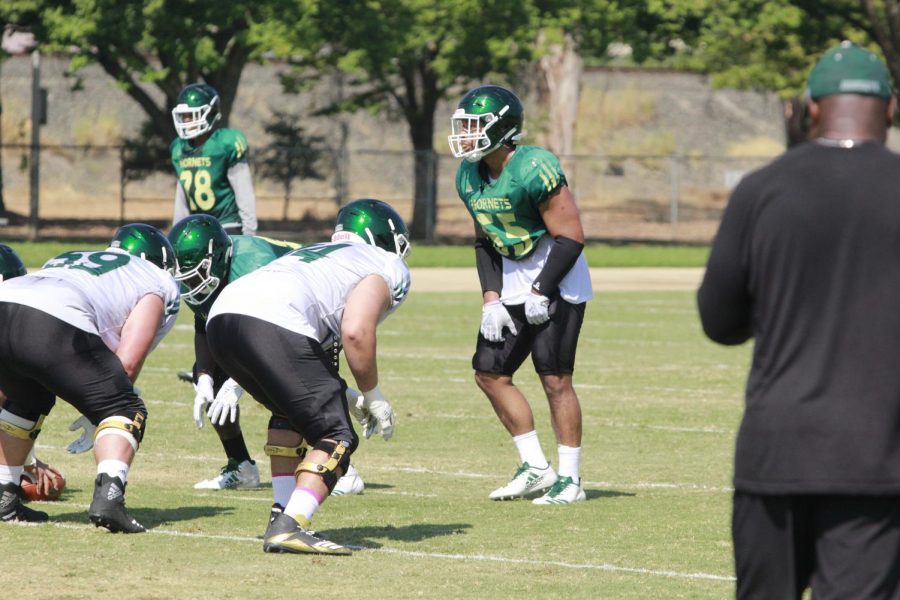 PREVIEW: Football team prepares for Cal Poly and triple-option offense
Hang on for a minute...we're trying to find some more stories you might like.
The Sacramento State football team is focused on stopping Cal Poly's lethal rushing-attack and closing the game to get back to winning tonight.
The Hornets [2-2, 0-1 Big Sky Conference] had their bye week in week five and last played on Sept. 22 against No. 19 Montana, narrowly losing in a shootout 41-34.
"At the end of the day, we fought hard, played physical and executed a little bit," senior defensive back Mister Harriel said. "So coming into this week we know we have to come out, hit hard, play physical and stop the run."
Sac State had an extra week to analyze what went wrong against Montana and to plan for Cal Poly during their bye week.
.@harriel_mister says in order to beat Cal Poly (1-4) on Saturday, his team needs to stop the run, keep their poise, play as a team and do the little things.

Harriel goes into week six leading his team in interceptions (2) and is fourth in tackles (21). @SacHornetsFB pic.twitter.com/7axtz2jgw7

— Shaun (@HOLKKO23) October 4, 2018
"We got to recharge, get our bodies right, regroup and go over the details and the little things to get back right," Harriel said.
The Hornets' offense averaged 32.8 points and 452 yards per game through four contests this season.
Sac State also has a balanced attack on offense between passing and rushing. Senior quarterback Kevin Thomson has averaged 271.5 passing yards per game while sophomore running back Elijah Dotson has led the rushing attack that averages 180.5 yards per game.
"That was the one thing that was really disappointing was the explosive plays that [Montana] got on us in the run game," football head coach Jody Sears said. "Finishing in the fourth quarter has been a main point of emphasis."
The Hornets' defense has allowed 439.5 yards and 25.3 points per game so far this season. Opposing teams have rushed for 186.5 yards per game, which the Hornets know they will need to limit against Cal Poly on Saturday.
"We're facing a different animal [this week] in the triple-option," Sears said. "We have to be very disciplined and contain the fullback."
.@CoachJodySears says his team is dealing w/ "a different animal" this week against Cal Poly running the triple-option offense and emphasized his defense needs to contain the fullback.@SacHornetsFB play their 1st home game in over a month this Saturday at 6pm @ Hornet Stadium. pic.twitter.com/7n5Bwa56hR

— Shaun (@HOLKKO23) October 4, 2018
Sears emphasized the importance of containing the fullback by repeating himself twice at practice on Sept. 3.
Sac State dominated the Mustangs in their last matchup in 2017 with the Hornets winning 49-14 in San Luis Obispo.
"They are very well-coached," Sears said. "The last few times that [Cal Poly] has come into Hornet Stadium they have been hard to handle."
Cal Poly has a strong run game led by senior fullback Joe Protheroe who has 660 yards and seven touchdowns through the first five games of his last collegiate season this year. Protheroe is a bell cow for the Mustangs and ranks seventh in the Football championship subdivision averaging 132 rushing yards per game.
"I know they like to run the ball a lot so the one goal we have as a defense is to stop the run," Harriel said. "So we'll have to stop the run to win this game."
The Mustangs offense is unique because they run the triple-option but even more so because they don't have a set starter at quarterback. Senior Khaleel Jenkins and Folsom-native sophomore Jake Jeffrey have shared time at quarterback for Cal Poly so far this season as Jenkins has been plagued by injuries.
"We have got to run the ball and get off the field on third down," Sears said. "[The defense] have to get some turnovers for our offense."
Sac State takes on Cal Poly tonight at 6 p.m. at Hornet Stadium.