North Dakota spoils Hornets homecoming
The North Dakota run game proved too much for a depleted Sac State defense
The Sacramento State football team fell to the University of North Dakota 41-15 at the homecoming game Saturday night when the Fighting Hawks run game overpowered the Hornets defense.
The Hornets were coming off a 48-27 loss at Southern Utah University while the Fighting Hawks were coming off a 41-14 win against the University of Montana.
Senior Wyatt Clapper started at quarterback for the Hornets after senior Kevin Thomson was injured early in last week's game. He tallied 246 passing yards and a touchdown in the Oct. 13 game against the Thunderbirds. Clapper had 119 passing yards against North Dakota.
"It was nice to get my first college start since being here in Sac, but I felt like I could have played a lot better," Clapper said.
North Dakota (5-2, 3-1 in Big Sky Conference) came into Saturday's matchup averaging 27 points per game. Their offense has been led by quarterback Nate Ketteringham, a former starting quarterback for the Hornets.
The Fighting Hawks began the game with a 2-yard touchdown after a fourth down completion and a seven minute drive. Sac State was able to respond with a 27-yard field goal by Devon Medeiros, but North Dakota extended their lead 14-3 to end the first quarter.
RELATED: Losing record leaves Sac State football program in disarray
The Hornets started the second quarter with a 5-yard Bryant Perkinson touchdown run that made the score 14-10. They took advantage of the momentum on defense when sophomore defensive back Daron Bland forced a fumble that was recovered by Mister Harriel.
Later in the quarter, senior defensive back Marcus Kirkpatrick forced a turnover on downs.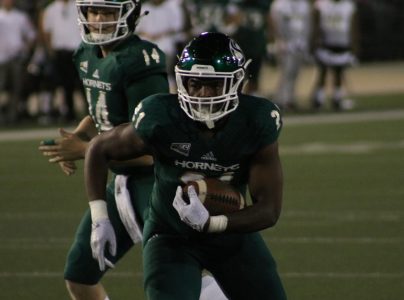 Sac State failed to add anything on offense and the score remained 14-10 heading into halftime.
The second half began with a North Dakota touchdown off a run by Brady Oliveira. However, they fumbled the extra point. This fumble was picked up and returned 98 yards by junior defensive back Allen Perryman for a defensive 2-point conversion making the score 20-12. This was the first time Sac State scored a defensive 2-point conversion since 1990.
RELATED: Triple-option too much in Hornets 41-27 loss to Cal Poly
Sac State scored a field goal on their next drive to make the score 20-15. This was when the Hornets defense began to struggle.
The Hornets gave up two more rushing touchdowns to end the third quarter along with one more in the fourth. Offense was unable to keep up and failed to score in the final 23 minutes of play.
Sophomore running back Elijah Dotson had his fourth straight game with over 100 yards rushing.
"You just have to give credit to our O-Line," Dotson said. "They work hard every week and move bodies. You can always get 100 yards running behind them."
The loss drops Sac State to 2-5 on the season and 0-4 in the Big Sky Conference.
"We will have to look at the film. Take the good, fix the bad and move forward," said Sac State head coach Jody Sears. "We have another opportunity next week to fix some things on defense and keep sharpening the iron."
The Hornets will take on the Portland State Vikings next Saturday Oct. 27. The Vikings are currently 3-4 on the season and 2-2 in conference play.