Hornets football struggles continue, losing 41-14
Still winless in conference, the Hornets lose to Portland State
The Sacramento State football team continues to struggle this season and fell to Portland State at home 41-14 on Saturday.
The Hornets (2-6) have yet to win a Big Sky Conference game and have lost five games in a row. They are the only school in the Big Sky without a conference win.
Portland State (4-4) dominated the first half and took a 24-7 lead into halftime.
Sac State only gave up three points in the third quarter, but in the fourth, gave up two big rushing touchdowns that all but guaranteed the loss.
The Hornets have let seven players rush for 100 plus yards in the last five games. The defense allowed a total of 341 rushing yards and three rushing touchdowns Saturday.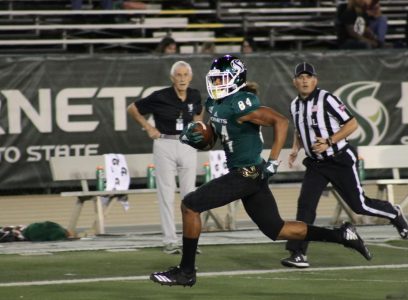 Junior defensive back Caelan Barnes led the defense with seven tackles.
"There is a lack of passion for the game, you have to come with it every play to win games, so when that's missing, results like this happen," Barnes said. "We just got to come back next week ready to work [and] can't get down ourselves."
The rushing defense is ranked last in the Big Sky, giving up 285.4 yards a game and 26 touchdowns this season.
Senior defensive back Marcus Kirkpatrick got his first career interception.
"It just happened, I went in there and did what I was coached to do," Kirkpatrick said. "It's a great feeling, but at the end of the day, we need W's."
Leading a struggling offense, senior Wyatt Clapper started at quarterback for the injured Kevin Thomson.
RELATED: North Dakota spoils Hornets homecoming
He threw 7-15 with 127 yards, one touchdown and two interceptions.
Wide receivers Andre Lindsey and Jaelin Ratliff were also out with injuries and Johnnie Rucker was ejected for a targeting call in the second quarter.
Sophomore running back Elijah Dotson had another strong game and finished with 19 carries for 183 yards and a touchdown.
Dotson also became the fourth underclassman in school history to pass 1,000 rushing yards in a season and the first since 2008.
"I'm not really a stat guy," Dotson said. "I'm just out here to play my game, I am proud of what has happened. But you have to thank the O-line, they do their job, then I can do mine. They move bodies, and then I can get past people."
"[Dotson] is just a phenomenal talent," head coach Jody Sears said. "I think the guys up front do a great job of getting him covered up. Offensively, one thing we can do is we do a decent job of running the ball."
Sears said he challenged his team in the first half because players were not matching the intensity needed to play at a competitive level.
"I really thought emotionally we were really up and down in the first half, so I really challenged them at halftime," Sears said. "But I thought the heart and the passion they played with in the second half, because we let a couple things slip in that first half that were inexcusable, just a lack of discipline and that consistency thing that keep raising up and biting us in the rear end."
The Hornets will look to get their first win in conference play Nov. 3 at Weber State who is now 6-2.