Brahms ties strikeout record as baseball team wins series against Seattle University
The Sacramento State baseball team won two out of three games against Seattle University over the weekend at John Smith Field.
Sophomore pitcher Parker Brahms, who started game three of the series, tied his own Sac State program record with 14 strikeouts. He had precisely thrown 14 strikeouts on April 13 against Northern Colorado.
"These past few weeks, I have been working on my change up because my fastball command had been off," Brahms said. "So I had to rely more on my change up. But (in game three), my fastball and change-up command were on."
RELATED: Baseball team takes 2 out of 3 against Northern Colorado
Sac State (26-20, 13-5 Western Athletic Conference) started the series against the Redhawks (30-15, 11-7 WAC) with a 5-1 victory.
Hornets freshman pitcher Scott Randall earned the win after throwing six innings, giving up one run on five hits and striking out three batters. Sophomore pitcher Austin Roberts earned his first save of the season after throwing three shutout innings and striking out five batters.
Senior outfielder Ian Dawkins and sophomore outfielder Matt Smith each went 2-for-4 with an RBI, including a third inning solo home run from Dawkins.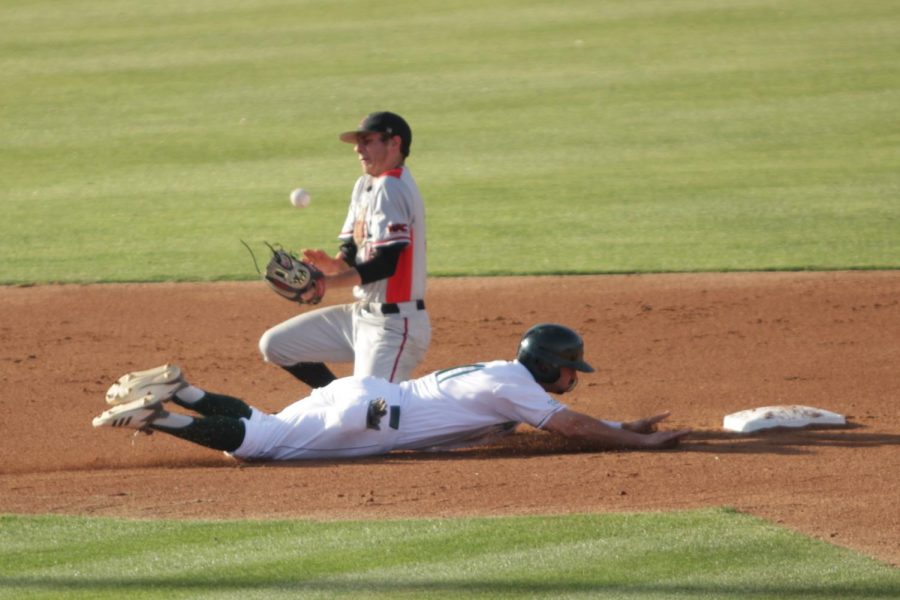 Junior outfielder James Outman, who was walked three times, went 1-for-1 with two RBIs on a two-run home run in the third inning. Sophomore shortstop Josh Urps also added an RBI after going 1-for-4.
Sac State lost game two after a 4-3 defeat to the Redhawks.
Hornets senior pitcher Austin Root threw six innings, giving up three runs on eight hits and striking out three batters. Senior pitcher Ty Fox and freshman pitchers Brady Rodriguez and Travis Martizia each threw one shutout inning with five strikeouts combined. Sophomore pitcher Tanner Dalton, who is coming off consecutive WAC Pitcher of the Week honors, gave up one run on two hits without recording an out.
Outman and senior infielder PJ Floyd each hit a home run. Floyd, whose seventh inning two-run home run tied the game at 3-3, went 2-for-5 with two RBIs. Outman went 1-for-4 with an RBI on his first inning solo home run.
Smith went 2-for-5 while Dawkins and freshman infielder Keith Torres each had a hit in game two.
Sac State was able to win the series after a 10-1 victory against the Redhawks with help from explosive hitting late in the game.
The Hornets, which had two hits going into the seventh inning, scored four runs in the seventh inning and six in the eighth inning to get the win in game three.
Sac State coach Reggie Christiansen said Redhawks junior pitcher Nick Merservey — who threw five shutout innings, giving up one hit and striking out two batters — dominated the Hornets.
"We weren't very good," Christiansen said. "I felt like our alarm clocks didn't go off early enough (before game three), but I have to give our guys credit. It is a nine-inning game and they decided to show up and play in the seventh which was enough for us (in game three)."
Brahms — in addition to throwing 14 strikeouts — threw six innings, giving up one run on four hits. Roberts and Dalton — who came in relief for Brahms — combined to throw three shutout innings, giving up two hits and four strikeouts combined.
Outman and Torres each had two RBIs on two hits while Dawkins, Floyd and senior outfielder Andrew McWilliam each had an RBI.
The Hornets will next play Causeway rival UC Davis on Tuesday at John Smith Field.