Women's golf team falls at Big Sky Championships
The Sacramento State women's golf team entered the season as reigning Big Sky Conference champions with four of its five starters returning, but now it appears as if the season has come to an end.
The Hornets set their sights on a repeat and everything was going according to plan throughout the season until the Big Sky Championships this weekend in which they fell to the University of Idaho in Boulder City, Nevada. A win would've earned Sac State an automatic bid to an NCAA Regional for a second consecutive season.
"I'm very disappointed," said sophomore Sofie Babic. "We didn't see this happening. Now we realize that we aren't going to go (to regionals.)"
The Hornets won four events this season, including the last three leading up to the conference tournament. Babic finished in the top 10 in her last three competitions, including a win in the Wyoming Cowgirl Classic on April 3. Senior Astha Madan and junior Julie Becker finished three shots behind her in a tie for second place.
"I think everyone had a lot of confidence," Babic said. "We were expecting to do well in the conference tournament."
RELATED: Returning women's golfers keep last year's success going
Sac State went into the Big Sky Championships ranked No. 61 in the country, which was 20 spots higher than any other team in its conference.
However, the Hornets didn't play like a highly-ranked team during the first day of the tournament on Friday.
After the first day, the Hornets were situated in third place and Babic — who earned Big Sky first team honors on Thursday — shot a 76 in the first round, which was her worst score since Feb. 27.
"We were not doing our best the first day," Babic said. "Personally, I am very disappointed."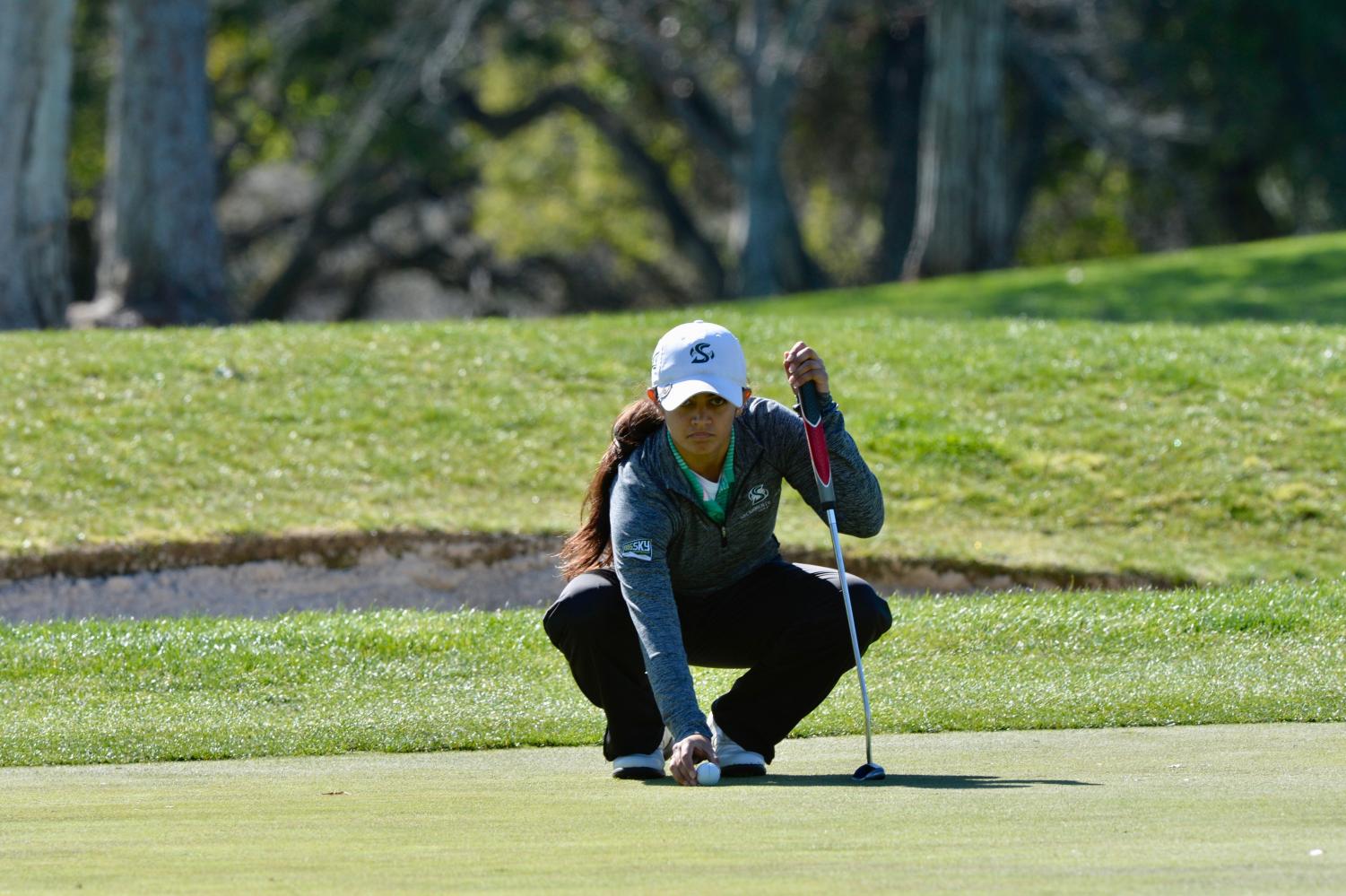 Sac State then tied for the best score in the second day and round with Idaho on Saturday.
However, with scores of 77 by Babic and freshman Corinne Viden, the Hornets couldn't gain any ground on the Vandals and headed into the final day of the tournament trailing by five strokes.
Last season, the Hornets and Vandals were in an eerily similar situation. Idaho trailed by three shots heading into the final round and wound up tying it up. Sac State then eventually won in overtime to clinch its first NCAA Regional berth since 2007.
RELATED: Sac State women's golf ends 10-year NCAA Regional drought
During the final round on Sunday, the Hornets began to gain steam en route to a come-from-behind conference championship.
After each golfer had their scores through nine rounds submitted, Sac State had secured five strokes and evened it up with Idaho with nine holes remaining.
Idaho then dominated the second half of the round and was led by junior Sophie Hausmann, who shot a -5 on the back-9. As a team, the Vandals scored a -6, while the Hornets only shot an even back-9 for a second-place finish.
"I don't think (Idaho was) lucky at all, they played great," said Sac State coach David Sutherland. "Every gal on the team wanted to win that event very badly. It's hard to win four straight tournaments, it just is.
"Golf is just not a sport that you win that much. We've had a historic year here at Sac State."
While the season will likely be over after not winning the automatic bid that the Big Sky receives toward an NCAA Regional, the Hornets have rewritten the school record books.
Sophomore Nishtha Madan set the school's all-time low score for a single round when she shot a 67 on Oct. 31, 2017. The team also recorded the lowest team score in a meet in school history and won three of the top five spots.
Finally, all five starters on the team have the five best scoring averages in school history.
"I think we should be proud," Babic said. "We all improved. I think we showed we are capable of doing so much better."