University Union hosts 'Super Smash Bros.' Tournament with $50 prize
No games room? No problem. Weekly tournament showcases Nintendo's classic fighting franchise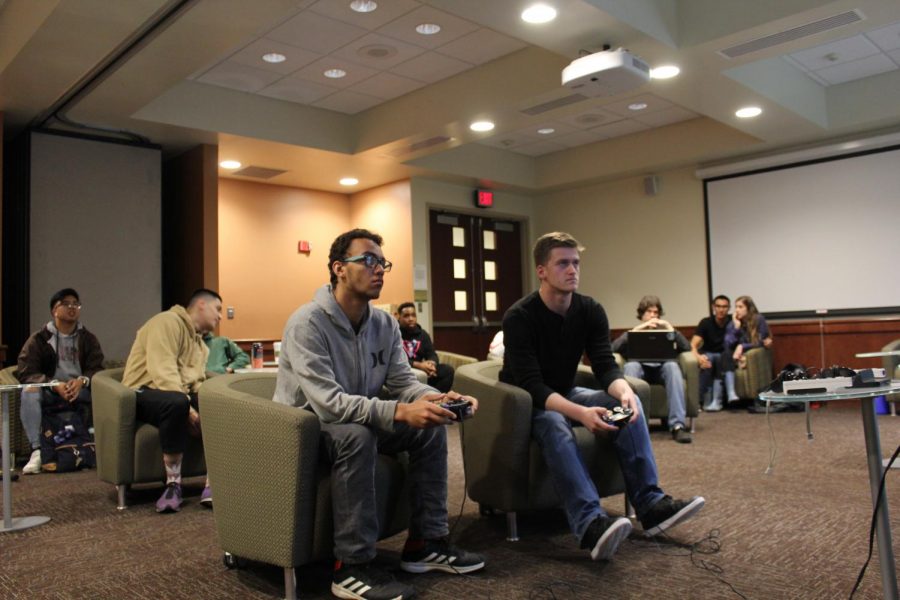 As rain pattered on the windows, about 20 students gathered for a "Super Smash Bros." tournament in the Valley Suite of the University Union. A $50 Amazon gift card was on the line for the winner.
The Union hosts a video game tournament every Friday, and last week's contest saw a familiar face, third-year kinesiology major Daniel Hernandez, come out victorious.
Before the tournament even began, Hernandez was feeling optimistic.
"I'm going in with the thought that I can win," he said. Hernandez took home the title of the last "Super Smash Bros." tournament at Sacramento State, too.
"I always played this game growing up, and I just heard one day that there's a club here," Hernandez said. He said he attended one of the "Super Smash Bros." club meetings and eventually became president.
Daniel Hernandez secures his first-place victory in the final series of the Super Smash Bros. Tournament over Tyrice Woods @TheStateHornet pic.twitter.com/hlbpmIJtdK

— Oscar rZod (@OscarRzod) April 6, 2018
Hernandez was one of many from Sac State's "Super Smash Bros." club to participate in the tournament, but others, like freshman communications major Zach Ayre just came for the fun.
"I heard about it through word of mouth, and I just was really excited," Ayre said. "I enjoy the game and the community built around it, and it's going to be a lot of fun."
Third-year construction management major Jonathan Williams said he was handed a flyer and just wanted to participate.
"I just had to get into it," Williams said. "I don't even care if I lose. I knew I had to get in."
Williams started playing the game with his family, and he described the intensity of those matches.
"It was so competitive, and we'd have to pause the game because we'd be about to start fighting," Williams said. "But then we'd turn around after and hug it out and love each other like nothing ever happened."
The tournament was hosted and run by fourth-year environmental studies major Jonny Cervantes and third-year business major Jennifer Moran.
"This semester and last semester (were) pretty different, just because the games room was closed down due to (the Union) expansion," Moran said. "But attendance was pretty high when the games room was actually in place, so people know about these tournaments and really want to come to them."
Ayre said he participated in a couple of tournaments last semester, and while he noted the turnout wasn't as big this time, he said this created a different atmosphere.
"There were more people (last semester), I think, than this time, but having it be more close-knit and more personal can be more fun."
Cervantes said transitioning out of the games room has limited some of the club's options, but it hasn't stopped these kind of tournaments from happening.
"Back when we had the games room, everything was ran through the games room, so tournaments were there," Cervantes said. "We even had billiards tournaments and ping-pong tournaments, but since expansion started, we could only do video game tournaments."
The Union will be hosting another tournament, this time with "Mortal Kombat X," this Friday at 1 p.m. in the Valley Suite. Signups are online, and participants must register by 11:59 p.m. the day before the event.
The final tournament of the semester, the People's Choice Tournament, will be on April 20. The game for that tournament will be selected by student votes, which can be submitted at the bottom of the online registration page.