Legendary metal band Slayer to play final Sacramento show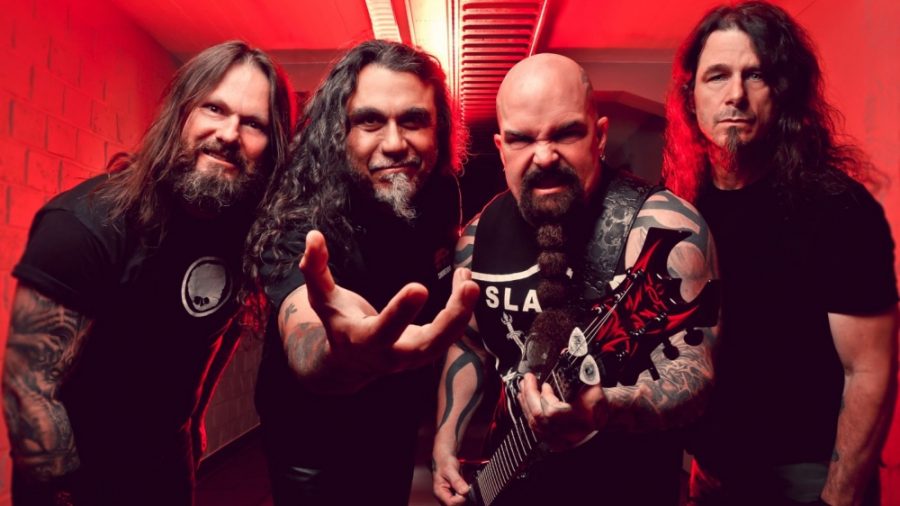 Legendary thrash metal band Slayer will be making its final appearance in Sacramento alongside Lamb of God, Anthrax, Behemoth and Testament.
The metal community was saddened but not shocked when the legendary band Slayer announced on Jan. 22 that "The End is Near…" and that it would conclude its 37-year touring career with a final victory lap around the globe.
Fans were quick to understand, as the band has undergone some drastic changes in the last several years, especially with the loss of guitar player Jeff Hanneman in 2013.
Singer and bass player Tom Araya has developed sleep apnea and needed surgery fusing three of the vertebrae in his neck after years of dutiful headbanging.
He has expressed his growing dislike of touring, saying he "sold his soul" to the band, and wants to be there for his grandchildren, now that he's already missed much of his own children's lives.
In the 37 years since the band first formed in Huntington Park, California in 1981, Tom Araya, Jeff Hanneman, Dave Lombardo and Kerry King have become decorated veterans of the thrash metal genre, with five Grammy nominations and two wins, six Gold albums and countless magazine covers and awards.
The band's desire to be the anti-hair-band pushed it toward success in another direction.
The third album in its twelve-album discography, "Reign in Blood" — a 23-minute neck-breaking tantrum that sold over half a million copies — firmly cemented it at the forefront of a new genre, a fusion of punk rock and heavy metal.
Instead of fading with time, Araya's vocal intensity grew stronger with the growth and graying of his beard.
After Slayer and other bands found a home in the Bay Area, the area is now known and recognized by metal fans worldwide — as well as by the National Museum of American History — as the birthplace of thrash.  
Slayer's long-standing membership in the Big Four, the definers of thrash metal, makes it hard for the band to go unnoticed — Metallica may be the most successful of the four, but Slayer is the most aggressive.
The band's eagerness to bring younger bands on the road with them has also made possible the careers of other groups, such as Slipknot and Lamb of God.
The group's fans have a devotion that is unmatched, as they have eagerly carved "SLAYER" into public property, school desks, and even themselves for decades — screaming the name at shows, and ploughing into each other in the great swelling meat-mixer known as the mosh pit.
It's an open question whether there will ever be another metal band to fill the patriarchal roles of the bands the metal community has lost in recent years.
With the retirement of Black Sabbath in 2017 and the death of Lemmy Kilmister, front man of Motorhead, in 2015, Slayer's departure is yet another sign signalling the end of an age.
Communications major Zane Frey was less than pleased to hear that Slayer was calling it quits.
"I started listening to Slayer when I was 14 years old," he said.
After his mother had introduced him in his earlier years to punk rock bands such as Judas Priest, Frey said, "I listened to their first album and didn't look back."
The band's fearlessness in approaching dark topics caught Frey's interest.
"It's the riffs, and what goes into the lyrics," he said, pointing to songs like "Angel of Death," which is about Auschwitz and Nazi doctor Joseph Mengele.
Frey said that Slayer is unique because the band has always stayed true to its form.
"A lot of other bands have changed their sound over the years, but Slayer has always particularly stayed Slayer," he said. "It kind of has this mythos about it."
Frey said the band's retirement announcement makes him worry.
"It's scary," he said. "It makes me start thinking of other bands, like Megadeth. They're still going strong, but for how long?"
Frey said no one can take the band's place.
Slayer currently consists of starting members Araya and King, as well as Paul Bostaph, who has been playing drums for the band on and off since 1992, and Gary Holt, who came from the band Exodus and has been filling the role of guitarist since Hanneman passed. (As an aside, Holt is also responsible for one of the greatest things on the internet.)
Slayer has begun releasing episodes of a documentary series centered around the early years of the band on the group's Facebook page.