Ghanaian president receives peace leadership award at Sac State, despite human rights issues
Akufo-Addo honored for values, commitment to peace work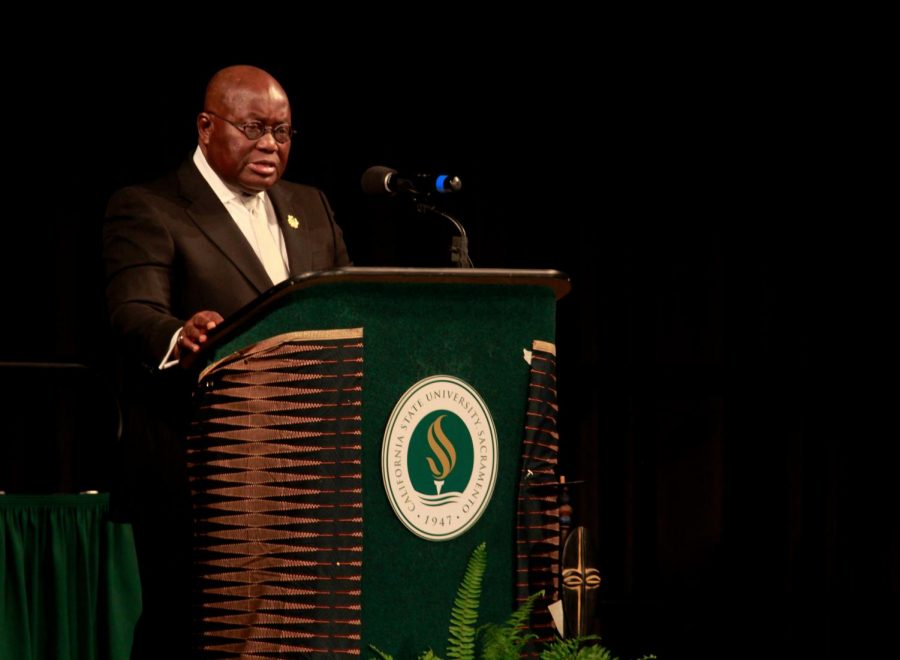 Nana Akufo-Addo, the president of Ghana, received the African Peace Leadership Award at the 27th annual Africa Awards dinner on April 28 at Sacramento State.
The award is annually given to someone who promotes model Africa-centered leadership under the rule of law and has demonstrable contributions to peace and justice, according to the Center for African Peace and Conflict Resolution, and was given in spite of Akufo-Addo's record on human rights issues, particularly LGBTQ rights.
Ghana has been criticized for its treatment of LGBTQ people, prisoners and people with disabilities and mental health issues by places such as Amnesty International and the Human Rights Organization.
Akufo-Addo does not support the legalization of homosexulaity, and it is punishable by up to three years in prison in Ghana. Nonetheless, he was awarded the award in the University Union on Saturday night.
"It's an opportunity to recognize unsung heroes especially in Africa," said Ernest Uwazie, the director of the Center for African Peace and Conflict Resolution.
The center chose to give the award to Akufo-Addo because of his values, his commitment to peace work and because he can identify with a new initiative at Sac State, the African Peace Fellows Initiative, according to Uwazie.
"That is one of the reasons we invited him — to have him as a partner," Uwazie said.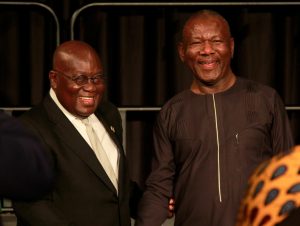 The African Peace Fellows is an organization dedicated to maintaining continued peace and creating new methods of obtaining such, including education, public policies and various governance styles.
The organization also works to build the strength and intelligence of the future African leaders as well as future conflict resolution personnel to ensure social justice, good governance and diversity, according its website.
Uwazie, who is the director of the initiative, was seeking the endorsement of Akufo-Addo for the program. He said that getting the endorsement will help the program move in the right direction.
RELATED: Ghanaian president invited to Sac State, despite country's human rights record
Akufo-Addo was the Guest of Honor and the keynote speaker. He gave examples of how by getting politics right, the country has had less violence and has become more relaxed.
"Peace is one of the most critical ingredients that is needed in all our efforts to make Africa successful," Akufo-Addo said. "It is a crying shame that many countries have more violence and instability after independence, then during the struggles of wars that brought their independence. We have not got our politics right."
RELATED: Editorial: Sac State shouldn't break bread with repressive leaders
He said that the median age in Africa is 19.5 and that it is important to educate them so that they can "transform and empower young people."
Since taking office Jan. 7, 2017, Akufo-Addo said that he has made going to high school more easily accessible and that 90,000 more people had the chance to go to school since he has been leader.
Akufo-Addo was one of five people to receive a peace award to wrap up the Africa & Diaspora Conference that began on Thursday, April 26.
Additional reporting by Jordyn Dollarhide