Ghanaian president invited to Sac State, despite country's human rights record
Visit from Nana Akufo-Addo raises concerns over Ghana's treatment of LGBT citizens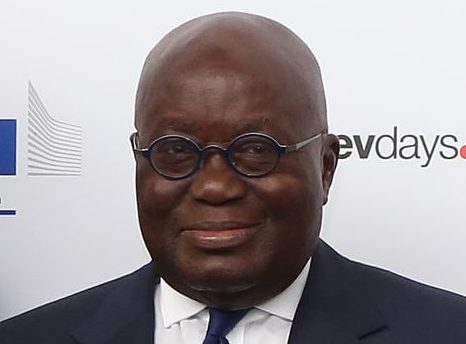 Sacramento State President Robert Nelsen addressed recent "concern and opposition" to the upcoming visit of the President of Ghana, Nana Akufo-Addo, in an email to the campus community Thursday.
Ghana has been criticized by numerous groups, including Amnesty International and the Human Rights Organization, for its treatment of LGBTQ people, prisoners and people with disabilities and mental health issues.
Akufo-Addo will be delivering the keynote speech during the Africa Peace Awards dinner at Sacramento State on Saturday, April 28.
The host of the event, the Center for African Peace and Conflict Resolution, recommended Akufo-Addo be the keynote speaker to President Nelsen, according to the center's director Ernest Uwazie.
"We have a leader that has demonstrated exemplary leadership in the rule of law and peace; we thought it would be good to tap into his experience to share with us," Uwazie said. "When we have such demonstration of statesmanship and commitment to peace and justice, we thought it was good to recognize that and honor that."
In the email Thursday, Nelsen said that Akufo-Addo has "demonstrable commitment to the rule of law and good governance," yet noted that the visit has been met with "concern and opposition" from some members of the campus community due to the treatment of LGBTQ citizens in Ghana.
"In Ghana, the rights of LGBTQIA citizens are heavily suppressed, and homophobic attacks are common," Nelsen wrote. "These laws do not reflect the values of Sacramento State, nor do they align with our mission."
Amnesty International noted several concerns over the state of civil liberties in Ghana in its 2017/18 report on the country.
"Concerns were raised around unfair trials and poor prison conditions for people on death row, as well as the shackling of people with psychosocial disabilities," the report said. "LGBTI people continued to face discrimination, violence and police harassment."
The Human Rights Organization reported that "unnatural carnal knowledge" is criminalized in Ghana under its Criminal Offenses Act. This offense includes "penile penetration of anything other than a vagina."
Violations of the law are punishable by three years in prison.
"I believe in respect, compromise, mediation, and understanding — all core values not only of Sacramento State but also of (the center)," Nelsen's email said. "Universities, including Sacramento State, must be a space where free speech is actively encouraged."
Akufo-Addo is a member of the New Patriotic Party, whose leadership has recently said that it does not support the legalization of homosexuality.
When The State Hornet asked for comment from the Sac State PRIDE Center, it was directed to John Johnson, the director of the Centers for Diversity and Inclusion, who said he would be inquiring about the selection process for speakers.
"The PRIDE Center has no comment in response to the selection of Nana Akufo-Addo as the keynote for the 27th Annual Africa Peace Awards Dinner other than to say that we will reach out to Dr. Ernest Uwazie, the Director of the Center for African Peace and Conflict Resolution (CAPCR), to discuss the speaker selection process," Johnson said in an email to The State Hornet. "I would say that I am personally interested in how the speaker is selected – what factors go into the selection – and who is involved in the process.
"When we consider things like AB 1887 and the current U.S. President's ongoing efforts to roll back protections for transgender people, a campus pattern of recognizing political leaders who have not been vocal advocates for the rights of all of their citizens warrants a conversation, at least before any kind of public condemnation from me or CDI. I will be reaching out to Dr. Uwazie's office to schedule a meeting."
David Heitstuman, the executive director of the Sacramento LGBT Community Center, said that he does not think that inviting Akufo-Addo is in alignment with inclusionary values.
"It's disappointing that the Center for African Peace and Conflict Resolution has again chosen to honor a head of state from a country known to persecute LGBTQ folks, as they did previously when they invited the Nigerian president two years ago," Heitstuman said in an email to The State Hornet. "Human rights violations also falls out of alignment with a mission for true peace and conflict resolution."
This is not the first time Sac State has invited a controversial speaker to the conference.
Nigerian President Goodluck Jonathan — who signed legislature preventing gay marriage in Nigeria in 2014 — was scheduled to speak at the event in 2016, but cancelled due to illness.
Then-program coordinator of the Pride Center, Chris Kent, told the Sacramento Bee that Sacramento-area LGBTQ leaders and supporters had planned a protest during Jonathan's speech.
"The intentions behind and the consequences of the legislation passed in Nigeria do not align with our mission or our vision here at Sac State," Nelsen wrote in a message sent to the Sac State community in 2016. "Jonathan's presence on our campus should in no way indicate that we, as a Hornet Family, condone what is happening in Nigeria because of the passage of these laws."
Tickets for this year's dinner will be $55 per person or $1,000 for a table of eight people.
April 17, 2018 11:03 a.m. — This article has been updated to include comment from David Heitstuman, the executive director of the Sacramento LGBT Community Center.