3 major violations required second health inspection at The Servery
Violations dealt with food temperature, sanitation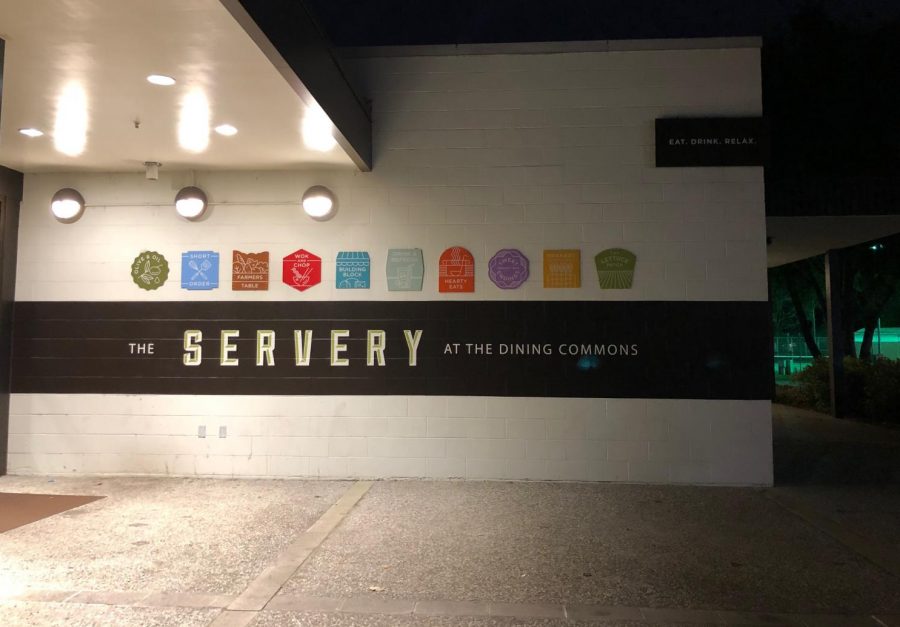 On Feb. 16, the Sacramento County Environmental Management Department discovered three major health code violations among a total of 14 violations while performing an official health inspection of The Servery at the Dining Commons at Sacramento State.
"Violations that are classified as 'Major' pose an immediate threat to public health and have the potential to cause foodborne illness," according to the report.
The three major violations were related to food being in the "temperature danger zone," not recording how long certain foods had been out and improper sanitation.
A previous inspection on Dec. 14 turned up one major violation among seven total violations. Of those seven, six were violated during the Feb. 16 inspection. One violation was repeated for a third time on Feb. 20.
If two or more major violations occur during a health inspection, a re-inspection is required. The re-inspection following the Feb. 16 violations was held on Feb. 20 and cost restaurant operator University Enterprises, Inc. $201, according to Mark Barcellos, the supervisor of the environmental health division of the department.
Food temperature
One major violation from the Feb. 16 inspection was that turkey patties and mozzarella sticks were observed to be in the "temperature danger zone," according to the report.
This violates codes 113996, 113998 and 114037, which stipulates that "potentially hazardous foods shall be maintained at or below 41 degrees or above 135 degrees."
The violation occurred when turkey patties were observed at 124 degrees and mozzarella sticks were observed as low as 121 degrees after being cooked approximately an hour prior, according to the report.
Both of those items needed to be at 135 degrees or warmer.
Keeping food less warm than it needs to be gives students a higher likelihood of getting sick.
Freshman Dakari Douglas said he once got food poisoning from The Servery.
"I got food poisoning," Douglas said. "I ate one of the omelets from there and I was sick for like two weeks. That's the only thing I ate that day."
Story continues below
This wasn't the first time that the dining hall received warning for these exact codes.
On Dec. 14, the dining hall received a warning after finding cream cheese that was measured at 45 degrees and tofu that was measured at 49 degrees.
The health inspector also measured sausages at 45 degrees. All of those items need to be kept below 41 degrees "to minimize growth bacteria," according to a county food safety training video.
While this violation is for food sitting out and measured at the time of the inspection, freshman Victoria Garcia said she has noticed food undercooked when she has gone to eat.
"Grilled chickens or fried chicken are always very undercooked," Garcia said. "I'll open it and it will be pink or feel like looking raw."
Food storage problems
Inspectors found another major violation in The Servery on Feb. 16. The Servery kept no time cards to track how long food had been sitting out for eight different foods including pizza, breaded fish, stir-fry chicken and steamed mixed vegetables, according to the report.
Code 114000 requires that all food must be served or discarded within four hours. According to the health report, all of the food was voluntarily thrown away during the inspection because "no log/discard time was being tracked."
It also said that the eight food items "are unfit for human consumption," since there was no way to know how long they have been out.
This code was also listed as a violation on the Dec. 14 report, noting that the food start times from the Mediterranean and wok stations were being tracked but not the discard time.
Surfaces not properly cleaned
The third major violation in the Feb. 16 report related to proper cleaning and sanitation methods.
In this instance, it was observed by the health inspector that the "dispensing tube for the outside self service soy milk was cut too short, causing all soy milk dispensing to come into contact with old discolored soy milk that have been accumulating in this area outside the dispensing tube."
The report said that the soy milk in the dispenser was voluntarily discarded at the time of the inspection.
In addition to this violation, the reporter noted a minor violation under this category. Grease accumulation was seen on a metal storage rack that stored clean sheet pans and utensils.
In the Dec. 14 report, a violation was listed under this same category. The report said the table mount can opener had old food debris and that the "ice chute at the lobby station observed pink slime."
Food not properly cooled
The major violation reported on Dec. 14 occurred after an inspector observed a large tub of pasta inside the walk-in refrigerator at 47 degrees that had been cooked seven hours prior.
This violated Code 114002, which gives a specific timeline of how quickly "potentially hazardous foods" should be cooled.
Of the seven options that the dining hall can use to cool the food, it was decided to use a large tub and put the pasta in the walk-in refrigerator.
It didn't cool at the proper rate, resulting in a temperature of 47 degrees after seven hours when it is should have been 41 degrees after four hours. The food was discarded upon inspection.
On Feb. 16, this same violation was listed on the report, although it wasn't considered a major violation. In this instance, the inspector observed two 8-inch containers of shrimp at 62 degrees that were cooked about four hours prior inside a two-door upright refrigerator with tight-fitting lid covers on.
At four hours, the shrimp should have been down to 41 degrees. The Servery put the food into smaller portions this time, but it wasn't in a shallow container like the code requires. On this report, there is no record of the food being discarded.
Improper sanitation
The Feb. 16 report states that the inspector "observed several containers not fully submerged in the three compartment sink because sanitizing solution was not filled to recommended fill line."
The sanitizer is in the third part of the compartment sink and is used to protect antimicrobial agents, which help make sure every utensil and plate is clean and up to code.
Students Alyssa Burtis and Virgina Diaz-Lazaro said that the utensils at The Servery are often not clean.
"When I pick up my forks, I really inspect them," Burtis said. "Sometimes I'll pick up a plate and there is still stuff on it."
Added Diaz-Lazaro: "That's expected; it's the Dining Commons. You just have to double check everything before you actually use it."
When asked to comment, UEI Director of Marketing Services Angela Rader and Executive Director Jim Reinhart gave the following statement via email:
"University Enterprises was disappointed that three major violations, (hot & cold holding temperatures, time as a public health control, and food contact surfaces cleaned and sanitized) were identified by the County of Sacramento Environmental Management Department on February 16. However, UEI appreciates that the Department brought them to our attention, as they were corrected immediately and remain corrected. Food safety is one of our highest priorities and we continuously train our staff on proper food handling procedures.  UEI will reevaluate its procedures and take steps to ensure these violations do not reoccur. "

Additional Reporting by Kelly Kiernan