Student rap artist Consci8us aims to promote change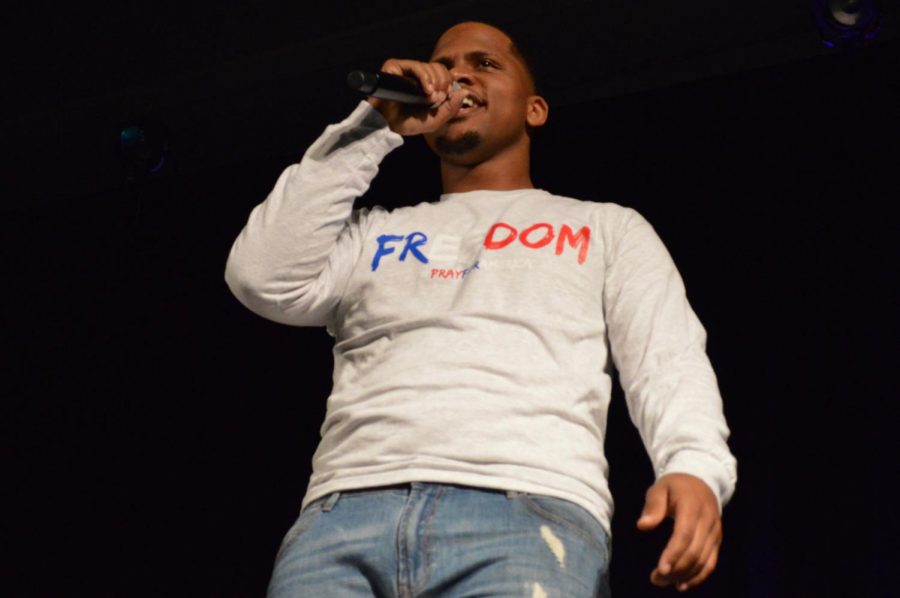 Consci8us, otherwise known as DeWayne Ewing Jr., is a Sacramento State student and rapper who said his Oakland upbringing led him to become a self-described "conscious rapper."
Consci8us aims to spread positive messages through his music, but also touches on themes such as God, violence and discrimination.
Story continues below 
He released "When Purpose Meets Destiny," his newest EP, in December 2017. In this EP, Consci8us rapped about his blessings, social issues and his faith.
He said his youth plays a major role in the themes he choses.
"My community inspired my music," Consci8us said. "The negatives and the positives alike — from crime, murder and people going to jail being able to interpret their story."
Consci8us said that his mother, Linda Watters-Gosey, was one of his biggest inspirations.
"I think it's very positive, encouraging and inspiring for sure," Watters-Gosey said. "It sends a phenomenal message. I really enjoy DeWayne's music — and not because he's my son."
Consci8us said that as a child, his mother didn't want her children listening to hip-hop or watching music videos.
"They weren't allowed to listen or watch that kind of stuff in my presence and when DeWayne was growing up they listened to nothing but Gospel," she said.
The Christian faith that Consci8us was raised with is an influence on many of his songs.
For example, the track 'Bigger Than Me' begins with "I'm thanking God with each and every year that I am thankful and happy."
Consci8us said he was inspired by artists such as Nas, KRS-One, 2Pac, Kendrick Lamar, Lupe Fiasco and Kanye West. He also mentioned being inspired by the Hyphy movement in his native Bay Area.
Consci8us said that he agrees with a sentiment shared by KRS-One — who he performed with impromptu-style at Sac State earlier this month — "If hip-hop has the ability to corrupt young minds, it also has the ability to uplift them."
He believes that music is the means he has to create change in his community and culture, saying he would like to "change the kind of music we listen to, so it's always leading to a solution."
In January, Consci8us was chosen for the 2018 Sacramento MLK March as a contemporary example of leadership due to the work he does in the community through music. His song 'Freedom' started the march.
Sac State student Ajani Rabb, who has directed some of Consci8us' music, had praise for the rapper.
"He is creating his own path of how he is getting his music out to the world," Rabb said. "I think his skill and overall message and lyrical content will be the driving force in his success in the future.
"He exposes his personal life, struggles and achievements as an example for the youth to learn from his experience."
View Comments (3)
Donate to The State Hornet
Your donation will support the student journalists of Sacramento State University. Your contribution will allow us to purchase equipment and cover our annual website hosting costs.