Men's basketball loses in final minute against Idaho State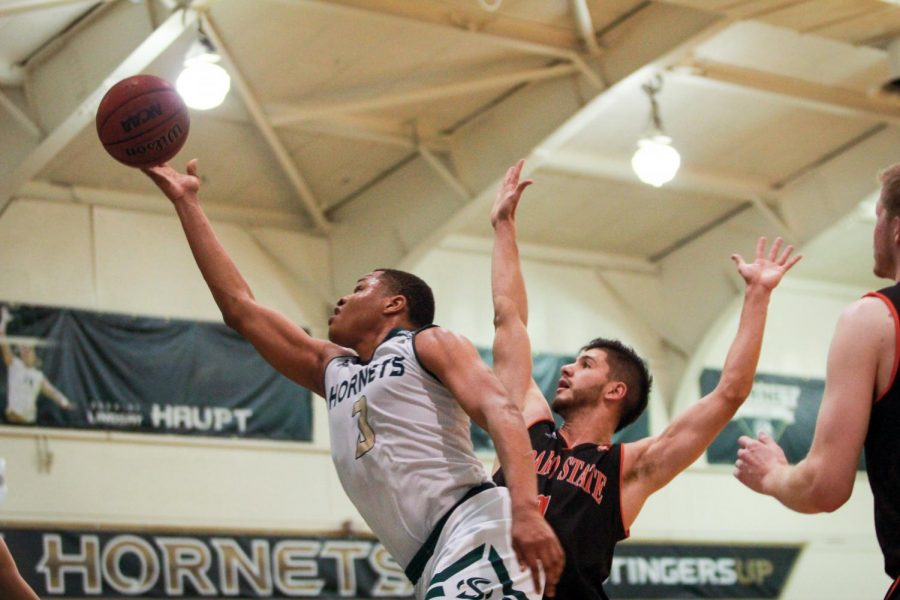 The Sacramento State men's basketball team held a late 64-63 lead before ultimately falling 67-64 to Idaho State on Thursday night at the Nest.
The Hornets (6-20, 3-10 Big Sky Conference) trailed 63-56 with 4:11 to play before senior forward Justin Strings scored six straight points to cut the lead to 63-62 with 2:51 left in regulation.
A minute later, the Bengals (12-12, 7-6 Big Sky) had the ball and a chance to take a bigger lead but Sac State forward Calvin Martin put his feet down and took a charge to give the Hornets the ball back.
On the ensuing Sac State possession, Martin had an offensive rebound on back-to-back missed shots that he dished back to the outside. Finally, freshman forward Bryce Fowler knocked down a jumper with 1:16 left to give the Hornets a 64-63 lead.
"Those were two huge plays out there," sophomore forward Joshua Patton said. "Calvin was working, guarding their big guy and getting on the offensive boards."
Idaho State took the lead right back with a dagger by sophomore guard Jared Stutzman with 41.9 seconds to play.
The Hornets then turned the ball over on their next possession before falling 67-64.
"(Idaho State) played well," Sac State coach Brian Katz said. "They executed, and they had great 3-point shooting."
The Bengals shot 52 percent from 3-point range but no one had a better night then sophomore guard Gary Chivichyan. He knocked down 8-of-11 3-pointers and finished with 25 points.
"I think we did a bad job of chasing their shooters," Strings said.
The Hornets trailed by just two at the half despite receiving zero points from Strings, their leading scorer. In the second half, Strings recovered and scored 24 points on 10-of-15 shooting from the field.
Strings said he was happy with how the Hornets played against the Bengals big-men, and that started with Patton.
Patton scored 20 points and made 80 percent of his field goals while holding Idaho State junior center Novak Topalovic to 13 points. Patton also outrebounded his opponent nine to five.
With Patton locking down Topalovic, the Bengals had to find another way to score, which they did by passing the ball until they found an open man to hit the shot.
"Early in the game we missed a lot of easy shots, and we gave up to many 3's to their shooters," Strings said. "We've got to do better than that. Myself and some other guys, we made some mistake on the perimeter by trying to help down too much and he kicked it out and they got 3's.
"That's on me, and on us as a team to get that adjustment down better."