Former foster child finally gains stability as she graduates
While we are all affected by the cost of housing, some Sacramento State students are bearing the brunt of the state housing crisis more than others — often interfering with their ability to meet basic needs, let alone their ability to give their academics the needed time and energy. Here is one of their stories.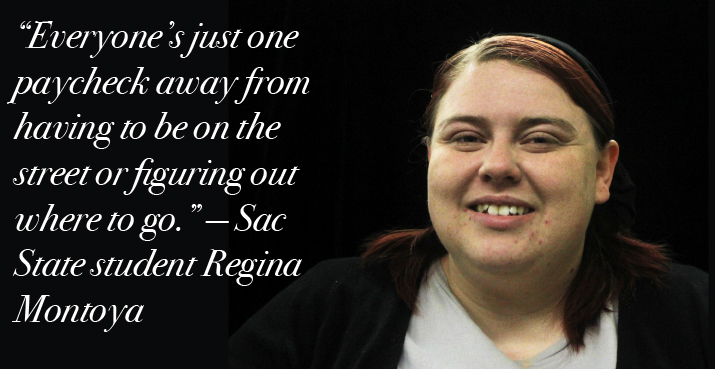 Sacramento State senior Regina Montoya has faced homelessness since she was a toddler, struggling with it through high school and college.
As a foster youth, Montoya frequently moved around in the Bay Area. Montoya and her parents were often evicted from homes and she ended up living with her father's family for some time.
"You have a family where one person is working three jobs to support everyone, but you're still not making it," Montoya said. "Everyone's just one paycheck away from having to be on the street or figuring out where to go."
   RELATED: Sac State student goes into debt with long commute to campus
As a homeless high school student, Montoya moved to different cities and would have to walk miles to get to school. Being homeless was constantly at the forefront of her mind.
She was trying to figure out where she was going to sleep, and what she was going to eat — which often took priority over her academics.
"It really gets in your head because it's always about survival," Montoya said. "It's really hard to try to achieve this dream to go to college when survival comes first."
After Montoya graduated high school, she enrolled at California State University, East Bay. She enrolled with the intention of being able to have secure housing for another nine months, with the help of loans.
Story continues below 
"I literally went to college with the clothes on my back and a small satchel," Montoya said.
She was financially unstable throughout her first year of college. While she was putting money into the school for the meal plan and other expenses, Montoya didn't have any left over for toiletries and basic needs.
With all the pressure, she was not focused on school and ended up flunking out the first year.
"I did a lot more moving around with friends and family, exhausting resources there," Montoya said.
   RELATED: Spending my first week at Sac State homeless
When a close family member encouraged Montoya to get back into school, she moved to Sacramento and started at community college. She obtained her associate degree in psychology and enrolled at Sac State when she had enough financial stability with her now-husband.
"He looked at me and he was like, 'You know I believe in you and because I believe in you, I'm going to drop out of school, I'm going to work, I want you to go to school,' " Montoya said.
She said that her perseverance comes from her husband and those who have gone through what she went through.
"We are making this country better and we're showing people that no matter where you come from, you can get a college education," Montoya said.
Montoya will be graduating this May with a bachelor's degree in social work.
   RELATED: EDITORIAL: Student housing and food insecurities need creative solutions
"As a foster youth, only 3 percent of us get our bachelor's degree," Montoya said. "Now that I'm here and I'm getting my degree it's like, 'I made it!' "
She is currently involved in the Guardian Scholars Program at Sac State, which specifically caters to foster youth in addition to helping those in need.
Montoya aims to share the resources that Sac State offers by reaching out to those in need through the Guardian Scholars and Pop Up Pantry.
"Sac State does a lot," Montoya said. "While we are ahead of the game, I think there's a lot more we can do."