Korean boy band BTS brings K-pop to American music scene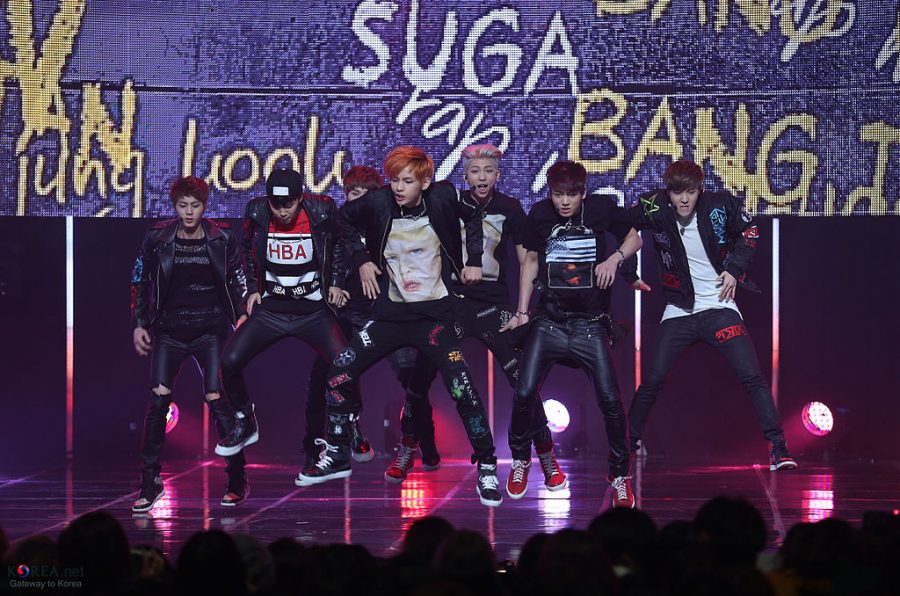 Korean pop music made another appearance on the American stage when BTS became the first Korean artists to ever perform at the American Music Awards (AMAs).   
This isn't the first time that Korean pop music, or K-pop, has made its mark in the U.S. In 2012, PSY's "Gangnam Style" music video went viral and broke the then-YouTube record for most views. Five years later, K-pop is still gaining popularity in America with new artists like BTS, Jay Park and CL.
This year has been a whirlwind for BTS. The seven-member Korean boy band made history as the first Korean artists to break into the top ten of the Billboard 200 album chart. They later won Top Social Artist at the Billboard Music Awards, ending Justin Bieber's six-year winning streak. On Nov. 19, the group made its U.S. television debut at the AMAs in front of a crowd of screaming fans.
Priscilla Miller, an English major, had mixed feelings about how BTS was going to perform at the AMAs. She was disappointed because BTS was only scheduled to perform "DNA," whereas other acts were able to do more than one song. However, she did notice how the fans were cheering for them through the fancam at the AMAs.
"It is really heartwarming to know they had support while they sang," Miller said. "I expected more, but I'm just happy they had the opportunity to perform."
The performance might have come as a culture shock for those not familiar with K-pop and Korean culture. K-pop is mostly sung in Korean, with a few English words thrown in. It sounds much like American pop, as it mixes styles like rap and infectious dance rhythms. Other characteristics of K-pop include elaborate group choreography, flashy music videos and stylish clothing. Many K-pop artists are in boy bands or girl groups with four or more members.
K-Pop originated in the '90s, the same era when boy bands like The Backstreet Boys and NSYNC were popular in America. According to EunMi Cho, faculty adviser of the Korean Student Association, boy bands and girl groups are still big in Korea because they value the idea of collectivism. Cho said that in order to cultivate their talents, K-pop artists attend training schools to improve their singing and dancing skills. Entertainment companies often have group members live together in order for them to form a team bond.
"There is one lead singer, but all (the members) are signing throughout the song," Cho said. "That is the difference between bands and K-pop groups; we value more collectivism. If you listen to K-pop, a lot of people are singing as a group, whereas (American) singers are more independent."
Renata de Watteville, an Asian studies major, has been listening to K-pop for more than five years. She said that she believes K-pop music videos are more eye-catching than American videos because they tell more of a story. Because she speaks little Korean, de Watteville watches music videos online with subtitles to understand the lyrics.
"It's been a long time since I have listened to American music videos," de Watteville said. "I find them kind of boring because in a K-pop music video, it's not just about their singing. They are performing in there, they are dancing, and sometimes there will be acting. There is a lot more compacted into that video. You don't see American singers dancing in their music videos. You see them standing in one place staring (suggestively) at other girls or other guys."
Matthew Rowe, a junior anthropology major, learned about Korean culture when he served in the army. During his visit to the country last year, he experienced a culture shock when he saw how much people valued boy bands with feminine appearances.
"The definition of what is masculine is a lot different there," Rowe said "The boy bands dye their hair, and a lot of Americans are offended by how feminine the (Korean) boy bands are, but it's not a thing in Korea. Generally, it is more acceptable to care about their appearance and to have more fashion."
Miller read comments on Facebook the day after the performance and said she noticed many users reacting negatively to the performance. According to Miller, many mentioned how people couldn't understand their song since it wasn't sung in English. Miller said people don't have to understand the lyrics to enjoy K-pop because music is a universal language.
"People forget that popular songs like 'Despacito' and 'Danzo Kuduro' are sung in different languages too," Miller said. "What makes (this) different? Despite all of the negative comments, I am really glad there is a chance for them to be represented in the sense of ethnicity because you don't see a lot of (diversity) in Hollywood."
According to de Watteville, K-pop is becoming more mainstream thanks to artists like BTS. De Watteville said that she used to be afraid to tell people that she listened to K-pop because they thought it was weird, which made her uncomfortable.
"Now, I'm not afraid to tell people what I listen to," de Watteville said. "It makes me really thankful for BTS bringing it to the West and a lot more fans coming out and saying they're into it."