Hornets fall at Golden 1 Center to Portland 80-75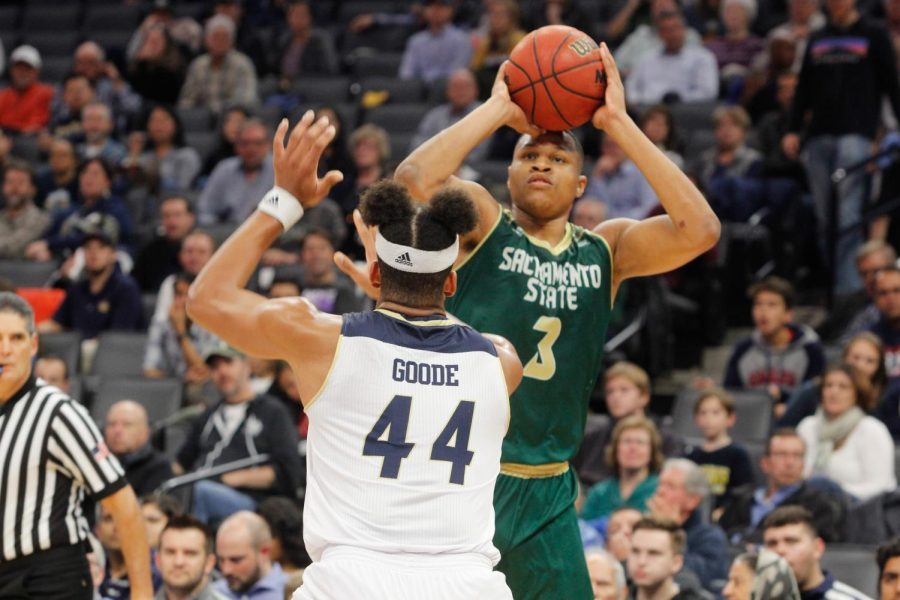 The Sacramento State men's basketball team fell to the University of Portland 80-75 Thursday night at the Golden 1 Center.
After trailing by as many as 13 points in the first half, the Hornets (3-9) clawed their way back into the game by forcing turnovers and hitting shots they had been missing.
Sac State cut its deficit to 43-40 and had a chance to tie the game up before the first half ended, but junior guard Jordan Tolbert's half-court heave at the buzzer fell short.
It didn't take long in the second half for the Hornets to take the lead when freshman forward Bryce Fowler had a slam dunk to give Sac State a 46-45 advantage with 16:25 to play in the game.
Portland then regained the lead and led 55-52 before Tolbert tied the game at 55-55 with 11:59 to play. However, the Pilots (6-7) answered with a 3-pointer to take a 58-55 lead and never trailed again.
With 5:32 left in the contest, and the Hornets trailing 68-63, Tolbert was fouled and went to the free throw line for a one and one. He missed and the Pilots struck back by drilling a 3-pointer to open up an eight-point lead with 5:20 remaining in the game.
Sac State got the game back within one possession but couldn't quite get back into the game before losing 80-75.
"We needed to get solid and guard them," Sac State coach Brian Katz said. "We didn't guard them very well in the first half, but toward the end of the first half and most of the second half we guarded them very well."
In the first half, Portland shot 50 percent from beyond the arc but was held to only 30 percent in the second half. The change in halves also brought some extra offense from sophomore guard Izayah Mauriohooho-Le'afa who helped get the Hornets back into the game. He finished with 23 points on 8-of-11 shooting from the field and connected on five of his seven 3-point attempts.
"My teammates got the ball right into my hands," Mauriohooho-Le'afa said. "All I had to do was catch it."
After a rough start in the first half, senior forward Justin Strings picked it up in the second half and finished with 19 points, 13 rebounds and four assists.
"We started to get more stops on defense," Strings said. "We got more stops and got them into more turnovers."