Sac State men's soccer clinches playoff berth after blasting Mustangs 5-1
The Sacramento State men's soccer team clinched a playoff spot in the Big West Conference after defeating Cal Poly 5-1 on senior day Saturday at Hornet Field.
Sac State (8-7-1, 4-3-1 Big West) started off slow against Cal Poly (6-9-1, 2-5-1 Big West), but the Hornets were able to get past their early struggles en route to scoring the highest amount of goals for the program since 2015.
"We started flat today, which has become a little of a theme recently," senior goalkeeper James Del Curto said. "As the game grew on, we grew in confidence, and when confidence came, we were able to put (five goals) away."
The offense first showed signs of life in the 15th minute after sophomore midfielder Matt Carnefix scored a goal on a cross from sophomore forward Christian Webb.
The Mustangs answered with a penalty kick goal to tie things up in the 43rd minute going into halftime. The Hornets struggled in the beginning of the second half, but they blasted their way to four unanswered goals. These scores came from freshman forward Justin Bredig, junior midfielder Dominic Scotti, senior midfielder Paul Geyer and junior forward Brad Bumgarner.
"It was a huge game for both programs," said Michael Linenberger, the Hornets head coach. "We haven't done well at home all season. The pressure was on us to have a good performance and get a result with our young squad."
Throughout the game, both sides were aggressive and took part in trash talk. Bredig said the opportunity to get into playoffs with a win lit a fire under the team.
"Of course, it's Cal Poly, and we don't like Cal Poly," Bredig said. "We beat them in overtime last time, and this time, we wanted to get the job done (again). We did what we needed to get the win."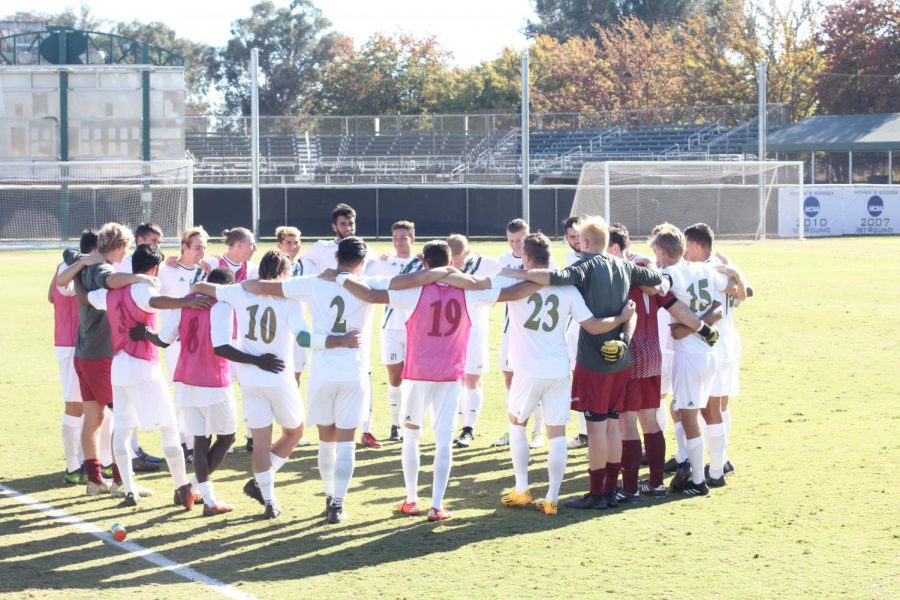 Sac State was voted to finish last in the Big West during the preseason poll, which Linenberger said also fired up his guys to do well this year.
"The outside people didn't give us much credit at the beginning of the year that we could reach the postseason," Linenberger said. "We knew we had a good group. It was a young group, but it was a good group. That was our goal to make the postseason.
"There's still two games to go. We not only want to make the postseason, but we want to host a home game. That's our goal finishing this season."
Further motivation came from the game being on senior day, when the seniors were honored before the match for their time spent at Sac State, as it was their last regular season home game.
"In my career, we haven't won on senior day, so this is very big," Del Curto said. "I couldn't imagine playing my last game at Hornet Field any other way."
Sac State will start wrapping up its last two games of the season on the road starting with UC Santa Barbara (6-5-4, 4-1-2 Big West) Wednesday in Santa Barbara, California.