Trio of seniors pushing for different end to volleyball season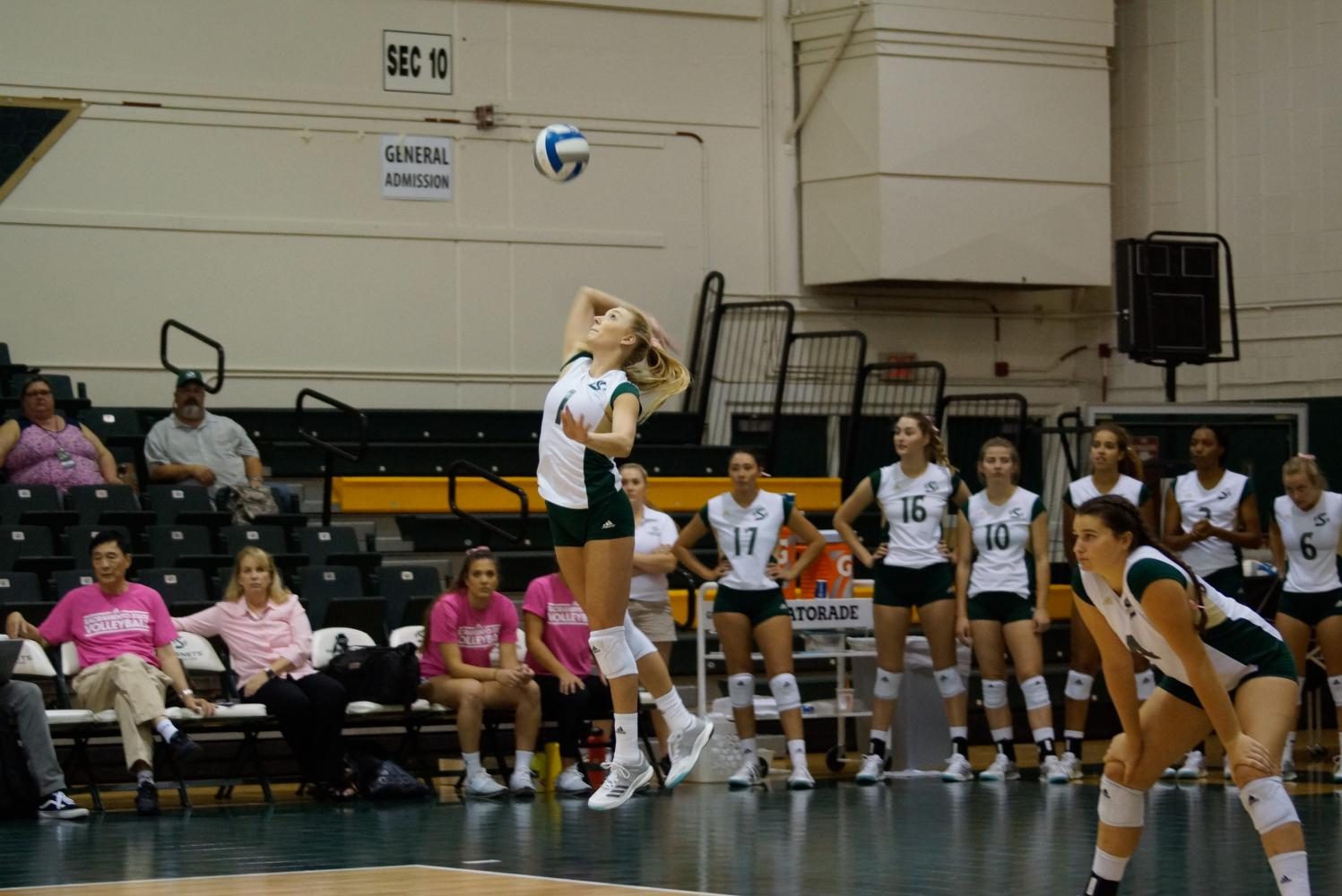 A trio of Sacramento State volleyball seniors are ready to challenge the other 11 teams in the Big Sky as they start their fourth and final chapters of conference competition.
Kennedy Kurtz, Shannon Boyle, Brigitte Murdock and the Hornets finished second in the Big Sky regular season to North Dakota and first in the Big Sky South Division last season. However, Sac State fell to Northern Arizona in the semifinals of the Big Sky Tournament for the second year in a row.
"Northern Arizona has always been our rival — home, away, anywhere — so I guess this year we are preparing for that game already," Boyle said. "We don't want to fall in the semifinals, we want to be first in the Big Sky and we want to win the Big Sky Tournament."
To prepare for conference competition, the Hornets have played against UCONN, St. John's, Missouri, Boise State and BYU which was ranked No. 10 in the nation at the time.
"I think we are getting better in certain areas," said Ruben Volta, the Hornets head coach. "I'm pretty happy with where we are going. I felt like we had such a good core of players returning, I wanted to challenge us with that schedule."
Kurtz, Boyle and Murdock all live together, are best friends and consider themselves "three peas in a pod," Kurtz said. This chemistry has helped them on the hardwood, as the trio has seen improvement each year in conference play by finishing 3-13 as freshmen, 12-4 as sophomores and 13-3 as juniors.
"Over the years, we have just gotten closer and we know each other's tendencies. We just get each other now," Boyle said. "It's gotten a lot easier and it's crazy how it's coming to an end pretty soon."
 Each one of the players successes can be linked to each other. Boyle is currently fifth in the nation in points, while Murdock ranks second in the country in digs as of press time, which helps Boyle get second-chance opportunities.
Murdock's digs also allow setters such as reigning Big Sky first-team member Kurtz to get in position to set the ball for one of the outside hitters like Boyle. Kurtz currently leads the nation in assists as of press time after finishing 14th as a junior.
Kurtz and Murdock were named Big Sky Offensive and Defensive Players of the Week, respectively, on Sept. 11 as Sac State recorded a 4-0 record the previous week.
Both shined earlier in the week against Bowling Green as Murdock recorded 38 digs — which is third in school history — while Kurtz had 57 assists on Sept. 8. These statistics also helped set up Boyle for 28 kills that night, a career high.
Despite the impressive statistics, the Hornets started the season 3-5 entering its Causeway Classic match against UC Davis on Sept. 5. The clubs split the first four sets before Sac State rallied down from 13-10 to score five straight points for the win.
"It was a huge comeback. Probably the biggest comeback I've had in my career," Kurtz said, referring to the team's original 8-2 deficit in the fifth set. "It showed how much fight we have to come back as a team. For it to be against Davis was just a cherry on top."
The come-from-behind victory helped Sac State establish a 6-2 record in its last eight games, which has given the Hornets momentum heading into Big Sky play. They will start conference competition Thursday at 7 p.m. against Weber State at Colberg Court.
Some other notable matches on the horizon are North Dakota (15-2) on Oct. 5 and Northern Arizona on Oct. 14.
"I'm looking forward to playing North Dakota this year, but I'm also looking forward to playing all the other Big Sky schools because I think they are all going to be just as good as North Dakota," Kurtz said. "I expect a lot from this team and I expect a lot from myself. I think we have the ability to do it this year, we just have to execute."