Sac State football falls to No. 9 Eastern Washington 52-31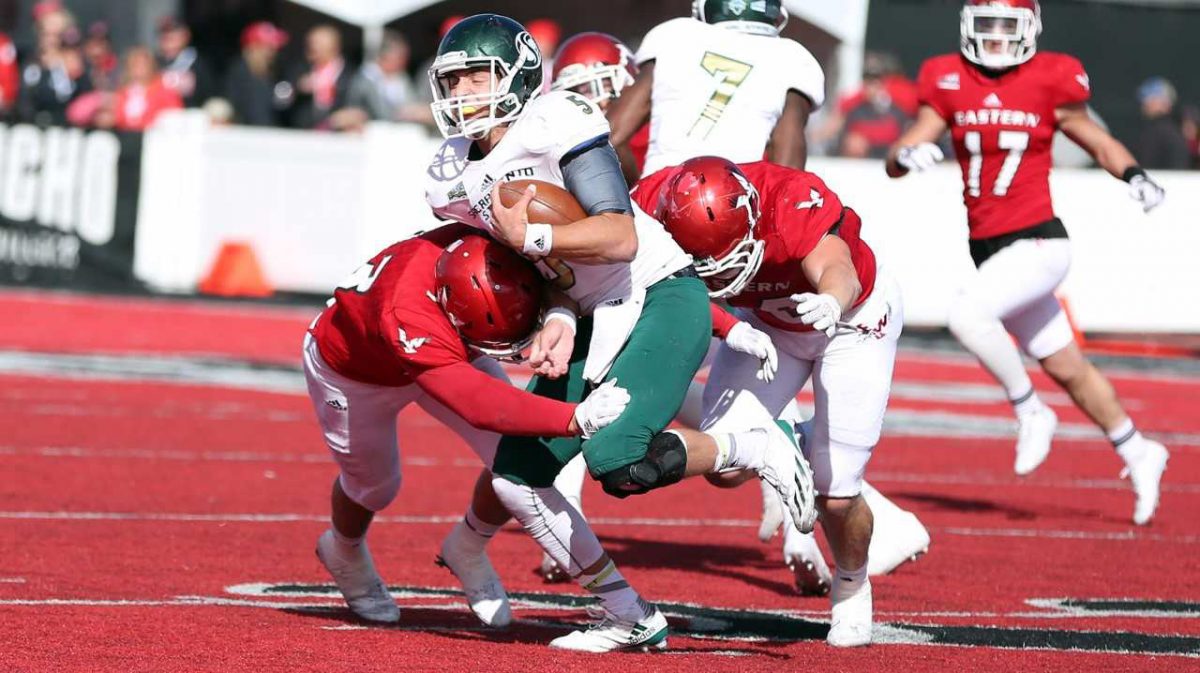 Despite rushing for over 300 yards, the Sacramento State football team lost to Eastern Washington 52-31 Saturday at Roos Field in Cheney, Washington.
The Eagles (3-2, 2-0 Big Sky) came into the game as the No. 9 ranked team in the Football Championship Subdivision and jumped out to a 21-0 lead.
It wasn't until late in the first quarter that the Hornets (2-3, 1-1 Big Sky) settled in and started to score points. After allowing Eastern Washington to score on its first three drives, Sac State junior quarterback Kevin Thomson completed a 26-yard pass to junior wide receiver Jaelin Ratliff, which was followed by a 28-yard run by freshman running back Isaiah Gable to put the Hornets in the red zone. Two plays later, Thomson kept the ball himself and ran it 13 yards into the end zone to cut the lead to 21-7.
Sac State cut the lead to 21-10 on its next possession and then the Hornets defense finally showed up. Eastern Washington had a third-and-8 from its own 27-yard line when junior quarterback Gage Gubrud was sacked for a 19-yard loss by sophomore defensive lineman Dariyn Choates.
The Hornets offense responded with a two-yard touchdown rush by graduate transfer running back Joseph Ajeigbe to make it a 21-17 deficit. Just 41 seconds later, Sac State had the ball in its hands again as the defense forced a three-and-out.
Ajeigbe started the drive with a 32-yard run to put the Hornets in the red zone at the Eagles 13-yard line. With a chance to take the lead, Sac State couldn't finish the drive and junior kicker Devon Medeiros missed a 22-yard field goal in heavy wind.
Eastern Washington received the ball with 1:16 to go before the end of the first half and got back to what had been working for them in the first quarter. Gubrud completed four passes of more than 15 yards and he finished the drive with a four-yard touchdown pass to junior wide receiver Zach Eagle to give the Eagles a 28-17 lead.
This lead increased to 35-17 after Eastern Washington scored to open the third quarter on a 72-yard drive that ended with sophomore running back Antoine Custer's second touchdown of the night.
With the game nearly out of reach, Thomson took off and ran for a 54-yard touchdown to make it 35-24. Two plays later, the Eagles reclaimed their 18-point lead and ended the game with a 52-31 victory.
Gubrud finished with 405 passing yards and five passing touchdowns. In the first quarter, Gubrud also scored when he caught a 43-yard pass from junior running back Sam McPherson to finish with six total touchdowns on the day.
Thomson threw for 253 yards and rushed for 121 yards while scoring three rushing touchdowns after being named STATS Football Championship Subdivision Offensive Player of the Week on Sept. 25.
Sac State will have a bye week before returning to Sacramento to host Idaho State for homecoming on Oct. 14 at Hornet Stadium.