Phlagleblast celebrates 18th year with construction-themed open house
A little rubble and dust won't stop the University Union from throwing its annual open house celebration, in fact, it has embraced the construction as its new theme for the year.
Phlagleblast has become a household name at Sacramento State since it debuted in 1999. The event is meant to introduce students to the various programs and services the Union has to offer such as the meditation room, the PRIDE Center and Associated Students, Inc.
Norma Sanchez, assistant director of operations for the Union, said that the challenge for this year is to navigate student traffic through the Union during construction.
"I would say that (the surrounding construction is) the challenge for this year, is to get people to come in and still participate and learn of the services we offer," Sanchez said. "So, we're hoping with our long standing tradition that people look forward to this event, that they're gonna come back naturally."
Daniella Lyng, a junior business major, said that the annual event can be an eye-opener for new students.
"The last time (I attended) it was kind of cool to get to know more about campus," Lyng said. "Especially when I came into this school not knowing anything (about it), it was kind of an eye opener for me."
When the event officially starts at 8 a.m. on Wednesday, students can take part in a stamp scavenger hunt to earn prizes like flashlight key chains in the shape of a hard hat, a mini set of wooden building blocks and school supplies like pens shaped like nuts and bolts.
Once they have filled their stamp cards from tabling organizations, students can win a free, limited edition Phlagleblast T-shirt. The shirt designs are updated every year in accordance with the theme, making it a fun item for students to collect.
Completed stamp cards can also be entered into a raffle to win more luxury prizes like a 43-inch Roku Smart LED TV, an Xbox One S Gear of War bundle and a GoPro Hero 5 camera.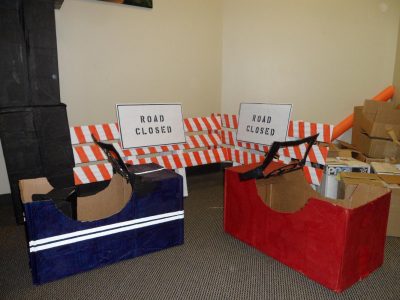 The builder and architect of the expansion will be at a stamp location called "expansion," where they will have a 3D model and virtual reality goggles for students to envision what the finished Union expansion will look like.
Ashlyn Emberley, a junior biology major, has attended two Phlagleblast events since her freshman year. For this year, she is expecting to see the changes that were brought on by the construction.

"Hopefully, (I'm expecting to) just find my way around the construction, because a lot of stuff is going on in the Union now (and) seeing what's new," Emberley said. "The first time was fun because it was my first year, so I got to see everything that was inside. Typically I wouldn't go walk around to every room in (the Union)."
Sanchez and other Union staff members are the ones responsible for coordinating the festivities every year. The team works through the night to set up decorations before the day of the big event.
Caution signs, saws, hammers, nuts and bolts, and other pieces were crafted from scratch to fit the theme of construction. Some larger projects that students can interact with includes a model of a wrecking ball that students can push and a decorated Port-A-Potty made out of wood that students can use as a photo op.
"That what we like to say is the fun and magic in Phlagleblast," Sanchez said. "We transform the building and we work so hard on some of those pieces all summer long. It's just so students get that 'wow' feeling when they first walk in. Then we take it all down. It's like OK, you're building's back to you. You guys do as you may, this was just our little welcome and this is what we have to offer you."