Documentary-producer introduces novel 'True South,' signs copies at campus event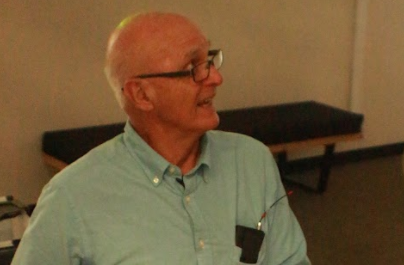 Hang on for a minute...we're trying to find some more stories you might like.
Award-winning producer Jon Else held a presentation and book signing in the Library Gallery Wednesday for his new book, "True South: Henry Hampton and 'Eyes on the Prize,' the landmark television series that reframed the Civil Rights Movement."
Else served as a producer on "Eyes on the Prize," a 14-episode documentary series that encompassed the hardships and changes endured during the Civil Rights movement. "True South" focuses on the life of Henry Hampton, executive producer of "Eyes on the Prize," and his accomplishments during the production's run in the late '80s.
"('Eyes on the Prize' was) not a film about victims, it's (about) local people rising up," Else said. "It's a clunky film with spare vocabulary, devised entirely of interviews, people, archive, newsreels, documentaries and even home movies. It's about the importance of telling people's stories in order to learn about the world."
Else said that although the documentary and the book spoke of the same subject, the motives he had behind them differed.
"(A book) has tremendous emotion and a non-verbal 'punch,' " Else said. "Such expository information cannot fit into a documentary or film, it needs to be told in a book."
Else spent most of his life living in Sacramento and was there to see Sacramento State open on its first day in 1947. He said that the university has since grown to be a vibrant campus, brimming with new people and ideas.
Film professor Dan Janos said that he took to heart a question brought up at the lecture, which was, "Who owns history?" According to Else, all people own history and the law is increasingly on their side. Janos hopes to share the answer with his own students in the classroom.
"It rolled off (Else's) tongue with honesty, conviction and immediacy, as opposed to 'what should I tell (my students) to make them feel good?' " Janos said.
Anthony Carlino, a junior interdisciplinary studies major, attended the lecture due to his interest in film.
"It's very true that documentarians have changed a lot in their nature," Carlino said. "Documentary filmmaking has changed, it's shorter, quicker, and the audience is changing. No one watches those long-informed documentaries anymore, it's those 30-minute Vice documentaries that we see on Youtube that are very popular."
Else is currently working on a new documentary about The Gold Rush. He said that he hopes to include information left off most high school curriculums.
"If we do not revisit these legacies in our history, democracy will fall apart," Else said. "Stories need to be told."