Twin alumni gain national attention for 'Hoop Maps' app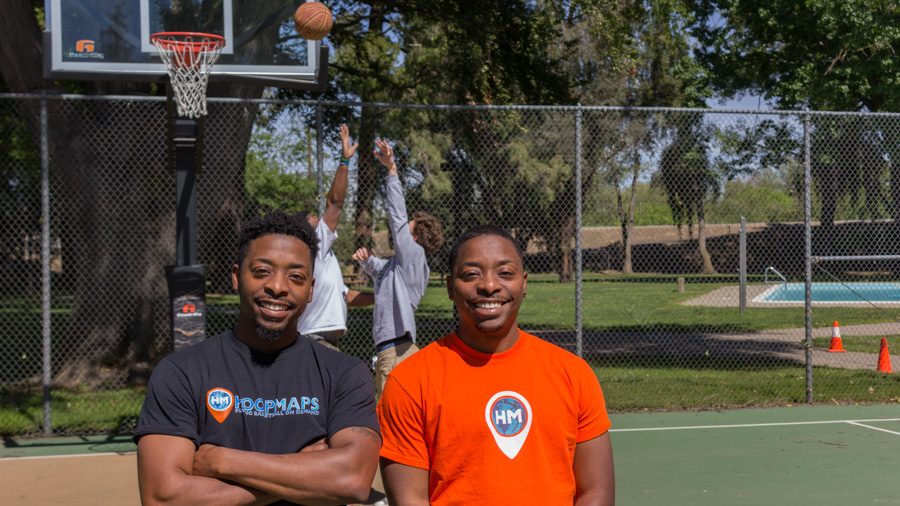 Two Sacramento State graduates and twin brothers have created a new way for people to turn their phones into a pickup basketball database with their new app creation Hoop Maps.

Dominic and Donte Morris, 28, both graduated from Sac State in 2011 and have been basketball fanatics their entire lives. The twins grew up playing pickup basketball, but as they grew to be adults, a good game was a hard thing to come by at the local parks.

"We would hoop at a certain park consistently and one thing that we noticed (was) that every third day of the week we would go to that same park and it would be empty," Dominic said after graduating with a degree in marketing. "That was when we said, 'There has to be a way to know exactly where there are games being played instead of going to a park and hoping there are games being played.' "

Thus, Hoop Maps was created. The app allows users to create a profile, check in with a location and schedule an active pickup basketball game. Users also have the option of inviting friends to join them.

In 2014 — seven years after the twins established the Morris Baseball League in their college dorms — the idea of doing something to fix their hoops problem materialized. In 2015, the twins began to research the pros and cons of using an app to facilitate players.

"One of the challenges that we faced was making the app as simple as possible," Dominic said. "We wanted to design something that was easy where we can get these people to add and share a game with their friends." (Story continues below)


Video by Sami Soto
Hoop Maps was released in June 2016, but the twins struggled to market the app to a larger audience, Donte said after graduating from Sac State in general management.

"That has been the biggest factor for us," Donte said in regards to publicity. "Every time someone posts a game in the area, we will take a screenshot of it and put it up on our social media for people to see. The app also features a 25-mile radius notification (for) anyone that is looking to play a pickup game."

The app was downloaded about 1,000 times before a feature segment aired on KOVR-TV, and it went on to reach 15,000 downloads after the the feature aired.
The coverage of Hoop Maps also increased after the app was featured on the ESPN morning show "SC6" on March 27, co-hosted by Jemele Hill and Michael Smith, who called the app a "dream come true." It also been talked about on TechCrunch and SportTechie, two popular technology blogs.
Sherri Morris, the twins' mother, said that both Dominic and Donte have always had a strong work ethic and described the publicity that the app has been getting as "exciting."
"They work well together, they always have," she said. "They have always been quick thinkers. If they have an idea, they will do the research together and figure out a way to make it happen."
The majority of Hoop Maps' downloads come from people living in Oklahoma — which features the most downloads — Arizona and Indiana, Dominic said.
Aside from knowing where pickup basketball games are being played, the twins believe the app will be beneficial to all users from a friendship standpoint.
"This is a great way to meet new people — especially when you are new to the city and not too familiar with the area," Donte said after mentioning the target audience has been millennials in the 13-24 age range.

With summer just around the corner, Hoop Maps has stepped into the spotlight at the right time.
"Summer is very important for our industry," Donte said. "That is when we will really be going heavy with our marketing and partnering up with sponsors. We will also be coming up with a strategy for maintaining the players that are already using the app."