Students for Justice in Palestine hold workshop to educate students about divestment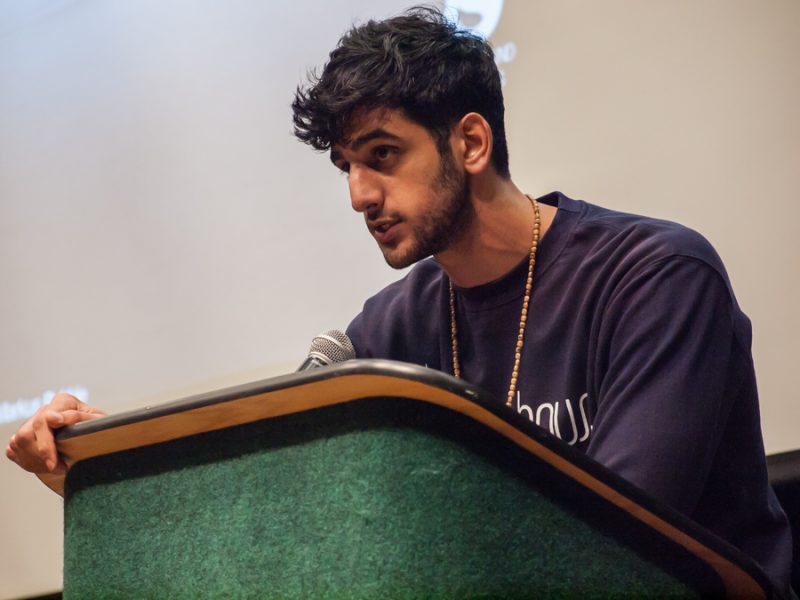 In light of the recent divestment campaign it have initiated on campus, Students for Justice in Palestine hosted a workshop on Thursday night to explain its proposal.
SJP proposed to Associated Students, Inc. that the CSU system and school entities cut financial ties with corporations — including Wells Fargo and JPMorgan Chase & Co. — that have dealings with the Israeli government, the private prison industry and the Dakota Access Pipeline.
"Educating people about what divestment is — that's the goal of the workshop," said SJP President Aya Khalifeh.
SPJ member Saja Daood talked about why the club disapproves of the CSU system investing in such corporations, and argued that there are other ethical ways for the school to spend our tuition money.
"The (Boycott, Divestment and Sanctions) movement has the entire list of companies that support human rights violators," she said. "By just being aware of them and avoiding them and choosing ones that aren't on the list, that is one way that we can spend our money towards more ethical companies. Instead of investing their money into (Caterpillar Inc.), maybe the university can invest in a local construction company like Turner."
Daood also called on the students to express how they feel about this issue and educate other people on it.
"We just need people's voices and we need them to understand the issue," she said. "We need them to get involved, share their voice and show their support for this movement so that the university doesn't put our tuition money into these corporations."
SJP brought in several speakers to explain why they are in favor of divestment. One of those speakers was Ahmad Hussan, the co-founder of Peace House, an artist activist group. Hussan opened up his speaking segment with a poem about social injustices that he faced during his time as a student at the University of Southern Florida.
In his poem, he recited lines such as "land of the free my ass, this is the home of the cage," and "Nothing more American than freedom of speech," in order to tell his side of the story about how he wants to make sure that his voice is being heard when it comes to this particular issue.
"We have been receiving backlash just for speaking for the environment and speaking about private prisons as well, which was shocking for me," he said. "There are some people that are going to be upset with you just for opening your mouth, so that poem for me was really just me expressing my frustration with that."
Abraham Mendoza, the ASI vice president of academic affairs, spoke as well. Mendoza agreed to sponsor the proposal as a bill last semester.
According to Mendoza, the reason why he sponsored the proposal of the bill is because he is an individual who sees that the voices of people should be heard.
Mendoza, who is a social worker, stated that after seeing and hearing about the movement, it stood out to him and he took it as an opportunity to utilize the position he has in a way to enact change on campus.
"There's a lot that needs to be done in the world of social justice and activism in order to achieve the things that we are all striving for," Mendoza said.
The biggest issue within ASI regarding the SJP divestment proposal bill is determining whether or not this is a school issue and if 30,000 students will care about it.
"We need people to care," Mendoza said.
In a few weeks, ASI will be putting out a student survey in which students will answer whether or not they are in favor of divestment.
"Once the survey gets out, there's going to be a forum where ASI will be on the stage and each side will have a say," said Khalifeh.
Additional reporting by John Ferrannini