Student-athletes, expert discuss LGBT issues faced in athletics
When Abby Wambach leapt over the crowd to kiss her wife after winning the FIFA Women's World Cup against Japan in 2015, the world was treated to a moment rarely seen in athletics.
For some fans, the now-retired U.S. soccer star's high-profile victory kiss was an appropriate celebration of the U.S. Supreme Court ruling to legalize same-sex marriage just one week before the World Cup final.
But for Sacramento State softball infielder Tiffany Moore, a sophomore history major, the smooch was more than that — it made her proud to be both an athlete and a lesbian.
"That's my No. 1 team," Moore said. "I just love how many gay players there (were on) that team."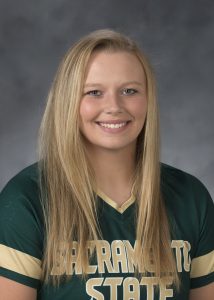 In the world of sports, a stigma surrounding LGBT athletes has existed for decades and coming out can be an intimidating challenge given the risks — from teams, fans and society — involved.
The so-called "locker room culture" is also a factor that may sway some closeted athletes away from coming out, as some believe they must portray a masculine persona at all times, according to Katherine Jamieson, the chair of Sac State's department of kinesiology and health science.
Jamieson said that athletes who decide to come out only do so after confirming their status as being publicly "masculine" in their athleticism, so much so that they're willing to take the "gender risk."
"This can happen to women too, but this is more common with men," she said. "They feel like there are rewards already coming because of that elite athleticism."
At Sac State, Moore is in a group of very few athletes who decided to play their respective sports while being upfront about their sexual orientation. Two other student-athletes are women's basketball senior guard Emily Easom and men's soccer junior midfielder Elias Rieland — who is the only openly gay male athlete The State Hornet was able to find on campus.
Rieland made the decision to come out during his first season with the team. He said that coming out to his teammates and coach individually helped take the edge off of having to worry about putting up a facade on a daily basis.
"When I came to Sac State, I realized that being closeted affected my sports more than anything because I was more worried about that than actually performing," Rieland said. "The minute I let that go, I started doing much better."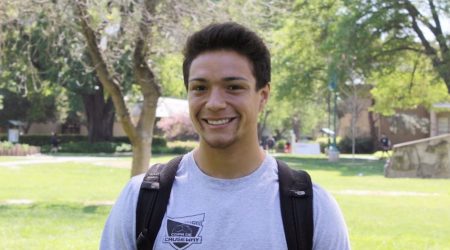 Rieland also said coming out was a nerve-wracking experience because of what he once went through at a boarding school in Arizona before coming to Sacramento.
"Around that time, the words 'f—–' and 'gay' got tossed around a lot," Rieland said. "But I think I was also just nervous because of the locker room situation."
Rieland disregards what others have to think about his sexual orientation because he said that being gay doesn't dictate whether he's good at soccer or not. Instead, he'd rather show how being gay doesn't interfere with how he performs on the field.
However, Jamieson said that coming out doesn't solve problems from a personal or societal point of view. She questioned what coaches could do to create an ideal setting for all athletes to compete at their best and not be distracted by the "unnecessary vulnerabilities."
As the first openly gay athlete to be drafted in the National Football League by the then-St. Louis Rams in 2014, Michael Sam's experience was an example of how difficult it is to find success within the league, unlike former NBA player Jason Collins and Major League Soccer midfielder Robbie Rogers of the LA Galaxy — who both came out as gay in 2013.
In Sam's case, the Rams cut him before the regular season even began. During his stint with the Dallas Cowboys, Sam was put on the practice squad and never managed to play in a single game.
In May 2015, Sam signed a two-year contract with the Montreal Alouettes of the Canadian Football League, making him the first openly gay player in that league as well. By August 2015, however, he abruptly left the league citing mental health concerns.
Jamieson said there is still a concern about whether there are enough guidelines in sports ensuring that all diversity — sexual and otherwise — is safe enough that everybody can comfortably participate in the team.
"I don't think that we have answered that question yet," Jamieson said.
Easom, who came out during her last year at Portland State before transferring to Sac State in 2014, said there is still a major stereotype in basketball that all female players are lesbian.
"There are people out there that may say, 'Oh, she's practically a dude,' " Easom said. "I think that female athletes, in general, are looked at as less feminine (and) gay."
Easom said closeted athletes everywhere should feel comfortable enough to be who they are because teammates are their family members.
Like Easom, Moore said that terms like "butch" and their negative connotations have always irked her. She said she doesn't see herself or anyone else, especially female athletes, as masculine or feminine when they're just being themselves.
"I don't have an image in my head of what a stereotypical female athlete looks like because they come in all shapes and sizes," she said. "I think that for men, (the image depends on) how hard they play. And for women, (it's) how masculine they are to play."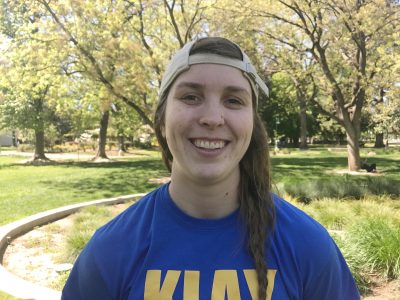 Moore also said that when other men ask who's the "man" in her relationship with her girlfriend, it makes her mad because the question is an example of how men who categorize same-sex relationships as males have more control than females.
As someone who has worked and studied closely with the physiology of sports, Jamieson said masculinity and femininity have become binaries that athletes always uphold. She said the problem of framing others into gender categories not based on athletic ability still exists and society continues to see athletes getting "sports-typed."
Jamieson explained that when men are seen excelling in graceful sports, they'll always be watched, surveilled and judged because of the familiar notion of normative masculinity that society is used to.
"These are young people who are still figuring out who they want to be," Jamieson said. "I think that sexuality is one more layer of a social condition that our student-athletes inherit."
She said she believes coaches aren't being prepared well enough to work with such a diverse set of student-athletes. In her own academic community, Jamieson said that this preparation is one of the most important things because she and other leaders can never surely know who's going to sit in their classrooms.
"And I think it's true in our athletic teams as well, because we never really know who the student-athletes truly are and what their stories are," Jamieson said.
Within the next 10 years, Jamieson said she wonders if the world will get more comfortable with gender fluidity and see women competing against men.
She said that as a society, people have to wrestle with much more than just the facts that sexuality isn't gender and transgender is not synonymous with gay.
"We have to be willing to complicate these categories and be willing to actually acknowledge other nuisances of diversity that exist for all of us," Jamieson said. "Sports can be that place where we can witness that happen because of its cultural centrality. However, I think it will still be a lot of back and forth."
Additional reporting by Carlo Marzan