Sac State volleyball clubs vying for national titles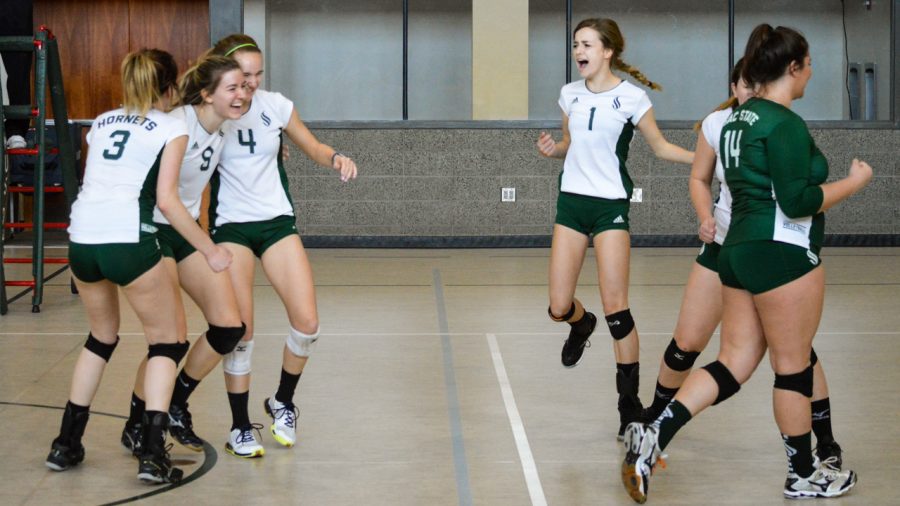 After seven months of competition, the Sacramento State men's and women's volleyball club teams are heading to the National Collegiate Volleyball Federation Championships from April 13-15 in Kansas City, Missouri.
The men's club enters the tournament as the No. 1 ranked team in the Northern Division while holding the No. 11 spot in the nation.
Sac State's women's team — which moved from Division II to Division I this year — finished its regular season as the third-ranked club in the Northern Division after defeating Chico State (ranked No. 3 in the nation at the time), Nevada and Sonoma State in its final three games.
"This season has been the best of the four years I have played," said Sac State middle blocker Jackie Pulatie. "Not only did we move up to Division I and have a successful season, but this is also the best group of girls I have ever played with — talent and personality wise."
Pulatie, the former club president, was one of 15 players to make the Las Vegas Open All-Tournament team on March 17. After handing over the presidential duties to fifth-year player Sam Wheeler, the pair went on a coaching search and found Mark Reuter and Kate Reuter at the beginning of this season.
"Our club has had a different coach for the past five years, so we wanted to make sure we were making the right choice in hiring new coaches again," Pulatie said. "Mark and Kate both coached and played at UC Davis for many years, so we had seen them around whenever we played Davis. Hiring them was a huge success for our club."
Between the two of them, Mark and Kate have 13 years of collegiate volleyball coaching experience.
"They communicate well with our team, and they are 100 percent reliable and committed to our team and building the program, which is something we have definitely lacked in the past," Wheeler said. "Having coaches that our team actually like and get along with is new and it has totally changed the players' attitudes (toward) each other and volleyball — we are a much more cohesive team."
Sac State's men's volleyball club hasn't much of any problems with cohesion and chemistry as five of its players — Chase Atkins (first team), John Fluette (first team), Clint Syftestad (second team), Sahib Sidhu (second team) and Jose Rojas (honorable mention) — made the all-conference team, according to Sac State Sport Clubs Advisor Josh Mandel-Sonner.
"This year our goal in terms of strategy was to be that team that was known as being difficult to play, did not make mistakes and never gave up easy points to the other team," Fluette said.
Syftestad, who is the club treasurer, said the team placed fifth in the Far Westerns Tournament hosted by UC Davis against 30 other teams and took first at the Las Vegas Open on Feb. 11 and March 17, respectively.
"Our plans and hopes for nationals are to play with intensity and focus for every point (and) we know we have the talent and heart to place well," Syftestad said. "We just need to not take for granted who is on the other side of the net and fight hard as if every point is game point."
The men's club, which was established in 1980, will be looking for its first national title since 1997. Meanwhile, the women's club will be vying for its first national championship in its 15-year program history.