Sac State entrepreneurs win prizes at 'Future Four' competition
A group of eight teams from four different colleges competed in the Future Four and More competition at Sacramento State on April 21 to see whose entrepreneurship was the most impressive.
Future Four and More is a collaboration between Sac State, Humboldt State, Chico State and Butte College. Set up by Sac State business professor and advisor Dr. Seung Bach, the intention was to put on a competition for students with an entrepreneurship ideas.
Bach said the whole point behind Future Four is to broaden the entrepreneurship to other disciplines than just business.
Set up similar to the television series "Shark Tank," teams from the different colleges pitch their ideas to a panel of judges. Though originally only intended for four colleges, a variety of others have been added since the competitions was conceived four years ago, hence why the competition is called Future Four and More.
A prize of $3,000 for first place, $2,000 for second and $1,000 for third was at stake along with $700 for the most sustainable idea and another $700 for the best Social Entrepreneurship.
The competition not only allows for financial help toward their projects, but gave the students a chance to present their work in a professional setting in front of possible investors.
The judge panel was comprised of experts in the field of business and entrepreneurship, ranging from CEO's, managers and presidents of successful businesses and companies. The judge panel also provided information, insight and advice to the teams going forward with their projects.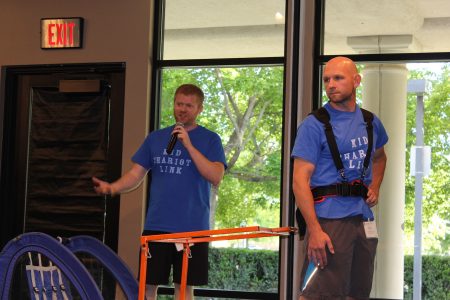 "What they have to say is money that you'd pay consultants for," said Shaun Robinson, a Future Four participant and Sac State Business Honors program student. "If you go to this thing and you really have something you want to do and you're not just doing it for the money, take it to heart what they're saying because they're giving away really good advice."
Sac State's teams were comprised of two ideas: Craft Cube and the Kid Chariot Link.  
As a father and active jogger, Robinson invented a device that would allow a person to jog/exercise without the hassle of pushing a stroller, the Kid Chariot Link.
The Craft Cube is a four-in-one user-friendly device that can 3D print, 3D scan, laser cut and mill. The Craft Cube team was comprised of both business and engineering students, pushing forth Bach's idea to broaden entrepreneurship into other concentrations.
After all the teams finished their pitches, the judges gathered to decide the winners of the events.
Both Sacramento teams finished in the top three spots. Robinson took third with his invention The Kid Chariot Link and the team Craft Cube received $2,000 for a second place finish.
Craft Cube member Marissa Mendez expressed her hope for the judges interest in their project.
"Hopefully," Mendez said. "If not, we've captured the attention of some other people in the audience who would be interested potentially in helping us with this, investing."
Robinson, who will be graduating at the end of this semester, hopes to further his invention and bring it to market.
"Taking the skills and what I learned here at the college of business administration at Sac State in the business honor program, I'm going to apply that toward bringing this product to market, and that's how i got it to this point, by applying what i learned in those classes," Robinson said.
In the end, the fun and enjoyment was visible in the contestant's faces, which greatly pleased Bach.

"My philosophy; if you don't enjoy, you don't learn," Bach said. "I think this competition actually helped those students enjoy more on what they're doing and what they like, and those are great tools on top of their ideas and their skill sets."