Quidditch club flies high after first-ever victory
Those who pass by The WELL on Friday afternoons often stop to stare quizzically at students fighting over balls while running around with sticks between their legs.
The students are members of Sacramento State's recreational Quidditch club, participating in a sport usually played by wizards and witches in the "Harry Potter" book series written by J.K. Rowling.
The fictional sport has been altered to accommodate people who do not have magical abilities, resulting in what is commonly known as "muggle Quidditch," which was devised in 2005 by a college student in Vermont.
Sac State junior Justice Brewer, a psychology major, first heard of Quidditch being played as a sport when she was in high school. She had been reading the "Harry Potter" series and decided that if her future college did not have a Quidditch team, she would start one herself.
Upon arriving to campus, Brewer — who is now the captain and club president of Sac State's team, dubbed Swarm Quidditch — joined the club while it was still in its formation stage. The club started off with eight members and has since grown to 25, Brewer said.
"I love (Quidditch) as much as the day I first joined, if not more," Brewer said. "We have a fantastic team, we really are like a big group of friends. This sort of community, this year, is something that I've not seen in Quidditch before. So, it's really exciting."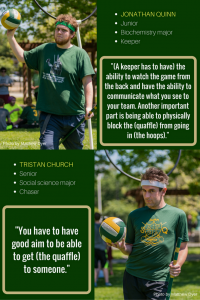 This semester, Swarm Quidditch won its first game against another school since its official formation in 2014 after defeating University of the Pacific on April 1 at the South Green Lawn in front of The WELL. Sac State was able to capture the Snitch, ending the game with a 20-point lead over UOP.
"I couldn't believe that it happened, I was in shock," Brewer said. "We've only been competing three of the four years, but we've never won and we've lost five times to UOP. So, for us to finally win, it was such a surreal feeling. Everything went off smoothly — we didn't have any glitches or any problems — it was almost too perfect."
Sac State junior Jonathan Quinn, a biochemistry major, played in the April 1 contest as the keeper. He said that the win was made possible in part due to the cohesiveness of the team.
"(I felt) like we really became a functional team," Quinn said. "Not that we were dysfunctional before, but we've become more serious. It made me realize that we were actually starting to take this seriously and move in a more competitive direction."
Competitors play Quidditch by running on the playing field with a dowel held between their legs instead of flying on brooms like their wizard counterparts.
Other equipment includes a slightly deflated volleyball called the quaffle and three slightly deflated dodgeballs called bludgers. The goals are a row of three hoops that stand on both sides of the field for each team.
Swarm Quidditch — which plays according to a rulebook made by United States Quidditch  — is composed of three chasers, two beaters, one seeker and one keeper. The players' positions are distinguished by white, black, yellow and green headbands.
Chasers score points for the team by getting the quaffle through the goal, earning their team 10 points each time. The keeper acts as a goalie and guards the hoops from chasers who try to score.
The seeker's job is to catch the Golden Snitch, a long sock with a tennis ball inside that dangles from the waistband of a person dressed in bright yellow called the Snitch runner.
The Snitch is worth 30 points and is released into the field at the 18th minute. Its capture marks the end of the game, which according to Brewer usually lasts about 40 minutes.
The Snitch runner is usually a person unaffiliated with a team and is impartial to the two teams playing against each other. The runner stays within the limits of the field and their contact is limited to seekers, whom they can disrupt during gameplay.
Josue Garcia, a senior history major, primarily plays the role of the seeker and is no stranger to the Snitch runner's trickery.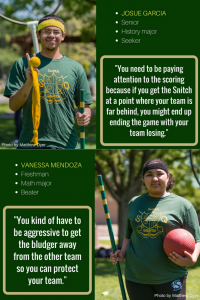 "(The Snitch runner) can take your broom, which will cause you to go back to hoops and give an advantage to the other seeker," Garcia said. "Sometimes they can just push you around and kind of block you from trying to get the Snitch. Sometimes it's frustrating, other times it's kind of funny, but you have to maintain your cool and just remember that that's your only goal — to get the Snitch."
Beaters, such as Brewer, defend their team by knocking out opponents with a bludger. Once a player is hit by a bludger, they are considered knocked off their broom and in order to re-enter the game, they must drop any ball they have and go touch one of the hoops on their side of the field.
"You need to be able to pay attention to the entire field to be a beater," Brewer said. "You have to constantly know what's going on everywhere, all at the same time because you need to know if there's somebody behind you getting ready to beat you, but you also have to be focused on where the quaffle is because you need to be defending it."
Brewer described Quidditch — which allows contact to any part of the body including the face, hair and fingers — as a full-contact sport that has elements of rugby, dodgeball and tag.
The team practices rugby-style tackling and members are not required to use any protective gear or padding during games, except for mouthguards. This combination led to Brewer sustaining a year-long injury in her left arm after a teammate acting as a keeper tackled her in an attempt to take the quaffle away from her.
"The person who tackled me was on top of me with my broom trapped beneath my body, on my wrist, pinning it to the ground and then his broom (was) trapped against my bicep and his body," Brewer said. "When we finally got up, I couldn't move my arm and I had no idea what was happening." (Story continues below)
Senior social science major Tristan Church has played Quidditch for three years since he joined Swarm Quidditch and was introduced to the sport's physicality.
"(The game is) really rough," Church said after explaining that his initial introduction to Quidditch came from four "Harry Potter" films. "You don't expect it to be, because it's like a 'nerdy sport' or whatever, but it's full-contact. I've been dropped on my head plenty of times, just straight-up lifted and dropped."
Swarm Quidditch, which typically plays a game with UOP once a semester, holds practice every Friday from noon to 2 p.m. on the field in front of The WELL.
Beyond regular matches, the USQ hosts tournaments, regionals, nationals and the Quidditch World Cup. After competing in the inaugural Best Coast Classic last year in San Jose, Swarm Quidditch returned to the Best Coast Classic 2 Tournament to finish in last place out of four teams on Saturday.
Brewer said she is in the process of training three members to be referees and is working on getting one referee and a Snitch runner USQ-certified by next semester. The recreational club is also in talks of joining USQ as an official team and becoming an official Sac State sports club.
As the spring semester reaches a close, the Quidditch club is planning to host fundraisers and recruit more members.
"I'm looking forward to seeing my team continue to grow in number and skill," Brewer said. "I've still got, at the very least, three semesters to go before I graduate. I might be extending a semester, so that would (mean) potentially two full years of Quidditch left."