PRIDE Center alumni to display artwork in Union gallery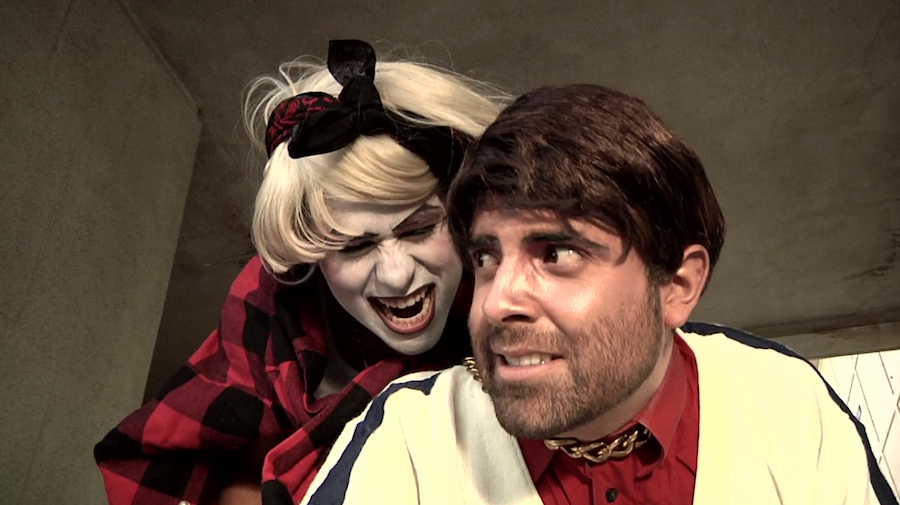 Iconic symbols and colors, compelling film and fine art surrounding the LGBT rights movement created by alumni of the PRIDE Center and current faculty will be showcased in the "10 Queer Years" gallery in the University Union beginning April 24.
All three artists bring a different medium to the gallery, with Rob Fatal creating a multimedia installation, Peter Benson resurrecting his posters from his time working with the PRIDE Center and Jamil Moises Liban-Ortanez bringing a fine art element to the exhibit.
The gallery is set to show the impact of being a part of the LGBT community and the influence that the PRIDE Center has had on their work.
"I want people to see what a major role the PRIDE Center has here on campus and how great it is for artists who are part of the LGBT community to have an opportunity to showcase their work," said Rebecca Voorhees, the design, identity and studio manager of the University Union Art Gallery. "It's important to see how their backgrounds have really influenced them as artists."
The artists hope that visitors see the forces that have made the LGBT rights movement what it is today through the evolution of their own work as members of the LGBT community.
"Viewers might not come away with a message per se, but they may get the sense that there's definitely two powerful forces that are driving the history of the LGBT movement — the progress and the antagonism," Benson said.
The gallery will open April 24 and run through May 18 with an opening reception on April 27 featuring a lecture from Benson and Fatal as well as a Q&A with the artists.
Peter Benson
Upon arriving at Sacramento State, Peter Benson — who graduated from the university in 2011 — had still not come out publicly as being gay and struggled finding his way until he saw the PRIDE Center with the familiar rainbow symbol that signified a place of acceptance.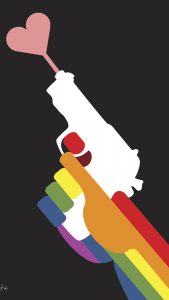 "I was looking for help to embrace who I was and the way I found the center before even reading a letter was being able recognize that symbol and know that arrangement of colors was a sign of allyship," Benson said.
Benson grew up in a bohemian home  with a seemingly unlimited amount of art supplies and support from his family, as his grandmother and father were "very artistic in their own right."
As Benson started to identify as gay, he sought inspiration from leaders of the community who were musicians, activists, speakers and artists. One of these leaders was Gilbert Baker, the creator of the rainbow symbol that has meant sanctuary and peace for so many in the LGBT community, who died this March at the age of 65.
"He is one example of how very economically one can use a simple arrangement of colors to create a recognizable image from something so simple as the rainbow, but contain (such) profound meaning, representation, and inclusivity for so many people," Benson said.
Taking this idea of simplicity, Benson implements a strategic use of colors and symbols to make an easily identifiable and impactful design of his own.  
"I myself saw an opportunity to elevate the caliber of the promotions for the PRIDE Center and the dignity of which they communicate their events and who they are," Benson said. "The first way I could do that was (to) create something that they found relatable, whether it's a symbol that's recognizable but it's arranged in an unconventional way … or there is (a) powerful set of colors that evoke meaning."
Benson said he sees this art gallery as a reflection of what he helped build with the PRIDE Center and of the professionalism and dignity with which the PRIDE Center conducts itself.
Rob Fatal
Sac State faculty member Rob Fatal is a filmmaker who focuses on issues faced by the LGBT community through unconventional and unique styles and filmmaking ideas.
Fatal identifies as Queer, Latinx and Native American. He grew up in a difficult environment and struggled with how to handle his future life and the path he would take, but found art to be his outlet.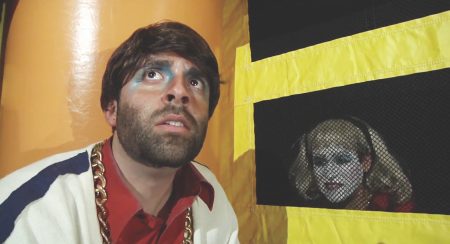 "My passion for art started after a childhood and adolescence plagued with abuse, neglect, violence, sexual depravity, toxic masculinity, machismo and generational trauma stemming from the colonization of my Native American ancestors," Fatal said. "I found myself in the closet, isolated, depressed and contemplating everything from suicide to priesthood."
Film became the most easily understandable art form for Fatal, allowing him to deal with what was going on within his mind and it became a kind of therapy, he said.
"I needed a method to begin to examine all that was inside of me," Fatal said. "Filmmaking seemed to be a language most could understand and so I set out to start making films documenting my perspective and experiences on life."
Fatal has made several films including: "Mi Familia 2: Class Order Family Tribe," "La Bamba 2: Hell is a Drag" and "Playing Dead."
Jamil Moises Liban-Ortanez
Liban-Ortanez is a transgender artist who grew up in Daly City and graduated from Sac State with three bachelor's degrees in issues of race, gender and sexuality in contemporary art and culture.
Over the past six years Liban-Ortanez has worked with the PRIDE Center in cross-cultural education to cultivate awareness of transgressive social justice and is also a program director for LYRIC, an organization for LGBT youth based out of the Bay Area.