Men's soccer team looks to build on spring season chemistry
After losing 10 seniors to graduation, the Sacramento State men's soccer team has spent the entire spring season trying to rebuild its chemistry.
After drawing with Sacramento Republic FC (0-0) on March 1 and defeating Saint Mary's on the road (1-0) on March 18, the Hornets suffered a 4-1 loss to UC Davis (April 8) and a 3-0 loss to Notre Dame De Namur (April 15) in their two most recent games of the 2017 spring scrimmage season.
"It's been an interesting spring season," Sac State coach Michael Linenberger said. "When we started the spring, we were super organized defensively and that is the part of our team that is returning and I think that showed early in the spring.
In the (UC Davis and Notre Dame) games, we lost in the scoring margin, badly. I think our defending has gone backwards a little bit, but we have had a lot more of the ball and had a lot more scoring chances. We're actually pleased with our progress on the attacking side but it has been a detriment to our defense, but we feel it won't be difficult to get that focus back because we have so many veteran guys."
Sac State is still learning how to pick up the lack of production on the offensive end that was provided by its seniors this past season.
The Hornets will be without senior forward Alex Bettencourt, who earned Big West Conference second team honors and led the team in goals with seven and also provided three assists for 17 points. Bettencourt also ranked third in the conference in goals and fifth in points.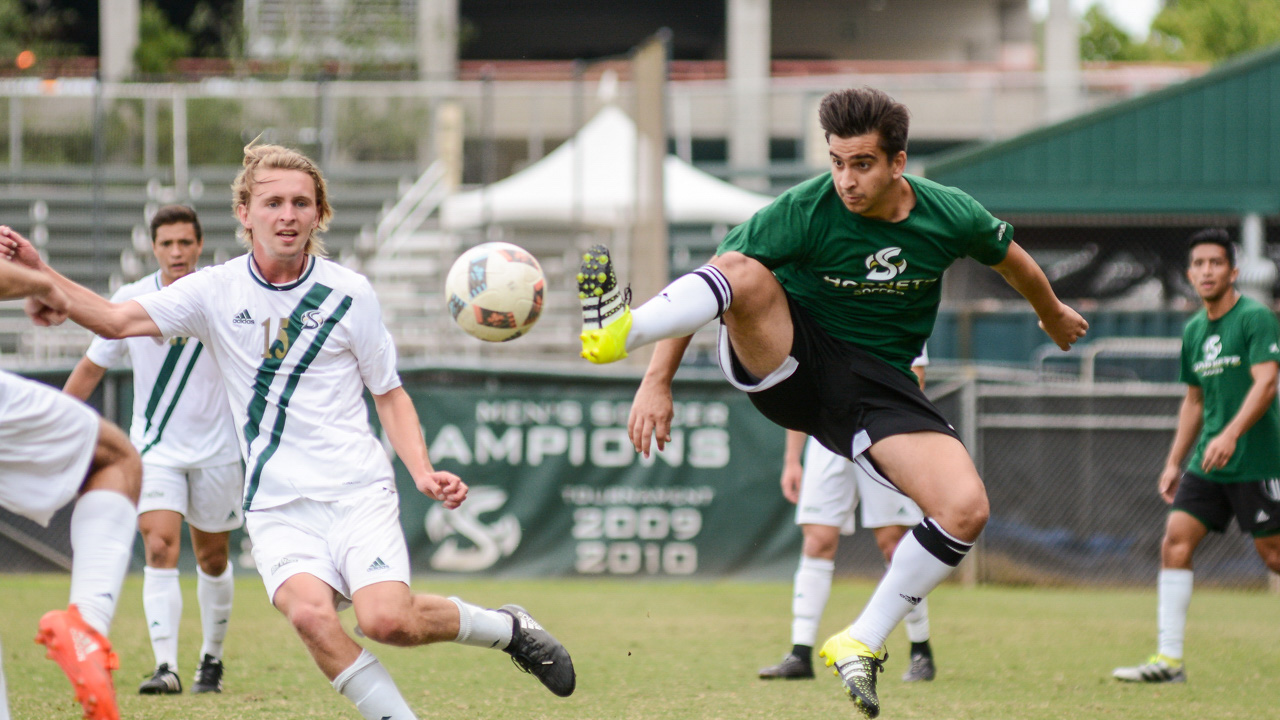 Senior forward Nate Nugen, who also received second team Big West honors, was tied for second in goals on the team (five) and also provided three assists for 13 points. Senior midfielder Ivan Ramirez also had five goals and tallied five assists for 15 points.
"Those guys were highly looked upon on our team for not only their production on the field, but their voice off the field," junior goalkeeper James Del Curto said. "They taught us younger guys how to communicate and bring the best out of people and to always make sure that we always have each others back, so their leadership has been crucial."
Sac State has also been without three of its midfielders in freshman Christian Webb, sophomore Dominic Scotti and junior Trevor Jackson this spring, as they were sidelined due to injuries.
Linenberger said the trio are some of the most creative and best attacking players on the team, but they will not train a single day in the spring.
With 10 seniors graduating, the Hornets look to Del Curto, who will be a captain next season.
Del Curto, who earned second team all-Big West honors last season, said that he knows that he will have to assume the leadership role that the seniors had this past season.
"(I) definitely will have to lead by example and be vocal as well," Del Curto said. "We'll have a lot of new guys coming in the fall so it is really crucial for me and Paul (Geyer) to get the new guys up to speed (and) know the type of environment that we play in the Big West."
This spring season, Sac State has eight new players that have hopes of earning a spot on the roster come fall. Four of those players are freshmen who were interested in walking onto the program and the other four are transfer students who arrived in January. Seven incoming freshman have also signed National Letters of Intent to play in the fall.
With multiple newcomers, team chemistry will be a factor early in the fall season, said freshman defender Mac Harrington, who was one of seven Sac State players who earned Big West honors last season as he made the all-freshmen team.
"We're going to have training sessions hosted by our captains before school starts," he said. "During that time, the new guys are going to be living with our guys so we'll be getting to know them on-and-off the field. It's important for them to know that they are (going to) make mistakes but they have to keep a level head. Everyone here has been in that position before."
While Linenberger said that team chemistry has gotten better, he believes that it will drastically change again come August due to the number of new players who will be coming in the fall.
"With the new guys that we brought in and the returning guys, we have 24 players on the roster," he said. "We are also bringing in 10 new guys this fall and we plan on keeping our roster at 25, so there is going to be massive change again and chemistry is going have to be rebuilt quickly starting in early August once we bring the whole group in."
Sac State will play one last spring scrimmage Friday against Cal at Edwards Stadium in Berkeley.
"We just have to continue learning how to play together," Del Curto said. "We're young and not a lot of us have played together so coming together as a team and working as a team is definitely something that we can improve."