Men's basketball team prepares to rebuild for 2017-18 season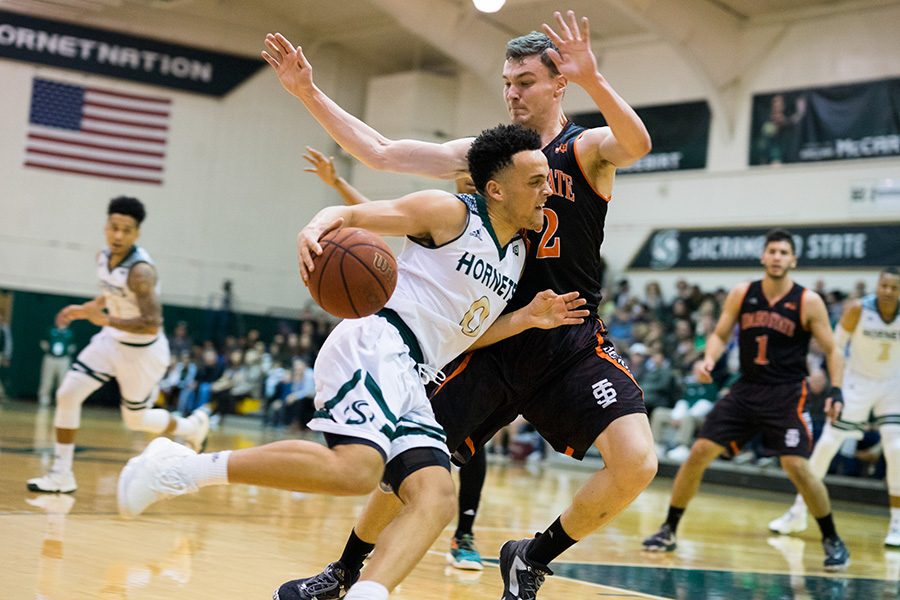 The NCAA Division I men's basketball season officially came to a close on April 3, but Sacramento State has had longer than 10 days to think about its below .500 season.
The Hornets' season came to an end after suffering an 89-70 loss to Eastern Washington in the quarterfinal game of the Big Sky Conference Tournament on March 9 after beating Idaho State 91-76 in the first round two days prior.
"There was a lot of emotion after the (Eastern Washington) game," Sac State coach Brian Katz said. "That was the last time that team was ever going to play together and everyone wanted to win for the seniors."
The quarterfinals loss capped Sac State's fourth campaign below .500 in the last five seasons at 13-18 (9-9 Big Sky).
"We had a rough beginning to the season," Katz said. "We struggled during the preseason, losing our first three games, but we also had some good league wins."
Going into next season, Sac State will be without its starting senior front court in center Eric Stuteville and forward Nick Hornsby, and sixth-man guard Trevis Jackson. Between all three graduating seniors, the tri-captains averaged 25 points and 15 rebounds per game.
"I expect Joshua (Patton), James (Herrick) and CJ (Jacobs) to really step up this year," Katz said. "They've been groomed by Nick and Eric and I think that they will be ready to play."
Role players such as junior Jiday Ugbaja and freshman Matt Battaglia will most likely see more playing time this season as well.
A new addition to the team will be incoming freshman forward Bryce Fowler from Agua Fria High School in Avondale, Arizona. Fowler was a first team all-league selection and helped the Owls to a school-record 29 wins and a trip to the Arizona state championship game.
Katz says that the team is currently doing "heavy recruiting" and will sign two more players that best fit the needs of the Hornets on and off the court.
Sac State will also be returning three starters next season in freshman guard Izayah Mauriohooho-Le'afa, junior guard Marcus Graves and junior forward Justin Strings. The Hornets will also be returning sophomore guard Jeff Wu, who suffered a knee injury two games into conference play.
According to Katz, Graves and Strings will be co-captains next season and will be looking to carry the leadership roles that Hornsby and Stuteville brought to Sac State.
"(Hornsby and Stuteville) were two big pieces of our team," Graves said. "Nick was a guy that always brought the fire and Eric was a lead-by-example type of guy. But we have to fill that void next year and I think Josh (Patton) is going to be big for us."
Strings led the team in scoring with 15.9 points per game. He averaged 5.5 rebounds per contest and received all-Big Sky Conference honors.
"Without Marcus setting me up for easy buckets, I wouldn't have been able to have success," Strings said. "I feel like from that perspective, you take the honor and it's nice but you have to stay humble and know that there is work to do if we want to get to where we need to be."
Graves averaged 13.9 points, 3.7 rebounds and 5.3 assists per game. Graves was second in the Big Sky in assists and became just the seventh player in program history to reach 300 assists (305). Katz said he believes Graves could potentially be an all-conference player this upcoming season.
"It would obviously be nice to be an all-conference player," Graves said. "But at the same time, I'm all about the wins. All that really matters to me is winning the Big Sky Tournament, making it to the NCAA tournament and making Sac State history."