Hornets' spring showcase fires up students, alumni for football season
The Sacramento State football team held its final spring scrimmage in front of alumni Friday at Hornet Stadium as the team prepares to enter the 2017 season next fall.
Last season, the Hornets — which haven't won a road game since 2014 — finished 2-9 for the second-straight season with a defense that gave up over 30 points in seven of their nine losses.
However, optimism remains for a Sac State team that will return 12 upcoming seniors — including junior wide receiver Isiah Hennie, who posted 594 receiving yards and five touchdowns with 49 receptions — and a signing class that includes 28 fresh faces to the roster with three high school running backs that rushed for a combined total of 5,721 yards last year.
"It is good to see a whole new offense get implemented," Hennie said. "We are making sure everyone stays healthy, so we weren't going full speed the whole time, but it was good to see the progress we made from the first to the last spring practice."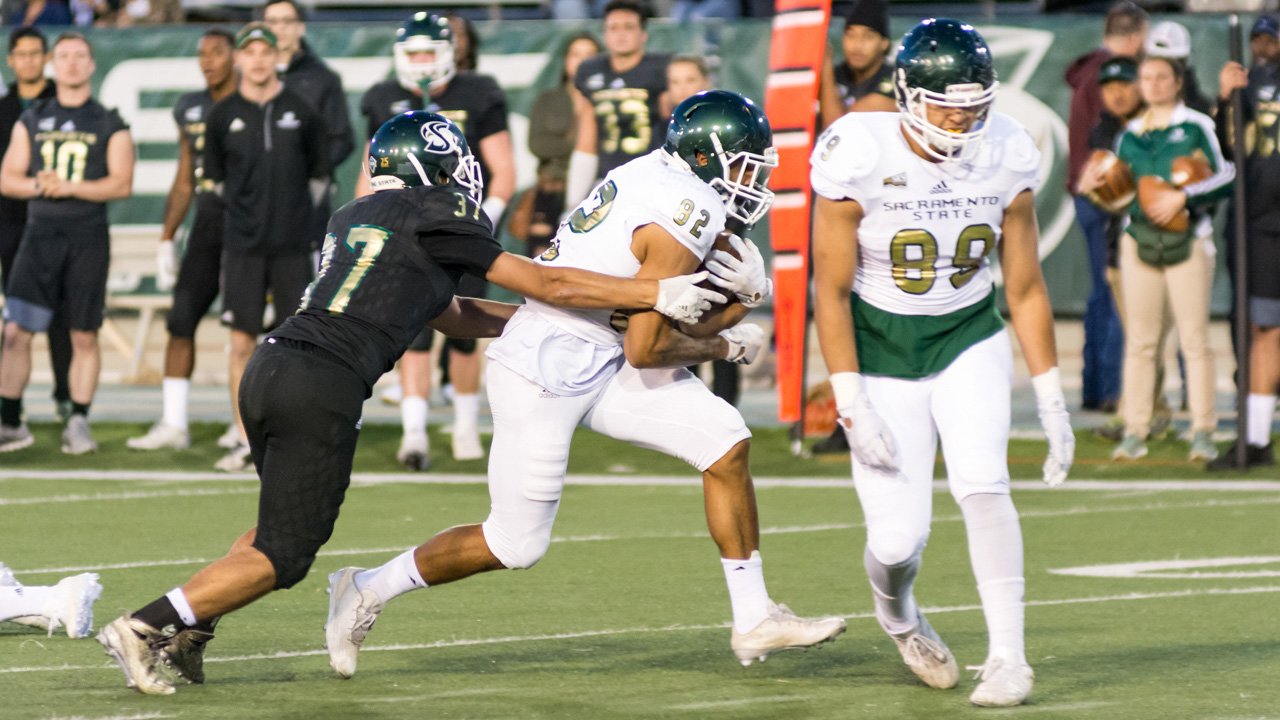 Also in attendance for the final spring scrimmage were former Sac State players dating as far back as the 1980s. Gerald Haflich, who graduated in 1982 after playing linebacker for the football program, delivered a speech halfway through the practice about cherishing the memories players make in college.
"It is is fantastic to be back," Haflich said about Friday's events which included a golf tournament in honor of former (1978-1992) Sac State football coach Bob Mattos. "It is great to be back with former teammates, (it is) great to see the players out here and make the connection between where we were in the 80s and where the team is now."
Greg Knapp, a Sac State quarterback from the class of 1985 who has held coaching positions at both Sac State and in the NFL, discussed how current student-athletes shouldn't focus as much on their football future, but instead enjoy each day spent in a Hornet uniform.
"Don't worry about the NFL," Knapp said as advice to current players focused on playing football at the next level. "Worry about the present. You can't control if you are going to get drafted or not, or the opportunity to sign an NFL contract. It is important to focus on how to get better today."
Newly hired Sac State Athletic Director Mark Orr was also present at the event. Orr, who played as a defensive back for Cal from 1994-1998, was enthusiastic about everyone at the practice coming together at Hornet Stadium.
"It is awesome to see all of the excitement," Orr said about his first alumni practice during his tenure as athletic director. "We have student-athletes, coaches, fans, students and people who have come out to watch the spring game. I couldn't ask for more."
The Sac State football team will kick off its season on the road against Idaho on Sept. 1 and return to Hornet Stadium for its home opener against Incarnate Word on Sept. 9.